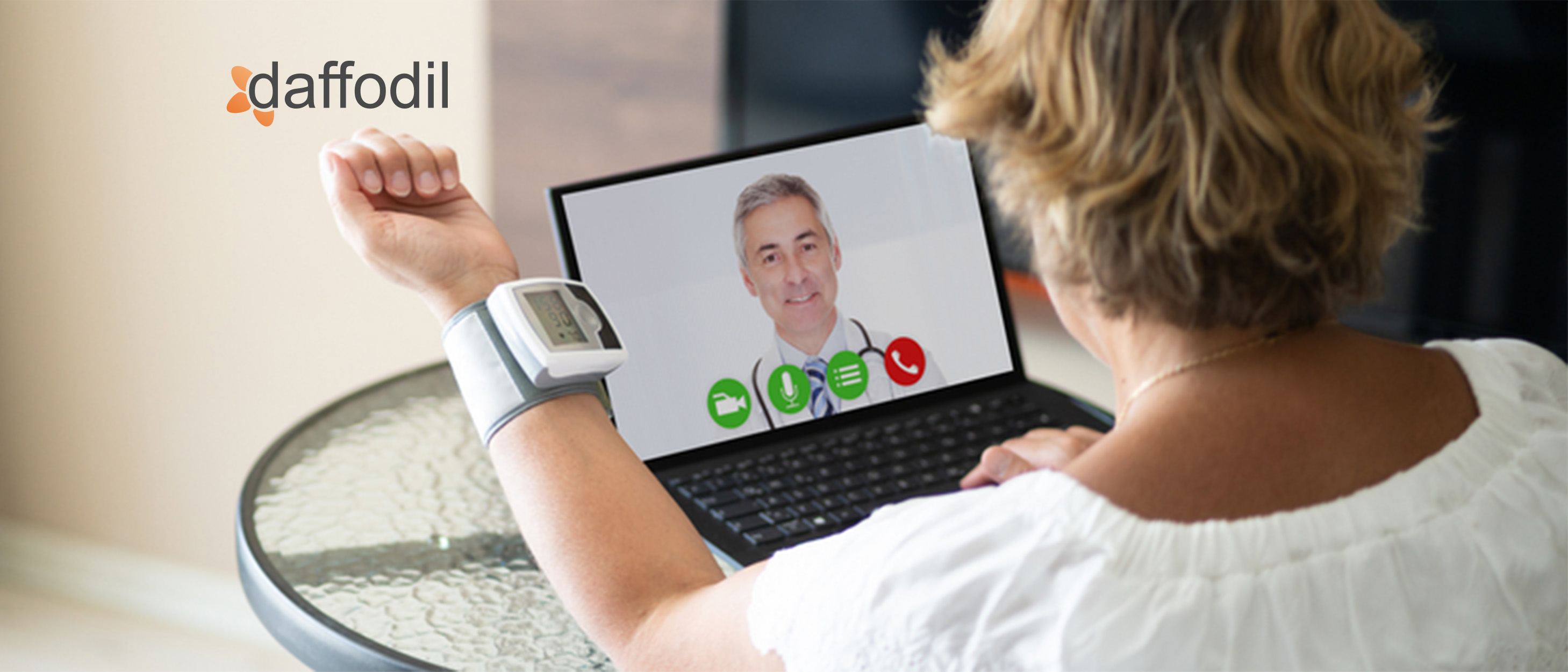 During the COVID-19 pandemic, we have seen intense pressure on the healthcare management sphere. The chaos that the pandemic brought resulted in many challenges for the healthcare system. Therefore, healthcare providers had no choice but to adjust their methods. Instead of in-person services, remote healthcare delivery was adopted to avoid transmission.
The outbreak of this pandemic especially affected patients having chronic diseases like HIV, heart diseases, diabetes, and kidney diseases as they were more vulnerable to infections. Due to reductions in services, closures of healthcare facilities, and lack of public transportation, there were significant barriers to emergency department visits, in-person clinic visits, diagnosis, treatment, and follow-up of chronic diseases.
So, in order to continue the effective delivery of healthcare services to chronic patients, the key solution was to adopt and implement telehealth technology. Though this technology isn't new to the medical community, it hasn't been embraced due to issues related to insurance coverage, mindset, and stigma.
Earlier, telehealth was being used to help address rural healthcare access issues as these areas are especially plagued with staff shortages. Through telehealth, rural patients can see specialists promptly from the comfort of their homes or local facilities.
As the covid-19 disease spread widely, information and communication technologies evolved to offer more and broader capabilities for telehealth practice. Telehealth started attracting interest from both health professionals and consumers to enhance their productivity within the healthcare environment.
What Is Telehealth?
Telehealth is defined as the process of exchanging health care information and providing services to patients remotely with the help of telecommunication technologies like computers, tablets, or smartphones.
Every day people need to travel to access healthcare services, especially patients with chronic diseases as they need regular routine care. But due to inadequate travel facilities or mobility issues, they find it difficult to travel long distances. So what if healthcare could come to them? With Telehealth, this is made possible. Telehealth aims to enhance the quality of care and health outcomes for chronically ill patients.
It includes easy-to-use Remote Patient Monitoring (RPM) services, patient consultation via phone calls, videoconferencing, etc., to improve patient care, decrease healthcare costs, travel issues, and more. Telehealth brings healthcare providers to wherever you are.
How Telehealth Can Be The New Face Of Chronic Care Management?
Chronic diseases such as cancer, heart disease, and diabetes are the major causes of death and disability in the United States. Studies show that around 60% of the US population suffers from at least one chronic disease – approximately 199 million Americans and the number is growing. Out of every 10 adults, 6 adults in the US have a chronic disease. According to the CDC, 90% of the nation's $3.8 trillion per year of healthcare costs can be attributed to people with chronic diseases and mental health conditions.
The US Department of Health and Human Services Health Resources and Services Administration (HRSA) Office for the Advancement of Telehealth has funded 14 Telehealth Resource Centers. These centers conduct research on telehealth with a focus on increasing healthcare access for underserved communities. In addition, their services are generally free.
Ironically, it was COVID-19 that ignited the growth of telehealth for chronic care management. According to the COVID-19 Telehealth Impact Study, patients reported a high level of satisfaction with the care they received using telehealth across a wide range of health care needs and would have chosen telehealth over an in-person visit.
The implementation of telehealth in Chronic Care Management has provided benefits to both health care providers and patients. Let's see some instances-
1) Easy access to healthcare services- When we talk about chronically ill patients, even a slight delay can cause severe outcomes. As with age, it becomes difficult for patients to regularly visit the doctor due to the lack of transportation facilities, healthcare facilities in rural areas, or any other factors. With the help of telehealth solutions, patients can easily interact with healthcare providers and specialists from the comfort of their own homes.
2) Lower health risks- The benefits of RPM weren't just useful during the outbreak but it was far beyond the pandemic. Apart from reducing the risk of infection, it enables health providers to keep tabs on their patients' adherence and tweak their medication plans to ensure continued progress toward effective management and recovery. If any unusual activity occurs then they can identify it and provide required medical measures. This reduces the cost of unnecessary hospitalization and readmission. Telehealth empowers patients to calmly handle any emergency situation as it is proven that even mobile messaging interventions can help patients with asthma, diabetes, HIV, and cardiovascular disease.
3) High security and privacy - With the implementation of the HIPAA act, the health information of patients can be securely stored. The patient can easily communicate or share any sensitive information with their healthcare providers without any risk as HIPAA compliance is considered to be one of the world's strictest data privacy laws.
4) Higher efficiency rate- With insufficient human resources, healthcare providers find it hard to manage things efficiently resulting in low-quality care. RPM facilitates physicians to have a better understanding of patients' needs and conditions as they can keep track of their regular activities, medications, and diet, thus making better-informed clinical decisions. With the help of RPM reports of patients' vitals and other information like BP, blood sugar levels, weight, etc., health care providers can deliver personalized treatment plans digitally and ensure a better quality of treatment.
5) Cost-effective for small hospitals- Hospitals with tight budgets can easily cut costs with the help of telehealth solutions. Virtual consultations promoting RPM programs can effortlessly manage patients and reduce the chances of hospitalization, emergency room visits, readmission, etc., saving millions in annual expenditure.
Customer Success Story- Modernizing a health tracking app for Canada's fastest-growing health-tech startup that helps in monitoring daily vitals, medication, symptoms, daily moods, and quality of life.
A telehealth visit is not recommended when:
1) The patient needs a trip to the emergency room.
2) The patient requests services not offered by your department.
3)The patient requires a hands-on physical examination or other modalities (e.g. electrocardiogram).
According to the World Health Organization (WHO), 58% of countries surveyed are now using telemedicine by replacing physical consultations.
The market size of telemedicine in 2019 was USD 45 billion. It is expected to increase at a CAGR of 19.3% by 2026. In essence, 89% of patients are choosing telehealth over in-person hospital visits.
Top 5 leading telemedicine companies for chronic care management-
Location: New York, United States
Total Revenue Generated: $1.09 billion
Teladoc Health is one of the leading virtual healthcare providers facilitating patients to easily access telehealth services in their homes. With world-class physicians, they aim to provide the best medical services and ensure the wellness of patients
Location: Minnesota, United States
Total Revenue Generated: $257.1 M
UnitedHealth Group is a top telehealth company that provides 24/7 availability to day-to-day health balance systems at a minimal consultation fee. They specialize in chronic care and strictly follow HIPAA compliance, thus providing a secure platform for patients to communicate with physicians.
Location: California, United States
Total Revenue Generated: $135.5M
Doctor on Demand is a global medical consultation platform providing virtual treatment for mental care, chronic care, and many more. In 2021, they were awarded as Best Overall Digital Health Company".
Location: Boston, MA, United States
Total Revenue Generated: $240.8 M
Amwell offers high-quality, convenient, and affordable telehealth services to 80 million members globally. With 36,000 employers, they provide telehealth solutions to more than 2,000 hospitals and follow the USP of "NO APPOINTMENT" as they don't want their patients to wait for appointments.
Location: California, United States
Total Revenue Generated: $76.1M
HealthTap is a nationwide virtual platform that connects patients to healthcare providers. They specialize in women's care, child's care, mental care, and chronic care. More than 90,000 doctors are there to assist patients with their best medical advice.
Also Read: What is Hybrid Telehealth and Why is it the Future of Healthcare?
Telehealth: The safest and most convenient healthcare space
The technology has finally found its way into medical systems with telehealth services, embracing the digital transformation for chronic care management. All of the major healthcare systems have installed telehealth delivery platforms to provide world-class services to their patients. Better quality care, improved patient satisfaction, decreased costs and travel time, and most importantly, reduced health risks have become the major reasons for patients seeking care remotely.
Telehealth has revolutionized the whole healthcare system and it is finally time to normalize this technology. If you wish to implement a telehealth system in your organization as well then you can book a free consultation with Daffodil. As, we, a custom healthcare software development company, are working alongside different healthcare players across different tangents and touch points using its digital, cloud, and enterprise technology and are becoming their partner in delivering innovative health-tech solutions.