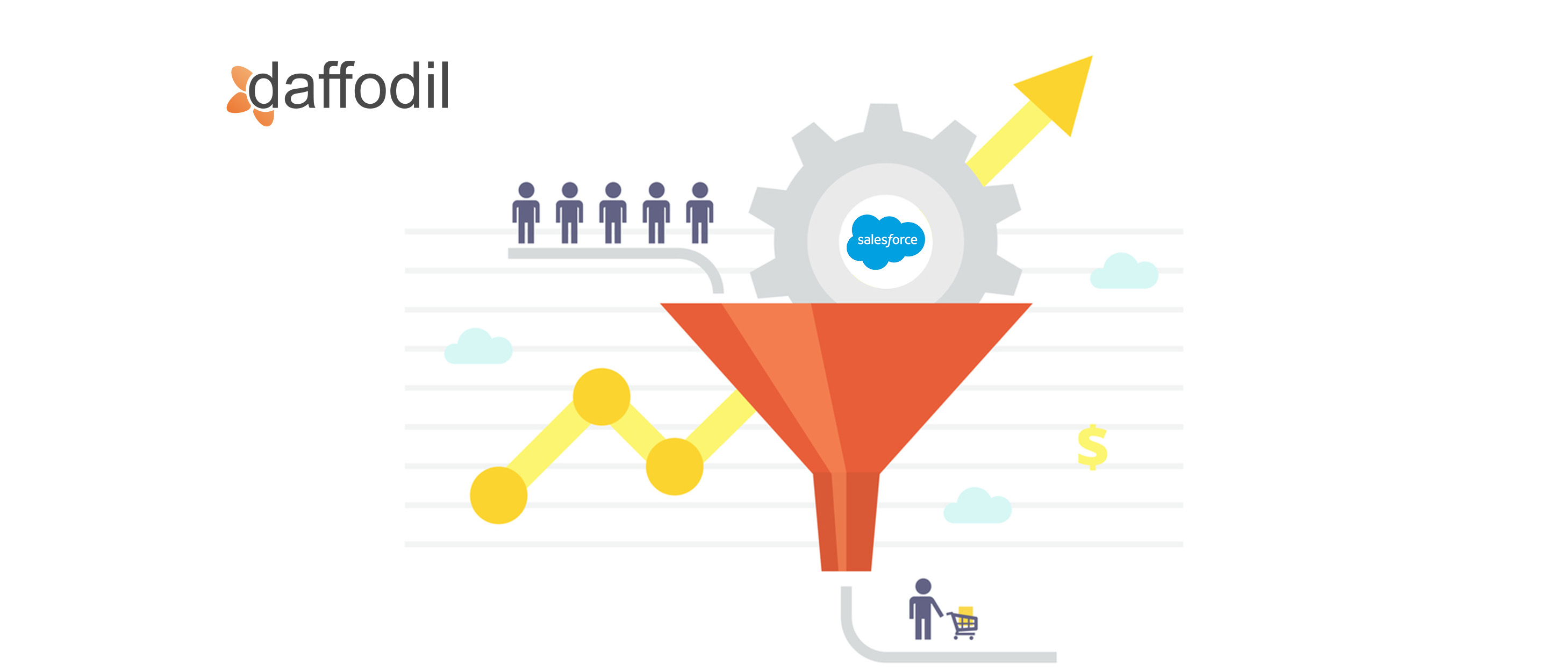 For all types of businesses, be it storefront establishments or online retailers, generating buyer interest is not enough. You need to develop a robust sales funnel to attract visitors first and then ultimately convert them to loyal customers who provide repeat business. There is a series of thought processes that customers go through before they buy a product or avail of a service which constitute a sales funnel.
How fast a customer's buyer journey progresses and how effectively they arrive upon their desired product or service is dictated by a good end-to-end sales strategy. This strategy is increasingly being implemented through Customer Relationship Management (CRM) software, the best among them arguably being Salesforce.
In this article, we will begin by first demystifying the various aspects of a Sales Funnel, and then moving on to why Salesforce is the best bet for growing a sales strategy and loyal customer base.
What Is A Sales Funnel?
A Sales Funnel tells you which part of the buying journey the customer is at; whether they are only aware of the product in question or whether they have been meaning to buy it or are close to buying it. Different parts of the sales funnel from the top to the bottom signify how far the customer is from making the buying decision.
From the top of the funnel to the bottom, the customer journey changes in the following ways:
The top of the funnel refers to when the customer comes across your marketed product via a landing page or while walking past your storefront
The customer reading about what the product does and how it performs and other parts of the process prior to the sale comprise the middle of the funnel
The bottom of the funnel signifies the customer making the purchase, paying for it at the checkout counter or the online payment gateway
You can create more relevant messaging for each stage of the sales funnel and increase the number of prospects who become paying customers. It will also give you insight into what customers are thinking and doing at each stage of the sales funnel.
Customer Success Story: Daffodil develops a B2B marketplace to help an eCommerce business fulfill over 2000 orders a day.
What Are The 4 Stages Of A Sales Funnel?
The Sales Funnel, in a way, represents the thought progression of a buyer as they make their way from receiving information about your product to finally buying it. Every stage demands that the sales and marketing teams work out specific strategies to appeal to the buyer's ongoing state of mind regarding the product.
The 4 stages of a sales funnel can be described as follows:
1)Awareness:
The first stage of a sales funnel involves the person coming across your product or service for the first time. They might become aware of you as a result of your advertising efforts, social media presence, or word-of-mouth suggestions from friends and family. Or, a potential customer might have discovered your firm through a Google search that led to your website, an advertisement, or reading your blog.
2)Interest:
By this stage, the potential buyer has gained knowledge of your business, your brand, and your goods or services. They have made the decision to assess it based on their level of interest. At this point, you should post exceptional content that educates the prospect without explicitly making a pitch to them.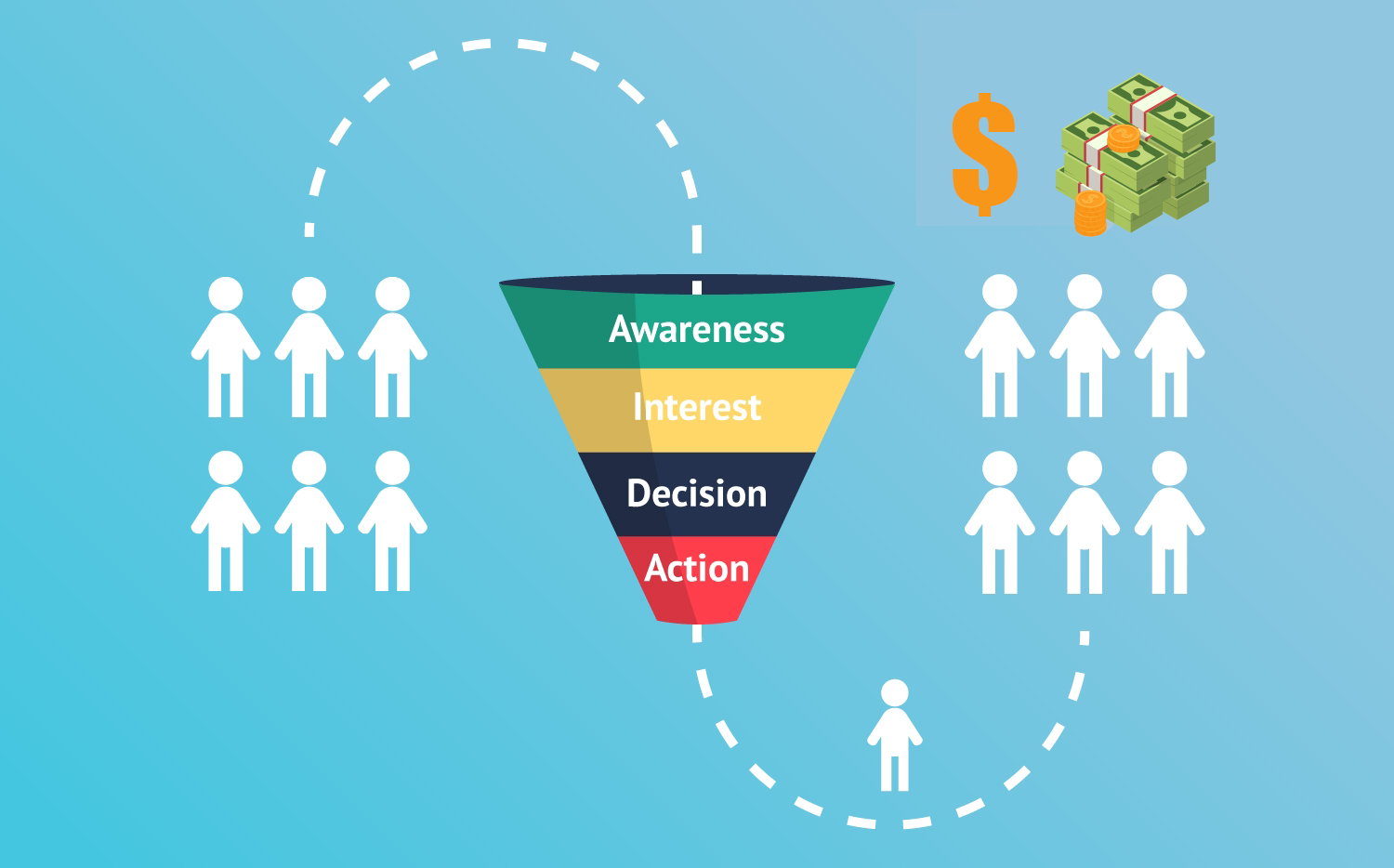 3)Decision:
The prospect will compare prices, packages, and other elements at this point to determine what is the best choice for them. You should present your most potent offer at this time. You have the option to provide free delivery, a coupon code, or even an added bonus item when customers place their order, for instance.
4)Action:
At this stage, the prospect makes the ultimate move; they will either make the purchase or they may leave your website or storefront. By making a purchase, a customer enters your enterprise's ecosystem and can account for repeat business for the establishment by becoming a loyal customer. This stage also requires you to start thinking about customer retention through loyalty rewards and discount coupons for long-term engagement. As per the State of Sales report compiled by Salesforce, customer retention and customer satisfaction are the most significant Key Performance Indicators (KPI) for sales teams around the world.
How Salesforce Helps Optimize A Sales Funnel
Salesforce offers a formidable suite of tools and enhancements that marketing and sales reps can leverage to manage efficient sales strategies across a sales funnel. There are several factors that play into the conversion of a lead or prospect and Salesforce employs specific tools to enable optimized implementation of each factor.
These factors include managing and nurturing the lead across the sales funnel, forecasting the performance of sales strategies, automation of lead generation and support processes, etc. We discuss below how Salesforce facilitates these aspects of a sales funnel:
Lead Nurturing
Salesforce offers a marketing automation solution known as Marketing Cloud Account Engagement. This tool is used to automate the lead nurturing process by sending messages which are triggered by specific customer behavior or across predetermined schedules. Through this tool, sales and marketing reps can also be alerted about customer inquiries that need responses.
This tool allows sales and marketing reps to carry out some of the following actions that are pivotal to the sales funnel:
Creating custom email and landing pages through intuitive asset creation tools
Pass along leads to sales teams and give them alert them each time a prospect shows engagement activity
Using data-driven insights, allowing teams to scale up their efforts with artificial intelligence
Providing access to predictive insights and showcasing the impact on ROI
Marketing and sales teams can integrate their efforts through account-based scoring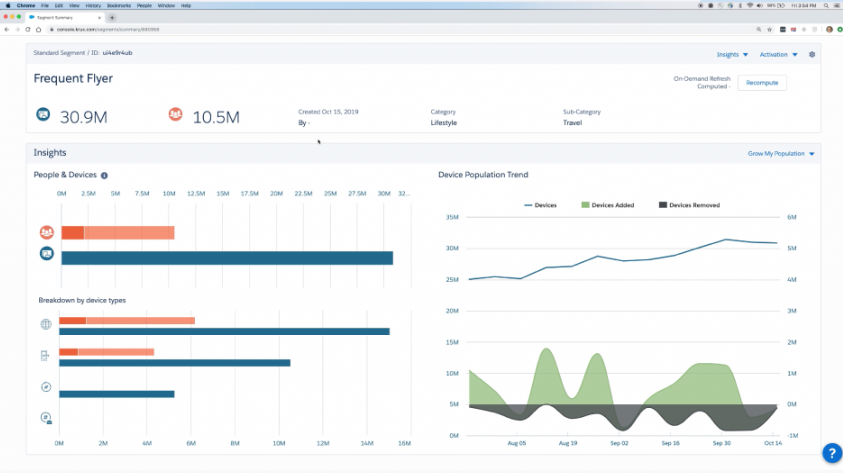 Image: Marketing Cloud Account Engagement
Forecast Management
For ensuring maximal growth for a budding business, it is important to gain real-time visibility of the expected sales revenue with respect to the stage of the sales funnel. The Salesforce Sales Cloud offers robust sales forecasting and Forecast Management solutions in the following ways:
Anyone can build customized sales forecasting reports with comprehensive filters, groupings, and charts that offer immediate real-time analytics
Sales team performance can be monitored across dashboards with options to make quick changes to components and drill down into relevant data
Even complex organizational setups can be monitored and analyzed individually by grouping the sales metrics in terms of revenue or contract value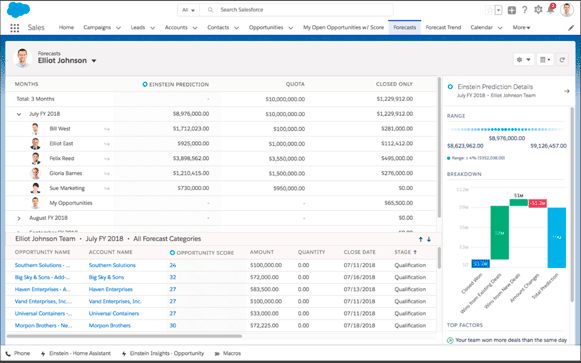 Image: Forecast Management
Assignment Rules
Assignment Rules in Salesforce can be used to specify the assignment of leads to various users and queues. They also help automate the organization's lead generation and supporting efforts. In Sales Cloud, leads can be generated manually, or from self-accumulation tools such as Web-to-Lead forms and the Data Import Wizard.
Regardless of how the leads are generated, the Sales Cloud's Assignment Rules can assign leads seamlessly. Based on one grouped criteria, a singular rule is allocated for a bunch of leads for easy assignment. While one lead assignment rule takes care of importing leads, another is employed for web-generated leads.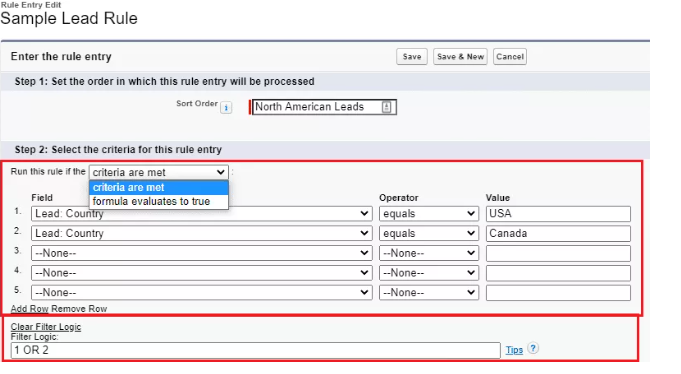 Image: Assignment Rules
Collaboration
A powerful Sales Cloud tool for collaboration among different sales and marketing teams is Quip. Through standardized best practices, account planning, executive briefings, and various other functionalities, sales teams are enabled to close deals faster. Other features include:
A two-way synchronous linking connects long-term sales plans with current CRM data to maintain a degree of acceptable coherence in reports and sales efforts
Emails, spreadsheets, reports, conversions, and templates are all captured in a unified repository for better collaboration
As the implementation and user adoption is simple, the sales team can maintain context among each other as well as with external stakeholders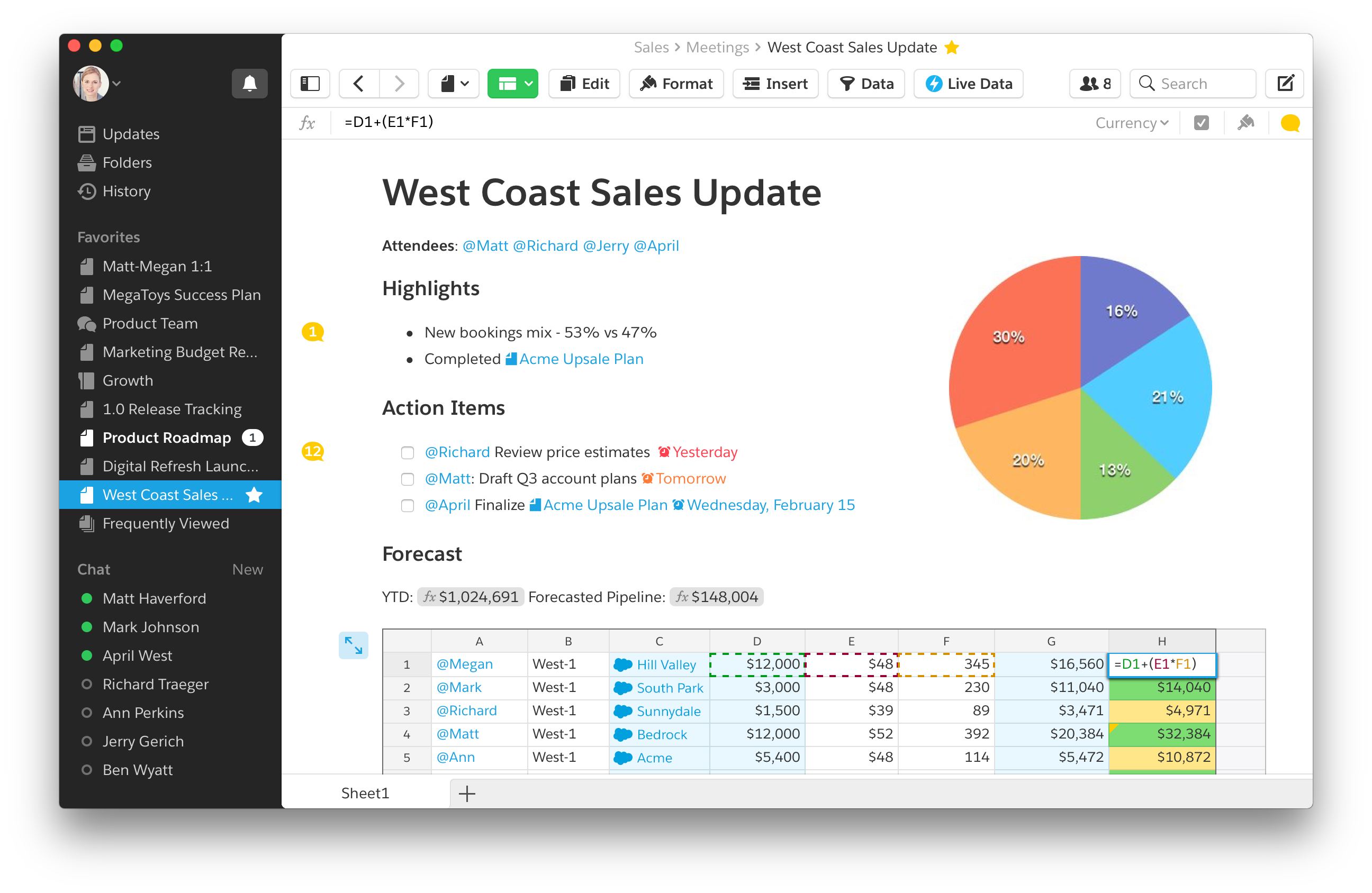 Image: Salesforce Quip
Tips To Maintain A Healthy Sales Funnel With Salesforce
A fully functional Sales Funnel created using Salesforce tools must be monitored and nourished constantly and improved upon, if possible. With focused care, a sales funnel that can stand the test of time can produce faster conversions for your sales efforts. Here are some tips to maintain a healthy sales funnel:
1)Monitor the funnel's growth
Sales funnel tactics need to be sometimes reviewed and modified to keep up with a fast-changing industry. Finding out why prospects are leaving the sales funnel and what is motivating others to advance to the next stage is always a good idea.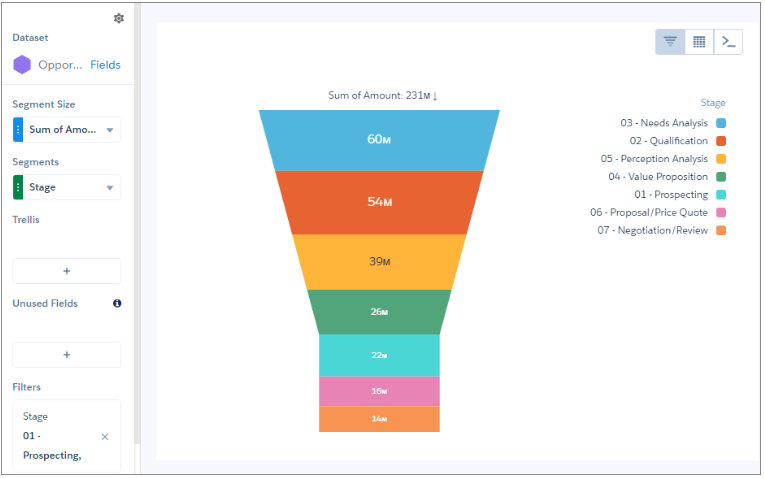 Image: A Salesforce Sales Funnel Dashboard
2)Think of new ways for sales funnel optimization
Make sure the data that you use for basing your sales funnel metrics is accurate, current, and reliable. Also keep in mind that social media interactions, reviews, testimonials, polls, and communication with your clientele will all be excellent sources of information to help you make significant improvements in the sales funnel.
3)Leverage Salesforce Spreadsheets
The study of a sales funnel involves a tremendous amount of data. Spreadsheets can always come in handy to monitor the health of a sales funnel. Salesforce Spreadsheets are highly dependable as they possess clear features that make it simple to organize and sift through data.
4)Constantly reduce turnaround times
The turnaround time on responding to customer queries is crucial for capturing and holding a potential customer's attention. As today's world is becoming increasingly more automated and connected, this goes without saying. Utilize tools as effectively as feasible to serve prospects with greater speed and accuracy.
ALSO READ: How Salesforce Customization Services Boost Business Efficiency and Performance
Utilize The Right Salesforce Expertise For Your Sales Funnel
Right from awareness to action, a robust sales funnel optimization strategy can help with discovering any shortcomings and closing any gaps in your efforts quickly. There is a varied suite of Salesforce tools that can help automate and streamline the functionalities of your sales funnel, but these can only be fully utilized with the assistance and guidance of a skilled Salesforce implementation expert. Daffodil's Salesforce Development expertise can help you achieve that with great precision to ensure maximum ROI and unwavering customer retention.