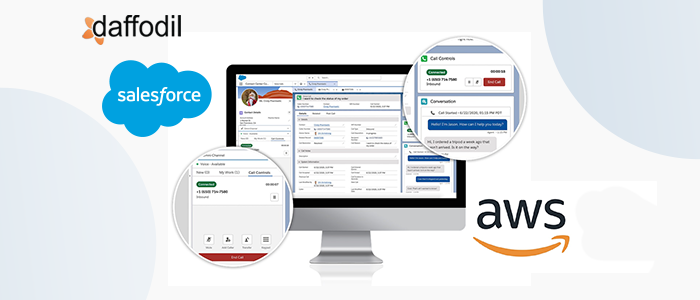 According to a 2019 report by the State of Service, about 93% of customers still prefer service via phone. Undoubtedly, phone calls are a clear winner in customer service.
Even in the digital age with several channels of communication at disposal, customers still choose to call to resolve their issues.
Which brings to light – Service Cloud Voice by Salesforce – a groundbreaking product for the contact centers.
With more employees working in a virtual setup, Salesforce Service Cloud Voice connects a customer's call directly into the Service Cloud console giving remote agents more control and helping them serve customers better.
What is Service Cloud Voice?
Service Cloud Voice embedded with telephony provides a unified platform for phone calls, digital channels, and CRM all in one centralized platform.
In a partnership with Amazon, Salesforce linked its Service Cloud with Amazon Connect allowing phone calls to be routed on a single, unified, omni-channel platform.
How does Service Cloud Voice benefit customer service agents?
Let's see how call centers can benefit from Service Cloud Voice.
•One of the most beneficial aspects of the Service Cloud is that customer interaction and CRM data is stored in one place – accessible to you anytime, anywhere.
•Tele-callers can make the most out of the AI-backed suggestions and solutions while the call runs in the background. This reduces the call time and also helps the agents serve the customers better.
•Managers and team leads can now track and monitor the performance in real-time with an omni-channel view. The calls can be supervised and reviewed live giving managers a clear picture of the performance of the agents.
•It increases the productivity of the agents by cutting down on call wrap-up time and entry of data. Agents can use the auto-transcription feature and focus on what matters the most – addressing customer's needs.
•With the integration of telephony, calls can be routed to one platform, and call center executives can use one console eliminating the unnecessary toggling within multiple screens.
Also Read: Salesforce Sales Cloud vs Service Cloud: All you need to know
Key features of Service Cloud Voice
Voice call record: This feature includes information such as relationships, contacts, and more. It pops-up on incoming calls and instantly displays the entire history and information of the customer.
Real-time transcription: This is a game-changer for all the callers out there and boosts your customer service process like anything. The transcription is conversationally done in real-time clearly distinguishing the agent from the customer. Post the call the transcription is saved automatically in the database ready to be used for later analysis and interpretation.
Contact flows: Amazon Connect can create multiple contact flows that help your customers through their call. Think of it as a Process Builder in Salesforce Service Cloud.
Analytics & Reports: With telephony, the managers can assess the call time by the agent. This data can now be linked to case records where it can be measured by case type, customer type, etc.
Embedded call & agent status: This lets you view the status of the agent at the moment whether they're on a break, available, offline, and more.
Why Salesforce and Amazon Connect?
With Amazon transforming telephony infrastructure for the clouds – it empowered businesses with topnotch and consistent voice service across contact centers irrespective of the location of the call agents. This streamlined the voice process for organizations making Salesforce tie-up with Amazon. Besides, both giants share the same vision of revamping the contact centers. The AI-enabled Amazon Connect allows agents to work on AWS services to automate conversations thereby enhancing the customer experience.
Amazon Connect also offers organizations to scale their contact centers up or down – giving them the freedom to recruit agents accordingly. With AWS cloud, your agents can connect with your customers anywhere through a well-secured platform. All your agents need is an internet connection to engage with your customers.
Also Read: Salesforce Workflow Vs Process Builder: Which one to use?
Takeaway
If you need assistance with Salesforce implementation, then look no further. You've landed on the right page and are about to get the right advice on how to enter the ecosystem with details like cost, structure, and more. We will provide you with insight into the service cloud technology and give you the best voice solutions to integrate into your CRM. For more information, click here.