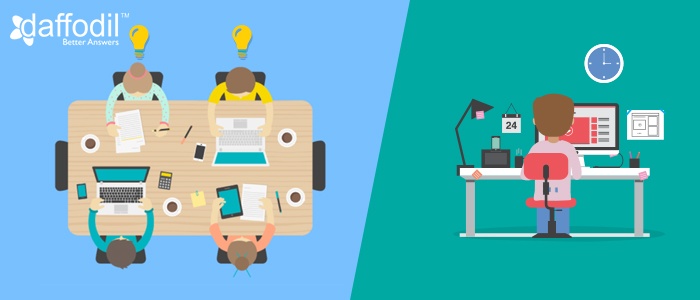 Nothing we do is more important than hiring and developing people. At the end of the day, we bet on people, not on strategies. And that said so, choosing the right people for outsourcing IT services surely holds the crux of any business project.
With thousands of companies, freelancers, and agencies mushrooming in every corner, outsourcing has become a hyper-competitive industry. While freelancers have a cost-effective development model and certain technology expertise to offer; companies welcome large scale projects, have diverse skillset, and are open to innovation.
Businesses are baffled about making a choice between the plethora of options available in the market. Whether to go for a freelancer or a professional firm? This can be a table turning decision for them.
Statista surveyed CEOs and top managers to figure out the factors that lead to choosing an outsourcing partner. Their responses made the following picture.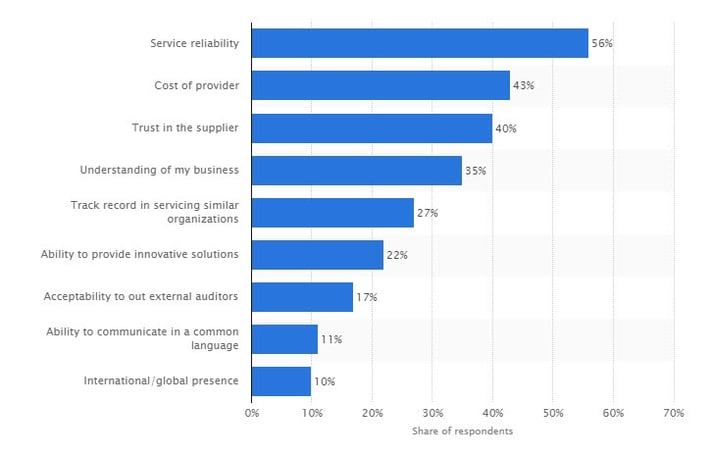 Giving consideration to these aspects, let's contemplate the contribution of freelancers and companies to each of the elements to take a decisive step.
a. Scalability and Reliability in Service
A number of factors define reliability of offshore services, which includes, but is not limited to the ability to handle large scale projects, managing it from ideation to deployment, delivering product under the timeline, expertsie of various non-mainstream technologies etc.
When outsourcing project to a company, the overall cycle of development, right from wireframing to development to post-deployment support is handled at one place. This ensures that even a complex project, at a large scale can be managed well. On the other hand, freelancers cannot deal with every phase of development due to non-versatile skillset, lack of team, and other overheads.
Also, when it comes to sharing your unique business idea, it is definitely the best practice to approach a professional outsourcing firm. Reason being, they sign a NDA, which is a legal contract, outlining the confidential information, knowledge, or material that is shared between the two parties for a specific purpose, and is restricted to be accessed by third party.
Take Away: If there are medium or large scale projects, outsourcing to professional companies is indeed a good idea. They can update you about the project status (weekly/monthly) so that you can have a look at the work done so far, give approvals, and suggest improvement, as required.
However, freelancers on the other hand can handle projects at low scale only. So determine your project size, technologies involved, tools required, and other overhead before outsourcing IT services to a freelancer or a company.
b. Overall Cost Charged by Provider
When a mobile app development project is handled by a company, it would be bearing cost for individual expert involved in it. They will be paying to the prototyping and designing team, developers, QAs, testers, and other members to get the relevant output. Counting the services offered, the overall cost involved would be higher than those charged by freelancers. The decision maker in this concern should be the based up on the project scalability, precision for every element, and regular reporting. Make a list for how you want the entire project cycle to be streamlined and choose accordingly.
Take Away: If you think it's expensive to hire a professional, wait until you hire an amateur. And this sums up all.
c. Trust in the Outsourcing Partner
In the course of choosing a responsible partner, reviews are one of the ideal ways. When hiring a freelancer for outsourcing IT services, you can look out for their ratings, reviews, and portfolio to ascertain their potential to handle your project. Similarly, you can look out for the best of companies in a particular domain through aggregator websites and review sources. In both the cases, collecting a genuine feedback is possible to make a decision.
Take Away: There are a number of smart sources that can let you have trust in the outsourcing partner. Start by checking out genuineness of their profile, look out for portfolio, client reviews (on websites like Clutch, Good Firms, Business of app), market reputation, and other such factors for an informed decision.
d. Understanding of the Business
When outsourcing IT services for a project, it is important to analyze if the party on the other hand understands your business. For instance, if your business is into healthcare, the company or freelancer you are outsourcing your project to must have experience and proficiency over the industry standards, user type, the kind of throughput that works etc.
When you choose a company, you get an advantage of your domain being understood wisely. Since they are into a business of dealing with different domains, they can easily understand the requirement. On the other hand, freelancers might have some limitations here as they might not grasp your business model that easily and clearly due to absence of a team or experience.
Take Away: When outsourcing, clarity about the business model and the project requirements is priority. Certainly, this can be handled professionally by companies than freelancers. So if you have a unique and complex project in line, better go with a company that have conversance with your business and project calls.
e. Having Served to a Similar Domain
This indeed is a benefit. If you can find a freelancer or a company that has specialization in a domain, similar to your project; then that's a plus. In such a scenario, not only you would have to explain less, but also you can have some good ideas as well to improve your idea.
Take Away: To look out for one' expertise in a particular domain, you can check out their portfolio. Both companies and freelancers showcase the best of their work in specific domains that can help you to choose right prtner for outsourcing IT services.
f. Ability to Provide Innovative Solutions
When turning an idea into an innovative solution, possibility is that there would be variety of changes being introduced on the way. And thus, following agile methodology is important when outsourcing, as it gives space to experiment and implement ideas at different phases of project development for betterment of the throughput.
When outsourcing IT services to freelancers, you are bound for experimentation as they follow a rigid model for project completion. Usually, they are only open for improvements, once or twice, and that too after winding up the project. On the other hand, agile is flexible, giving scope for new trials that can surely return a better version of the actual idea.
Take Away: While freelancers can dedicate a predefined time and effort to your project, companies dedicate professionals for your project, who give the best of time, effort, and are always open for new trials by the client.
g. Acceptability to External Auditors
In scenarios when an app or service reaches the mass and is likely to have some critical impact (related to security, finances, health etc.), external auditing becomes an imperative thing. External auditors create unbiased report of a product or service performance, in accordance to the defined standards. When outsourcing, it is important to question if the freelancer or the company holds expertise in developing a product, following regulatory compliance. For example, PCI DSS (security for mobile payments), HIPAA (protecting healthcare info) are few compliances that mobile apps are developed with.
Take Away: When a mobile app has to undergo external auditing, special efforts has to be put in in its development. Therefore, it is important to be sure about such compliance testing beforehand so that the guidelines are followed while the project is in process. When you consult a partner for outsourcing IT services, either a freelancer or a company, you can clarify their acceptance towards external auditing.
ALSO READ: Why India is the Best for Outsourcing Software Development?
h. Communicate in a Common Language
No matter if a project is handled by in-house team or an outsourcing partner, communication is the key to successful project completion. When you share your project requirements with the freelancer or the professional firm, you can determine their potential to to understand and communicate well at the initial level only. To make things easier, connect with your outsourcing service provider through video and audio channels, alongside chat.
Take Away: Freelancers work at flexible hours. Therefore, it is not possible to catch them, whenever needed. On the other side, companies always have a set of representative to communicate and answer to your queries, which means you can connect to them on the predefined working hours.
i. International/Global Presence
Generally, freelancers are working on multiple projects at a time. Giving importance to another project in hand, they might give less weightage to you project or leave it in the way. On the contrary, professional companies have online and offline reputation, which ascertains continuous development, reporting, and delivery of project. This is the reason why looking after reputation and presence of your outsourcing partner is essential.
Take Away: While companies work from a specific location and time, freelancers work from remote locations, about which you have no idea about. When done a comparison, companies surely offer assurance about their presence and their existence can be confirmed through various references and platforms online.
Will you Outsource to Freelancer or a Company?
When we started off this segment, it seemed hard to conclude which one is the right choice for outsourcing IT services. Of course, both of them have advantages over one another. But post contemplation to the criterias for selecting the outsourcing partner, opting for a professional company is indeed a better choice.
However, that does not infer that hiring freelancer couldn't render the expected throughput. In the analysis done above, freelancers prove to be a great outsourcing partner when the project is small, requirements are specific and it calls for limited skillset (but expertise in one or few). On a different note, hiring IT services of a professional company is the right decision when you want a disciplined strategy to lead a project. This set of information will surely let you draw an inference between freelancer and a professional company. Good Luck!