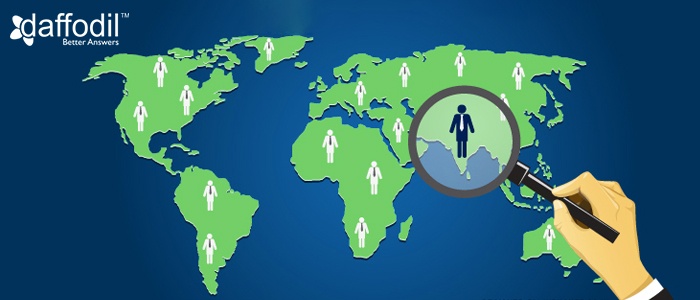 In today's business climate of increasing globalization, it's a matter of no surprise that top companies are practicing offshore outsourcing to India as a part of their overall business strategy. Outsourcing software development is here to stay as an IT trend which has evolved, grown, matured and is living up to and outgrowing its potential.
This document is revised with latest facts and figures that favor India as the front-runner in offshore outsourcing for software development. Check out the updations on appdevelopment.daffodilsw.com.
With ground-breaking developments happening in the fields of technology and communication in India, outsourcing software development to India has become a highly sought-after and profitable option as it provides lower cost benefits.

Why outsourcing to India?
One of the strongest factors that attracts companies to an offshore software outsourcing project is that the cost is reduced to almost 30% while there is access to world-class software engineers, it is no more an option but a smart decision. Outsourcing allows organizations to concentrate on their core issues. There are several processes within the SDLC.
If some of the least necessary processes are outsourced to India, sole control and profits can really mount up. The core reason for preferring India, as an offshore software development partner country, to other competing destinations in outsourcing business is a vast pool of educated human resource combined with world-class quality offerings and ever encouraging Government policies for the IT sectors.
Outsourcing to India can give you an average of 40% to 60 % net savings and help you stay agile in today's global economy.Major differentiators such as certain favorable government policies, fast-developing infrastructure, and an immensely talented work force are responsible for the Indian IT outsourcing industry continuing to experience a tremendous growth rate of 25–30% per year.
Facts say that,
80% of European and US outsourcing firms ranked India as their number one outsourcing destination.

The National Association of Software & Service Companies (NASSCOM) also reported that India's export revenue touched the $56-$57 billion mark last February.
Major Advantages Of Outsourcing Software Development To India
Price Flexibility- The number one reason why India remains a top outsourcing provider is the significant cost savings such as recruitment, supervision, salary and other benefits. This is because of the gap that exists between domestic cost in India and that of the other countries. The pricing flexibility allows companies the freedom and creativity in managing their budget. For example, a good developer in the U.S. can cost anywhere from $50 to $80 an hour but comparatively, the hourly cost of a developer in India can be negotiated down to as low as $15 per hour this can helps them reap large profits.
Exceptional Quality- There is a consistent high quality outsourcing services provided by Indian firms which has led india to be top in rank for outsourcing destination. As per the National Outsourcing Association (NOA) companies prefer india not only for cost benefit but for other such as, time-to-market and good quality service with can do attitude.
Talented Human Resource-Software applications development involves huge financial resources and a large number of skilled professionals to work. This could be fulfilled by Indian companies as they have these resources. Indian IT professionals are fully equipped and trained to handle outsourced projects, so service providers are able to provide fast and cost-effective software development services.
Infrastructural And Technological Availability - Outsourcing companies also maintain uninterrupted communication channels with clients by providing high-speed bandwidth .Clients are offered the latest and best in software technology and they are assured of receiving the most efficient services and latest technological expertise within that particular function including customized solutions for various applications such as e-commerce, business process re-engineering, system migration, legacy system maintenance, system integration, and much more.
Attractive IT Policies- IT is regarded as one of the top 5 priority industries in India, and the government has framed policies to obtain maximum benefit from IT outsourcing to India. The government has offered its support to the IT industry by providing various tax-related and other benefits and by enacting the Information Technology Act, which recognizes electronic contracts, bars cybercrime, and supports e-filing of documents.
Quick Time-to-Market- Due to time zone difference,Indian outsourcing companies are able to provide the quickest time-to-market. The time difference between India and the other countries provide numerous opportunities for work to be completed earlier than expected, leading to greater efficiency, increased productivity and more time to focus on other crucial tasks.
More time to focus on Core Business Activities : Outsourcing helps to focus more on your core business activities. This improvises things in both the ways as Management spends time in planning and directing the company's business strategies and not wasting time in managing time in certain ancillary functions.
The benefits of outsourcing software development to India are immense, and the list will go on rising. It has gained global confidence with major players such as Cisco, Oracle and Hewlett-Packard opting for India because they are confident of gaining access to superior talent, quality results, fast turnaround times and low costs.To conclude, outsourcing software development requirement is the best option available, which is both beneficial and economical.
However, there are other facets of outsoursing too. Here are a few things to avoid while outsourcing your application development.
As an Indian company, Daffodil certainly enjoys being a part of the Indian IT industry and the massive opportunities this region provides as an outsourcing hub.
I hope you enjoyed the blog. For more of such posts around the best technologies in the world, subscribe to our mailing list and we will keep you posted.