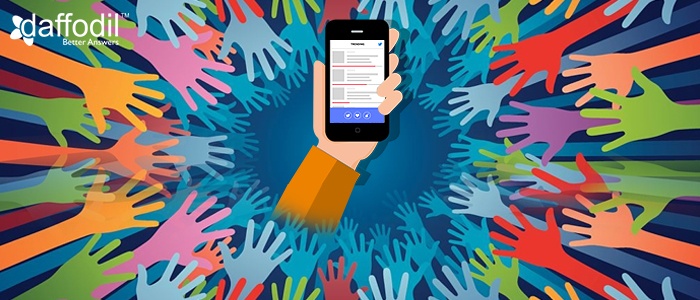 If your app is the fire, social media is gasoline. Considering the popularity of social platforms and their tendency to viralize the potential content, it is definitely the right strategy to promote your apps on these networks. Here we are with most pertinent social media platforms and mobile app marketing tactics (free and paid) that can shoot up your apps' downloads amongst targeted users.
Get your App listed on Product Hunt or Betalist
Surely, there is no better place to get started than the most popular app discovery platforms. You can go with Product Hunt and Betalist for the same.
Product Hunt is a platform that enable users to share and discover new apps, websites, games, and technologies, daily. A number of individual developers and startups are available, sharing their ideas with like minds. This website also sends a daily email to its subscribers that include a list of yesterday's top tech hunts (products) and their featured collection, which improves the chances of potential products to be noticed.
If your app is not released for use yet, then Betalist is the best alternate of Product Hunt. This platform offer startups to get noticed and let's the community members to find apps by specific market (Entertainment, Accounting, Email etc.) and region. It has got a Front Page that features all popular and potential products from the platform.

Reach the Right People through Medium Publication
Ideally, Medium is a platform to share the best of an industry through digital publication. However, it also allows its users to follow individuals, brands, businesses, media, and build a network. According to Wikipedia, Medium has 60 million unique monthly readers (By May 2017).
To reach the targeted audience, you can start off with your own Medium stories. Once your app profile starts getting noticed, chances are that you get hundreds and thousands of followers through it. This kind of following will pitch in to get downloads for the app and let the users stay informed about it as well. Along with sharing the inside story of an app, Medium will also give SEO benefits that will boost your app's presence on search engine, alongside mobile app marketing.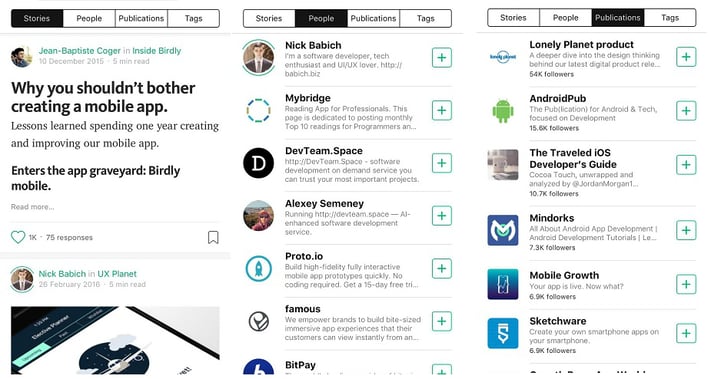 Connect with the Niche on Q&A platforms like Quora
You might have used Quora to look out for long tail keywords or to garner market intelligence till date. If you have made use of Quora for all these benefits, then the next in line is to organically promote your app on it.
You can start off by following relevant topics, which have relevance with your app. Then, stay wide awake about the questions or problems that are being discussed related to it and try to solve them. In the process of answering user queries, you can pitch your app, whenever needed.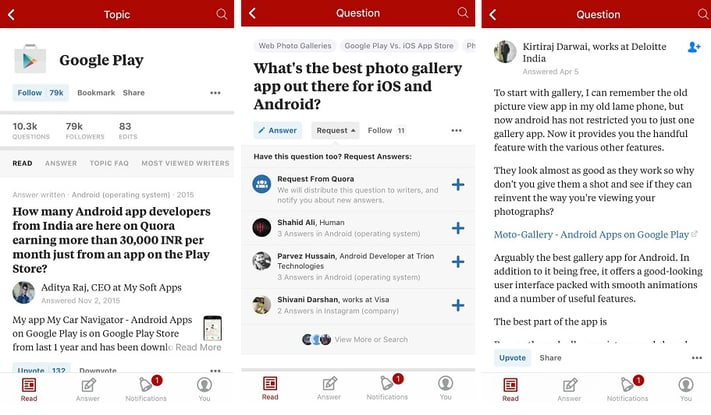 If your answer is is upvoted by the users, it hold out chances to rank in Google SERPs for the targeted keyword. Better rankings means better search engine presence, which ultimately will drive niche to the app.
Promote your App through Subreddits, The Right Way
In the first place, Reddit is not actually the place to market. However, there are few subreddits that can help you in mobile app marketing in the most efficient manner. For example: There is a subreddit r/AppHookup wherein one can find paid apps with discounts and many other app related deals. A number of people look out for exciting app offers here and thus it is one of the promising space to market your app.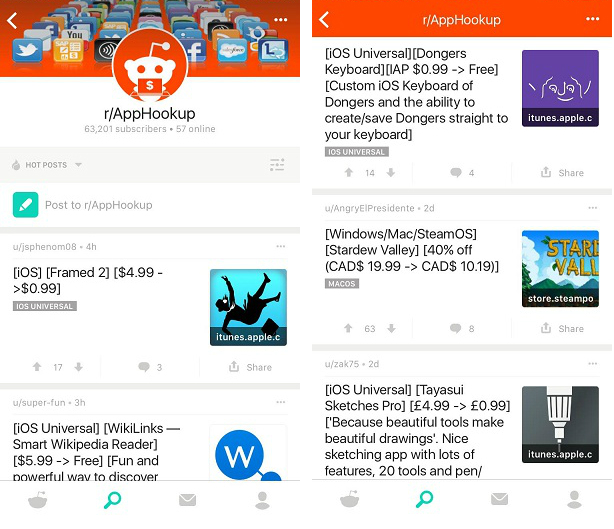 Meanwhile, there are many other subreddits that can help you out in promoting app. For example: If you have come up with a new Android app, you can introduce it through subreddit r/AndroidApp, ask people to review it, and share the feedback. These subreddits are extremely popular and are also looked out by tech bloggers world wide. So, any influencing blogger writing about your app's potential or sharing it with the followers could give your app a boost.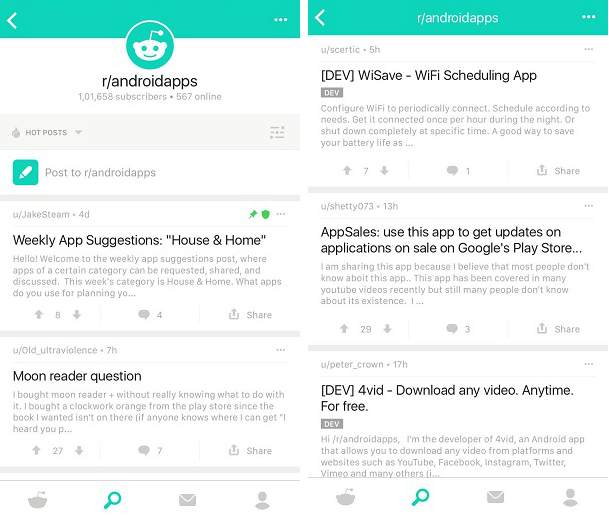 You can look out for similar subreddit suggestions and go ahead with your mobile app marketing strategy. However, it is important to follow the reddiquette for each subreddit before you promote the your app in it. Bypassing the rules or ignoring them means instant banning. While being on Reddit can give a fair advantage to your app, you need to be particular about Do's and Don't before you get started.
Remember that Reddit is an anti-advertising platform. To reach the audience, you can use other innovative gateways like giveaways, promoting posts on subreddits etc.
Connect with Targeted Users on Twitter
Twitter has got over 319 million active monthly users, according to Wikipedia. When you promote your app by adding a Play Store or iOS App Store link to a Tweet, it gets converted into an App Card.
When a promoted tweet campaign is run, and deep links are added to the Twitter card, then the audience could see a CTA that will prompt them to install the app or open it (if the app is already installed).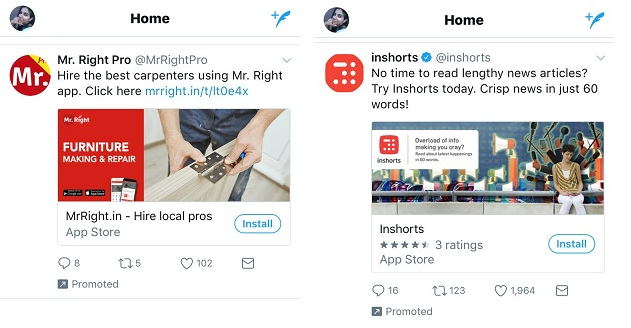 ALSO READ: What are Mobile Deep Links and their Benefits
Let the Power of Picture Work for your App
You must be wondering how these image driven platforms can drive traffic and improve number of downloads. Pinterest CEO, Ben Silbermann considers the company has a catalog of ideas. Therefore, it can be counted as one of the reliable space to introduce the app to a variety of users.
A study suggests that Pinterest has over 175 million active monthly users and thus the platform holds out possibility to drive app downloads. You can do this by using App Pins. Doing this, your app would be downloadable from Pinterest itself.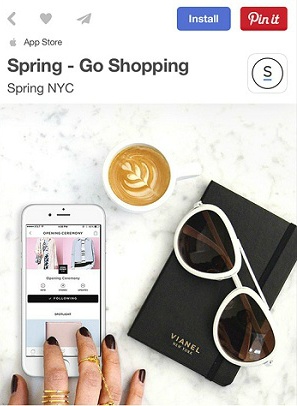 Next in line is Instagram. On this image and video based platform, one way of promoting the app is by building a user base. Another way of mobile app marketing, or we can say the shortcut is by running Instagram Ads. Since this platform uses the robustness of Facebook when targeting ads, it can invite users to download app effectively. Depending upon your budget and idea of engaging users through the ad, you can choose between picture ads, video ads, and carousel ads.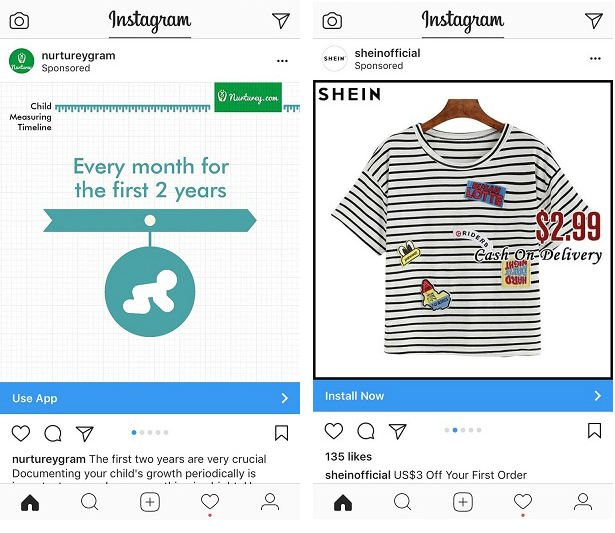 On Instagram, you have the opportunity for Influencer Marketing as well. If your app aligns well with an influencer's profile, then promoting your app through them is one of the best ideas that can be adopted for your app's promotion. There are platforms like Influenster, FameBit and others that can help you find the right influencer for your brand.

LinkedIn can give More Power to your Business and App
With over 500 million members in 200 countries, LinkedIn is one of the popular business oriented platforms. So, if your app is business centric, it has got to be on LinkedIn. To start with, you can take an organic route, i.e. build following for the company page, interact and engage with people through different mediums, have an active group etc. After this, you can start promoting your business app. On any platform to promote an app, it is important to understand the user base and build one.

ALSO READ: 8 Amazing Ways to Monetize Mobile App
Mobile app marketing is a slow and steady process, unless you have got apps like Clash of Clans or Tinder that gets instant traction from its audience due to extremely immersive concept. The idea of promoting the app through social media will not only help to market it, but will also let you listen, engage, and build relationship with the customers. Choose the platform that has the maximum number of targetted audience and go ahead with the most efficient ways drive downloads.