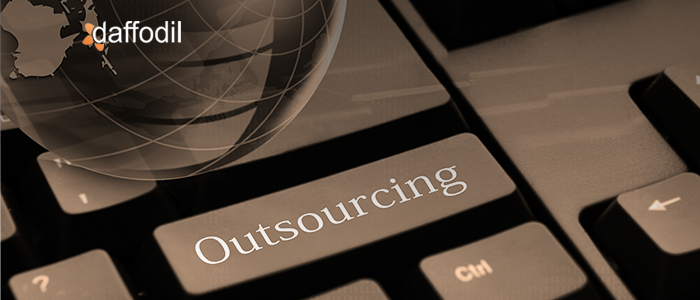 Outsourcing is a practice that a lot of companies have adopted in the past few years. The primary objective of outsourcing is cost reduction. Companies are constantly on the lookout for reliable technology partners to add value to their projects. Nowadays companies have various additional motives for implementing the practice.
Major reasons companies outsource their software development are:
Utilizing enhanced skills: There are companies that require particular skills for particular projects that their internal teams lack. In some situations, it is more feasible to outsource resources having the skills for the required period of time, instead of hiring them knowing they might not be required once the particular project is over.
Gain a competitive edge through innovation: With the emergence of innovative technologies like AI, blockchain, RPA, etc. there is a need for companies to integrate them and gain a competitive advantage. However, it is not always easy to hire resources who are competent in these technologies and that's when offshore outsourcing comes for the rescue.
Optimizing operational costs: Instead of just cutting down on costs, outsourcing is being used by companies to optimize their departmental costs through long-term engagement. Entire operational departments such as IT, HR, etc. can be outsourced via cloud vendors to optimize costs.
Things to consider when selecting an offshore outsourcing partner:
Development methodologies
Companies must ensure that the methodologies used by the outsourcing partner are considered best practices in the industry and are in line with the practices that they use in the organization. It is crucial to choose a partner that operates transparently in providing issue management and resolution. Predefine all the expectations, roles, and responsibilities to ensure smooth engagement.
When outsourcing offshore it is imperative that companies pay heed to the cultural differences that the two parties need to face. Choosing technology partners that are not conventional to their country's work norms and instead have a work culture that's internationally acceptable is always considered beneficial while outsourcing offshore.
Consider the time difference
Although in some situations, it is considered better to have a different time zone than the outsourcing partner, there are projects that require both the parties to be in closer time zones for better results. This decision is majorly based on the type of project that the company needs to work on.
Another very important factor to consider when hiring a team for offshore outsourcing is the type of structural requirement for a project. There are majorly three team structures that a company can choose from for its outsourcing engagement. The generalist structure is majorly used when a company needs to elevate its development capacity. In this structure, a team of development experts provides end-to-end development services. The specialist structure can be selected if the company requires a team with niche expertise for projects that require assistance in specific technologies. Lastly, a hybrid team structure, as the name suggests is a mix of both generalist and specialist team structures.
Companies can choose a team structure according to their project requirements. There are no criteria to judge which structure will be best suited. Hence, whichever team blend works best for the complexity of a project is considered the best for that project.
ALSO READ: How to Set up an Offshore Development Center in India?
Tips to manage an offshore team
Companies must ensure the effective management of their offshore team to maximize the benefits of outsourcing. Even if the technology partner is competent enough to work on the project independently, experience suggests that if the outsourcing company is involved in the project as much as the outsourced partner, project management is improved manifold. A few points to consider when managing offshore projects are:
The roles and responsibilities of the offshore partner should be predefined. The amount of control passed on to the offshore partner should also be evaluated well in advance to ensure the achievement of expected objectives. Another very important aspect of managing controls is clear communication. The roles, responsibilities, expectations, challenges, etc. should be communicated in a proper manner to eliminate any sort of ambiguity among the team. The project progress should be assessed regularly to identify and avoid any deviations.
Every project be it big or small comes with its own share of risks. It is essential for a company to communicate the potential risks and challenges to the offshore partner so that it can be mitigated and the outsourced partner is not taken by surprise when such challenges arise. Comprehensive goals should be set and a workable project roadmap should be developed by both the parties to reduce the potential risks.
The outsourcing company should ensure collaborative efforts when working with any offshore partner. It is likely for an offshore partner's team to feel disconnected from the outsourcing organization and its the organization's duty to make them feel like their part in order to realize better performance. Working as a team in a collaborative manner instead of acting as a higher power has always proved to be a better strategy when offshore outsourcing projects are concerned.
When working with offshore teams companies don't have total control over the dedicated resources and the offshore partner can swap or switch resources between projects as per requirements. It is essential for a company to understand the situation and ensure effective communication during the course of the project to ensure they have all the information they require for the smooth functioning of the project even if a resource has to leave. Although, most offshore partners always try to keep dedicated resources on a project until its completion but at times due to unforeseen circumstances the resources need to be reallocated.
Having an offshore development center doesn't mean the outsourcing organization doesn't need to take part in the development process. In addition to communicating the project requirements, it is suggested to have a dedicated internal project lead in constant touch with the offshore team. This project lead should be responsible for regular communication and providing feedback about the project while ensuring that the feedback given is understood in the same context as it's communicated in. Effective coordination can make a successful project while a great project can go down the drain if it's missing.
Hence, it is proven that careful identification and selection of an offshore outsourcing partner are critical to project success and every company should make a well-informed decision about it. Daffodil Software provides a dedicated offshore development center in India that helps organizations gain access to world-class technology skillset at optimal cost. Set up a free consultation.