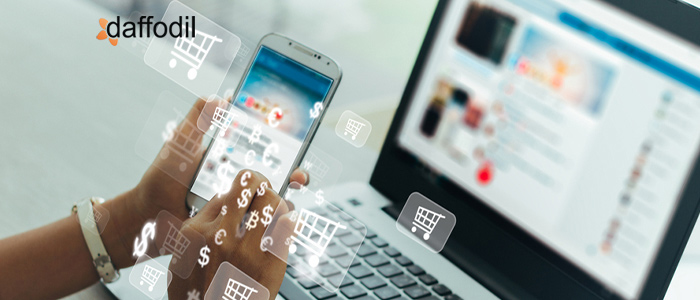 With evolving technology, almost every business is making efforts to expand, improve the customer experience, and ensure that these customers keep coming back. Retail business is one of them.
The retail industry is making the most of ERPs, CRMs, Point of Sale (POS), etc. to digitalize inventory management, sales & marketing, customer management, payments, and more. To give more power to these retail solutions, mobile apps have a major role to play.
eCommerce mobile apps in retail have been helping to significantly improve sales, loyalty, data analysis, customer retention, etc. Let's figure out how the retail industry is benefitting by going mobile.
Build a Wider Customer Base
When a retail store chose to have an eCommerce mobile app, it allows them to extend the boundaries of their business. Since there is no limitation to walking into the store and making a purchase, retailers have the opportunity to target a wider market and acquire new customers (in the same or different town, city, state, or even country).
By enabling retailers to target a wider customer base, mobile apps help to improve the customer acquisition rate. In addition, they can help in improving the retention rate of lost or existing customers. There are four types of customer personas that can be targetted through mobile apps:
Discount Daisy
Customers who are always ready to bag a bargain. These customers shop online as well as in-store, rarely make a purchase at full price, and respond to the best of offers, deals, and discounts.
Key Strategy: These customers can be targetted by showing them ads & offers, giving them alerts & notifications for the new deals & discounts on products.
Researcher Richard
These customers thoroughly research a product, often seeks online review to make a decision, perform a comparative study, shop offline and online at the best price.
Key Strategy: These customers can be retained by facilitating them to review products they are interested in and showcase new products to them as soon as they are launched.
Regular Rita
These are the customers who regularly shop in high volumes from a store.
Key Strategy: Create transparent and effective loyalty programs, provide visibility to the loyalty points, and offer a seamless way to redeem them in the next purchase. Also, these customers can be targeted by sharing ads for the new products and arrivals periodically.
Lost Diamond Customer
These are high-value lapsed customers who haven't made a purchase in a while.
Key Strategy: To win these customers back by advertising discount offers & discount/gift vouchers. They can be reached out through notifications SMS, and mail for discounts and gift vouchers.
Based on this categorization, retailers have the opportunity to create personalized marketing campaigns for the customers and target them. Apart from the buying behavior, other metrics can be analyzed for personalization, such as cart abandonment rate, customer lifetime value, revenue per visit, conversion rate, etc.
Revenue is directly proportional to customer acquisition, cart value, retention rate, etc., and to improve these values, it is essential to improve the frequency of customer visits.
Loyalty points, offers, deals & discounts are a great way to connect with customers and bring them back on the platform. In comparison to SMS or emails, users are likely to open the push notifications sent on the mobile app or on messaging platforms like Whatsapp.
ALSO READ: Whatsapp Chatbot: 5 Ways it is Transforming Business Communication
Brand loyalty is the tendency of a customer to continue shopping from the same brand rather than a competitor. There are several factors in a mobile app that helps to achieve brand loyalty, which include but are not limited to the loyalty program, a great shopping experience (filtering products and finding the most relevant one), getting items delivered at the doorstep, etc. A retailer investing in a mobile app can have the advantage of attaining brand loyalty from customers.
Building a Mobile App for Retail Business: Getting Started
Mobile apps are a great way to acquire, engage, and sustain customers. By integrating retail mobile apps with ERP, CRM, or POS software, a sync between offline and online store data can be maintained.
Daffodil Software holds extensive experience in digitally transforming operations, processes, and transactions for several mid-level to large scale organizations. If you have a retail store that is ready for expansion through a mobile app, then know how to get started through this ultimate guide to eCommerce app development.