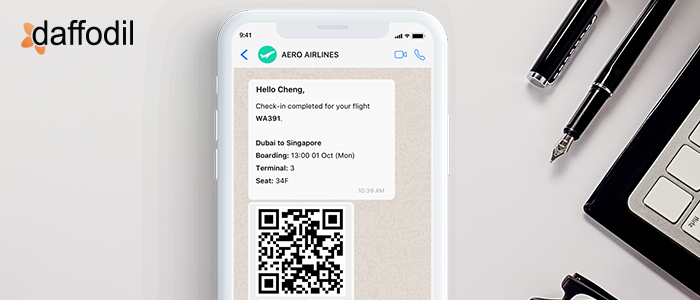 Whatsapp is the most popular messaging platforms with 1.6 billion active users monthly. Extending its real-time communication services to the next level, Whatsapp is enabling businesses to have seamless, secure interaction with customers.
With the launch of Whatsapp for enterprise, there is an opportunity for enterprises to improve their accessibility for customers, have real-time communication with them, and have high brand recognization. The WA API for business has Whatsapp chatbot development as one of the efficient use cases and enterprises around the world are making the most of it.
The Whatsapp chatbot is simply a way for businesses to have two-way communication with the customers. Not just this, but the integration of Whatsapp with enterprise apps, such as ERP, CRM has opened ways for managing customer relations and operations better.
Building a Whatsapp chatbot enables businesses to perform a variety of tasks such as product catalogue, product research, follow-up communication, conversions, offer customer support, etc. automatically. This enables businesses to drive higher brand recognition, build customer loyalty, and pass on information in real-time.


Whatsapp Chatbot Development: Advantages
Improves Customer Experience
Imagine a business being able to stay in touch with customers- send them reminders, alerts, notifications, help customers explore product catalogue, send order updates, gather feedback from them, and more.
A report from Salesforce suggests that 52% of the users are willing to share personal data to get product recommendations.
This means customers are more likely to shop from brands that recognize their requirements and offer personalized offers & services to them. Personalized user experiences improve brand loyalty, thereby increasing the business.
Better Marketing Campaigns
Imagine your customers being notified about sales, new arrivals, discounts, new services, upcoming events and there is a high open-rate for the messages/notification sent. Isn't what every marketer wants?
Statistics suggest that chatbot campaigns have a 70-80% open rate and a click rate of 15-60%, which is higher than any other channel.
"If you get a WhatsApp message, you're probably going to open it. That's the interesting thing."
The adage signifies the importance of IM (instant message) and its easy reach amongst the users. Since the customers have positive intent of opening a Whatsapp message, higher are the chances that the message will be read and converted as compared to other platforms that are used for updating or notifying the customers.
Handle Business Scalability
While humans have the limitation of handling one customer query at a time, a chatbot, in contradiction can respond to hundreds of queries simultaneously. No matter what time of the day it is or how many concurrent queries, having a business chatbot ensures that all of them are answered immediately. Having a Whatsapp chatbot means giving customers one of the most convenient modes to reach out to the business for queries, inquiries, updates, purchases, product reviews, information, and more.
A Whatsapp bot is the brand personality any for business. With their availability 24*7 for the customers, there is an ease to connect with the brand, making clear, real-time conversations to resolve queries. And if by chance the chatbot cannot provide relevant answers, a human executive can take over.
Gain Deeper Customer Insights
There is a message encrypted within every conversation that the business has with its customer. Since chatbots communicate with the customers, the feedback they collect through queries or reviews helps in bringing improvements in the products or services.
They can keep a track of customers' behaviour, their purchase patterns, keep the business informed about product/service quality, which ultimately helps the business grow. And when a chatbot is built on a platform that is known to receive millions of messages daily, it is an opportunity to have better customer engagement and insights.
Whatsapp Chatbot Development for your Business
Chatbot development for Whatsapp is a bit different from the rest of the platforms. Getting started requires access to the WA business API, access to which depends upon scalability and use case for a business. Our experts thoroughly analyze your business to understand the best use cases of a Whatsapp chatbot for it.
If Whatsapp has been shortlisted as your preferred platform for building a chatbot, then Schedule a 30-minute free consultation with our tech experts who will help you with technical and practical aspects of Whatsapp chatbot development in accordance with your business.