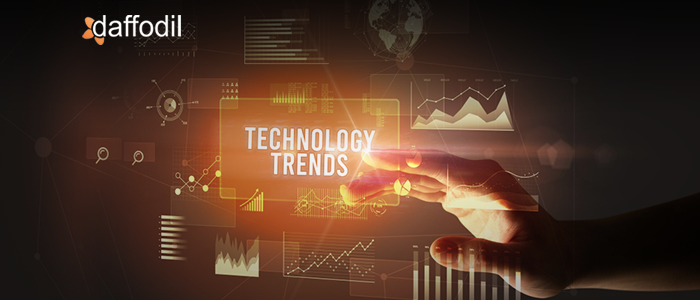 The year 2019 prepared us for the digital transformation.
We now know how important digital readiness is for the continuation of work and life as we know it.
Businesses realized the significance of the requisite infrastructure that supports remote working without hampering the workflow.
And the only way to stay ahead of the game is to promote the remote culture more than ever.
And remote opportunities are only going to grow in a fast-changing, fast-adaptable, post-pandemic world.
Another major trend that was already a part of the process but bolstered all the more by the pandemic was automation.
Let's take a look at what other tech trends will emerge in a post-pandemic world.
Also Read: Artificial Intelligence, Machine Learning, Deep Learning: What's the Difference?
Internet of Things (IoT): The overall user experience will be changed by IoT in the health sector with telemedicine having gained traction amid the pandemic. This is going to be the most valuable in the current and future scenario. With the use of medication containers and IP for vitals, it will allow us to predict medical issues even before the apparent symptoms. Patients can also benefit from personalized experiences concerning prescriptions. IoT also boosts edge computing which helps store data and makes computation easier saving on bandwidth and resulting in low latency.
Blockchain Technology: With Blockchain technology a more dependable, interoperable network can be realized across global supply chains and data exchange which was affected majorly due to the pandemic. With blockchain, any disease outbreak can be efficiently tracked, reported, and responded to with greater efficiency in risk management. This aside it can also alert and suggest the local governments on how to tackle or contain the spread of disease.
Artificial Intelligence (AI): This goes without any explanation. The most important technological innovations in the recent past such as face and speech recognition to voice-to-text tools were all realized because of AI. And in a post-pandemic world, AI is only going to make a greater mark especially in the supply chain and retail sector. Data analytics and Machine Learning (ML) can help the industry with recognizing new purchasing trends leading to a better consumer experience.
Cloud Computing: This is one sector that saw a huge spike during the pandemic as many businesses the world over switched to cloud computing. And this trend is only going to gain more popularity in the post-pandemic era. The work-from-home culture saw an increase in the demand for cloud-based video calls leading to several cloud service vendors rigorously working towards upgrading the features and tools to meet the unprecedented demand.
Augmented Reality & Virtual Reality (AR/VR): The self-isolation and quarantine made us all consume content differently altogether. Lack of travel made virtual travel videos a hit, the interaction was different as people sought out newer ways of human communication through AR/VR technology. Businesses too invested more than ever in technology leading to virtual conferences and more.
Also Read: 7 Amazing Examples of Image Recognition Apps
Conclusion
The ever-expanding digital world is an exemplary reference of survival which was witnessed by the world this year. What's next to come is anything to go by. Automated processes and cloud computing are the need of the hour. If you're interested in assistance with AI, Cloud, Blockchain or IoT, then we are here to help you. Schedule a free consultation with our experts today.