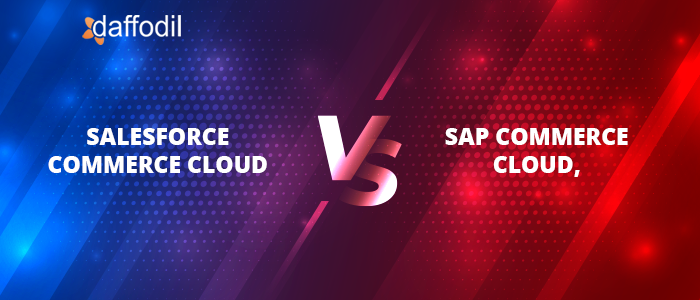 Deciding on the platform that optimally serves your customers' needs is a tough choice to make. Before we make a comparison between Salesforce Commerce Cloud and SAP Commerce Cloud let's first understand what they are.
What is Salesforce Commerce Cloud?
Formerly known as Demandware, Salesforce Commerce Cloud is a cloud-based service that gives a single unified platform to businesses to engage with their customers. It ensures a great customer service experience across online and offline stores.
Also Read: Salesforce Marketing Cloud – Features, Benefits, Pricing
What is SAP Commerce Cloud?
SAP Commerce Cloud simplifies the complex processes so that you can give your customers a smooth, consistent experience from search to sales.
Difference between Salesforce Commerce Cloud & SAP Commerce Cloud
Omni-channel engagement: While both SAP and Salesforce Commerce Clouds offer an omnichannel view of the customer experience – Salesforce Commerce Cloud provides retailers with features as order management, merchandising, operations, marketing, all in one unified platform. Whereas SAP software provides consistent service to your customers by integrating selling channels across devices and levels.
Architectural flexibility: When it comes to flexibility and extendibility, then Salesforce is a better option. You can make use of the number of Salesforce APIs and extensions available. The LINK marketplace offers value-added solutions but its integrations might cost you a little more than SAP because of the limited size of its community. SAP Commerce Platform allows more adaptability to its extensions and features can be customized. It also offers clients accelerators which help in cutting down on time and cost.
Functionality & features: Since most of the features and functionalities in the Salesforce Commerce Cloud are pre-built from the time of Demandware acquisition they are not integrated with other Salesforce products. This means that you might have to shell out more to use a customized platform. SAP, on the other hand, offers a centralized platform with an order, customer service management, and more which is well-suited for large businesses.
B2C/B2B integration: Salesforce with its acquisition of CloudCraze made the B2B experience a breeze. CloudCraze comes integrated with Salesforce applications providing B2B features such as multi-site management, multi-contract management, and more. Having said that it still needs improvement in B2C and B2B integrations. Whereas the SAP Commerce Cloud has created a name in the B2B segment and is still a preferred choice of many B2B, B2B2C clients.
Pricing: Among the most important factors while hunting for the commerce cloud is the pricing model. Salesforce comes with a sales sharing pricing model. Yes, you will have to give a percentage of your sales to Salesforce as part of the contract. While SAP commerce cloud is a subscription-based plan and can be scaled up or down basis the integration, stakeholders, development model, and more.
Also Read: 5 Ways Salesforce CRM can help you improve conversions
Takeaway
As mentioned in the beginning of the article, choosing the e-commerce platform that suits your needs and preferences is not a cinch. Measure all pros and cons before zeroing on one. While Salesforce Commerce Cloud may seem to be more cost-intensive it comes with its share of advantages. For more solutions concerning Salesforce, you can get in touch with our team here.