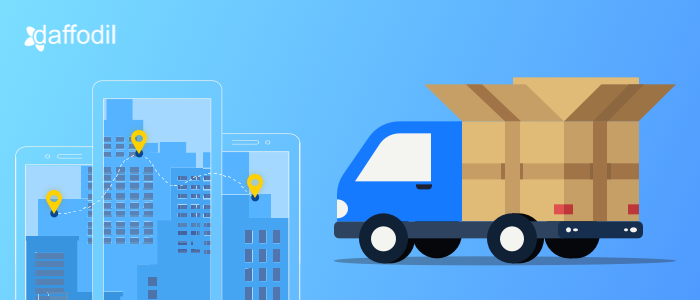 Smart homes, wearables, driverless cars, drones, smart shelves, air casting - IoT use cases are smart and futuristic. With so many possibilities and opportunities that IoT bring along, businesses, irrespective of their industry are making the most of this versatile technology. Transportation & logistics is one of them.
IoT has some far-reaching benefits for transportation businesses. Managing warehouse operations, tracking last-mile deliveries, freight transportation management is to name a few. This can be extended to some advantages such as efficiency in the system, security, customer experience, new business models, etc.
While the opportunities with IoT in logistics are endless, here we discuss some of the innovative ways this technology can be utilized, for the good.
Fleet Management: Real-time monitoring of fleet enables businesses to make quick and smart decisions for consignment delivery. Logistics companies are accepting and regularly updating themselves with technologies that can help them with fleet management and monitoring. IoT technology allows transportation and logistics companies to improve operational efficiency, manage cost, fuel consumption, increase response time to unexpected scenarios, etc. A customized dashboard, geo-fencing, real-time tracking are some of the key benefits that can be availed with fleet management software.
Public Transit Management: Tracking the real-time location of public vehicles and knowing when it is going to arrive at a particular stop makes traveling via public transport a daily challenge. With IoT making real-time tracking of vehicles possible, passengers can get an Estimate Arrival Time (EAT) of a vehicle, ensuring that they reach their destination on time. IoT eradicates the challenges tagged with a public transit system by tracking data through GPS devices and sending it to the central system for processing.
See how Daffodil is helping a startup to repress the traveling inconvenience in Indian metro-cities, by offering a high-end tech aid for public transport. Read more
Optimum Asset Management: IoT in logistics and transportation enables businesses to keep track of their physical assets. Along with information like location, status, IoT enabled systems can give detailed info like latitude and longitude of the asset can be tracked.

Another way IoT can be utilized in logistics is geo-fencing. Geofencing is an extension to GPS tracking, wherein the location of an asset is captured with coordinates of a specific area. This ensures that an asset does not move out from a defined geographical area, eliminating delivery delays and accidental loss.
Making the most of IoT in Transportation & Logistics
The above examples showcase some of the benefits that a data-driven technology like IoT can offer. Meanwhile, IoT has some advanced opportunities for the transportation industry. To understand how your business can be benefited from IoT, schedule a 30-minute free consultation with our tech-experts who will acknowledge your business requirements and IoT abilities for the best possible use cases.