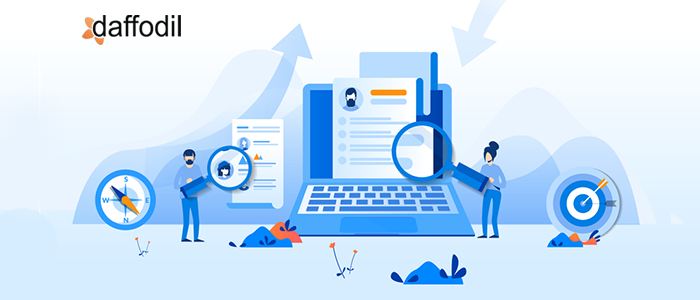 Your organization probably keeps paper files, uses multiple Excel sheets or a combination of both to manage various HR-related information. It can be time-consuming and difficult even for a small organization. As time progresses and your organization scales up, such a system would almost be unmanageable.
So, what's the solution? Using a well-implemented HRIS can increase efficiency and security thus reducing costs. This article will try to break down and explain what an HRIS can do and why your business might want to invest in one.
What is an HRIS?
HRIS stands for Human Resource Information system. It is an integrated software that can be used to perform all HR activities like recruiting, payroll, attendance, and more. It also helps maintain all the information related to an employee.
‌Benefits of the Human Resource Information System
Enhanced productivity: An HRIS will increase your productivity by leaps and bounds. You can look up records of all your current and past employees in a fraction of time because everything resides in the same system. Tasks like approving vacation days and timesheets can be either done incredibly quickly or are automated.
Better Recruitment: An HRIS would greatly help in recruiting. The system can be used to find talent and coordinate with them through all the steps of the hiring process. It will help you compare multiple candidate's skills and choose the one that best fits the role.
Better decision-making: Using insights from the system, you can make better policy decisions that would improve employee productivity and satisfaction and reduce attrition.
Increased employee satisfaction: Employees can look up any information regarding policies, benefits and more anytime without having to ask someone. They can also apply and get approval for leaves easily. New employee onboarding also improves significantly using an HRIS with well-defined processes.
Going paperless?
Maintaining all documents digitally would save the organization money spent on paper and storage. Digital documents also mean that retrieving information is a lot easier and multiple backups ensure no data is lost.
Also Read: Want a paperless HR department? Cloud-based HRMS can help
What you need to know before the transition
An HRIS can only be effective if it is carefully implemented. Keep the following points in mind before you make the switch.
•HRIS is an expensive investment so research extensively before you choose the one that suits your needs.
•Evaluate your vendor and make sure that they can help with implementing and later provide the necessary support.
•Work with your vendor to configure the software to cater to your HR processes.
•Transitioning from your current system to HRIS is something that your employees should get used to. You need to make sure you have a planned-out implementation and training system.
•You should also make sure that the system you choose has frequent software updates and new features.
How to know if you need an HRIS?
So, how to establish whether your HR department needs an HRIS? Here we have listed a few indicators that tell you it's time for a change.
Duplication of tasks: Often HR professionals end up repeating tasks because of using different systems. This leads to inefficiency and error. Solution? HRIS.
Excessive use of spreadsheets: Using Excel and Google Sheets in short term might seem efficient but overtime they become unwieldy. There is a further risk of loss of data and security breaches. Losing critical information like payroll can be very damaging. A good HRIS allows you to import data from your spreadsheets.
Lack of sync in processes: When your team uses different systems for different processes like one for applicant tracking and another for time tracking the data doesn't stay in sync and it might lead to mistakes. This can be solved by an HRIS that offers a unified solution.
Unable to hire great talent: Job seekers often apply to multiple companies. You need an efficient applicant tracker system to quickly communicate and coordinate with the candidates so that you don't end up losing great candidates.
Also Read: Why do you need cloud-based HRIS for your organization?
Need help finding the best HRIS for your business?
The right HRIS can save you and your team a great deal on time, energy, and money. It not only streamlines the daily HR tasks but also helps synchronize cross-departmental processes. If you want to revamp your HR department keeping it in sync with your organizational growth, then we are here to help. Contact us to get the best solution for your HR needs.