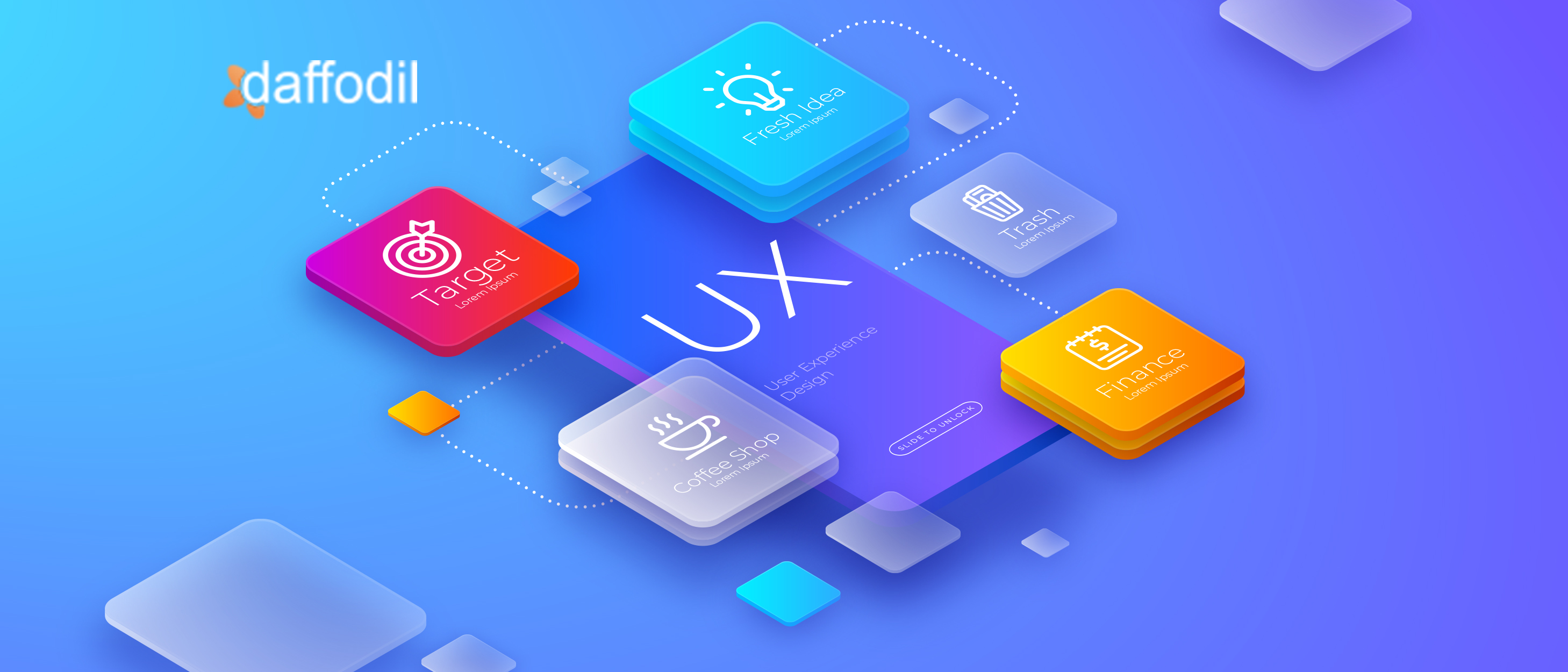 UX design is a broad and inclusive field and every organization in the world is affected. Modern design sensibilities permeate many industries and sectors. Good UX design enhances profits, client and user retention, satisfaction, and loyalty. With expert UX designers a business can improve the quality, measurement, and usability of its goods and services.
Organizations that rank in the top quartile of the McKinsey Design Index surpass industry benchmark growth by a factor of 2:1. According to this study, the return on investment for UX design might reach 9,900% in less than five years for organizations that implement UX design best practices combined with well-targeted business strategies.
In this article, we will discuss in detail the value that good UX design brings to businesses. But first, let us define what good UX design actually entails.
What is the Definition of UX Design?
The methodologies that design teams employ to produce products that offer customers meaningful and pertinent experiences encapsulate what is known as user experience (UX) design. UX design includes components of branding, design, usability, and function in the design of the whole process of obtaining and integrating the product.
Making software simple to use is just one aspect of experience design; other experiences associated with the product, such as the marketing strategy, the packaging, and the post-purchase assistance, are also designed. The primary goal of UX design is to provide solutions that meet needs and pain areas.
While designing UX, the user's needs must be kept front and center. The main aim must be to provide positive and unified experiences on your customer-facing application. Finding what makes UX meaningful and to the point forms the basis of defining user journeys and wireframing that ultimately maximize your ROI.
The most important thing to remember during web design and wireframing during the development of your product is that you cannot assume what your users need. Conducting thorough user surveys, building a consistent feedback loop, consulting with your business strategy team, and testing your UI designs with several types of distinct focus groups are some elements of UX design that cannot be overlooked.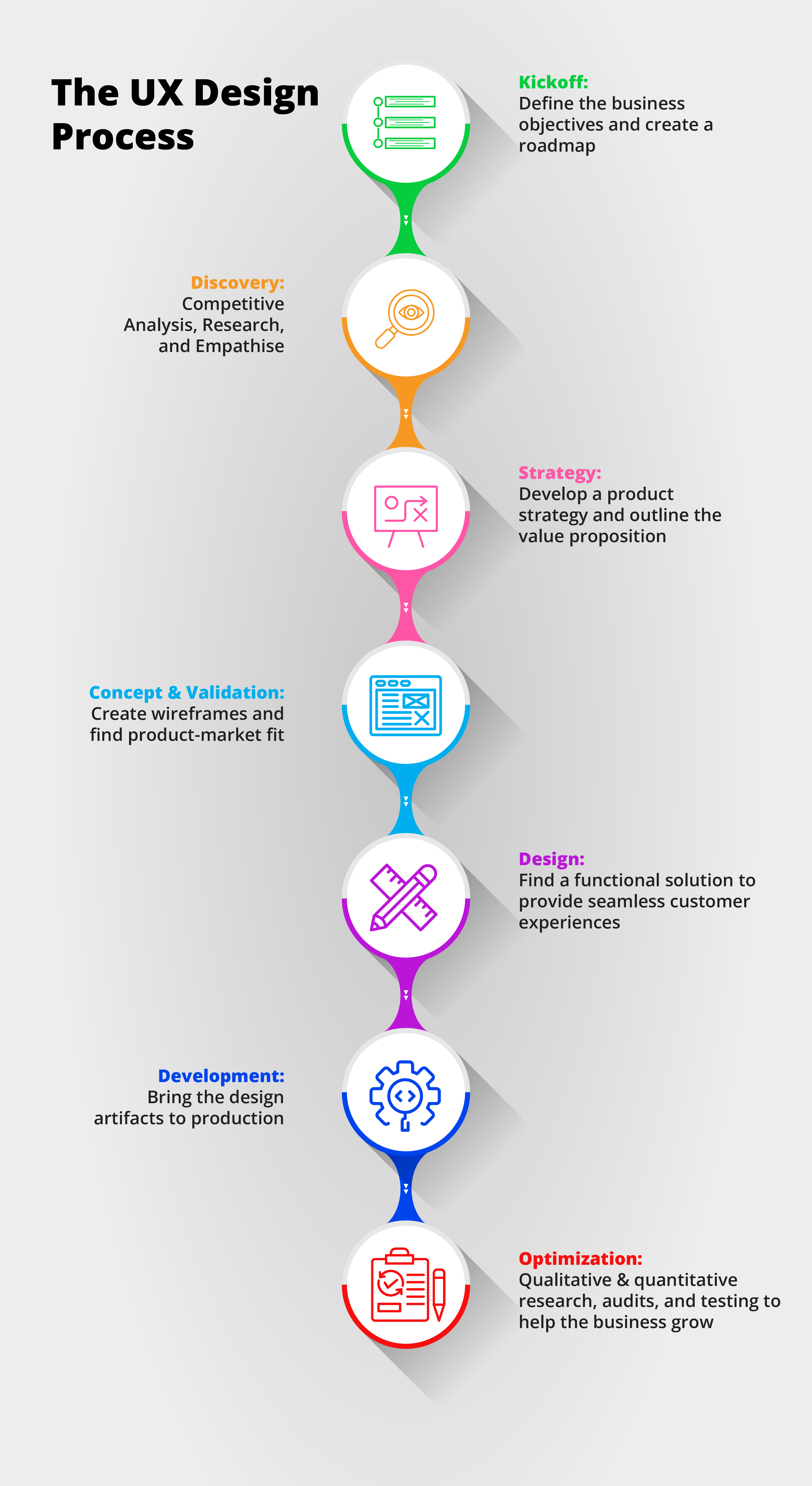 The UX design workflow, as described above, broadly involves six to seven separate components. It starts with the kickoff meeting where the business goals and roadmap are created, followed by customer research efforts. The product strategy and value proposition are developed and then product wireframes are made to fit market needs. Seamless customer experiences are then designed as the product goes live after which continuous optimization is implemented for consistent business growth.
Importance of UX in Online Platforms
Developing great user experiences and UI designs is not only a luxury. It is a must today to leverage time-proven UX design expertise at every step of your product development. Every company ought to make investments to guarantee a satisfying user experience. If not, they deliberately steer their clients away from their products and services. Let's look at the significance of UX design-led development:
A company can prosper in the market with effective UX design and UX research can even help companies broaden their product lines. Additionally, innovation and the successful launch of new goods and services are significantly influenced by UX design.

Adding UX designers to a project lowers costs and accelerates the entire UI design, prototyping, and finally, the development process.

Putting in place a well-designed user experience up front saves headaches afterward.

After making an investment in quality UX design, several firms have reported seeing vast reductions in support expenses.

In addition to providing the previously mentioned short-term benefits, UX design also has long-term advantages.

As a result, UX design aids businesses in more consistently achieving their objectives. All the value that UX design has brought during wireframing, design, development, and even post-launch is reflected in these increased KPIs.
How UX Can Add Value to your Business
Any UX designer needs to have a thorough grasp of users' wants and behaviors, which is provided by user research. By developing personas and storyboards based on their user research, UX design professionals provide so much more in the quest for a deeper knowledge of the requirements and desires of consumers.
UX researchers not only gather data but also analyze it, drawing conclusions from it to develop user personas that are representative of the customers that use our products. Products that are better suited to the demands of users result from this understanding. Understanding user needs thoroughly is the key to opening up a lot of business options.
Additionally, the business must always be aware of the fact that winning new customers is always more expensive than retaining your existing customers and building trust and loyalty among them. The UX design team must identify the points in the user experience facing friction and eliminate or smoothen these out to maximize conversion rates. One such instance is Instagram's virtually compulsive refresh swivel that smoothened out the overall experience on the application, which today represents the app as a whole.
Benefits of UX Design
Any business can create huge value by investing in design, but digital businesses can do this especially well. As an overwhelming majority of businesses today have digitalized workflows, UX design has become an integral part of product design. Let us look at the specific benefits that come out of it:
1)Increased customer satisfaction:
When interacting online with the technology they don't fully grasp, some customers become irritated. Because of this, it's crucial to keep things simple, foster trust, and read in left-to-right and up-to-down order. Designing welcome pages, support forms, deactivation forms, and admin pointers are some of the crucial components for producing an engaging UX. For instance, welcome pages provide information on available goods, services, programs, and features.
2)Improved usability of a product:
Usability is a crucial component of user experience, but this concept encompasses much more. When tweaking and optimizing their product's UI design, a developer must take into account both of these factors. Enhancing usability as a task-based assessment typically entails streamlining and optimizing the website or app while making it clearer to the user the interactions they need to perform.
3)Increased conversions:
UI design must be reviewed frequently if it is to have a positive effect. The use of site analytics to observe user activity is simple and passive. Check for bounce rates, errors, latency and task completion durations, and conversion rates. Asking users will help you better understand their attitudes toward utilizing your website or app. To provide precise predictions of conversion rates, you can measure the Net Promoter Score, the System Usability Scale, or conduct a brief survey.
4)Improved customer loyalty:
A business and its customers' relationship is forged and secured when a trusting relationship is created. Some of the strongest of these partnerships can be achieved when both parties communicate directly with one another. However, in this modern age, customers connect with businesses through websites, in-store kiosks, and smartphone apps and these are the areas that need continuous improvements in providing optimal UX.
5)Reduced development costs:
Strong UX guarantees that your technology investments will fulfill usability and customer needs, leading to more user engagement, more effective systems, and happy customers. Before any code is created, interaction designers swiftly develop and iterate UI design ideas based on user feedback. Because the system is developed correctly the first time, this skill and process combination helps save costly rework in the future.
Real-Life Use Cases of Great Design
It is not always easy to tell when an application or SaaS product's UX is not up to industry standards, but products that provide optimal UX to their users tend to stand out. Several businesses release products that facilitate similar tasks for users, but only products that provide a satisfying and simplified user experience can ensure high conversion and customer retention rates. Here are two examples of exceptional, innovative UX design:
=>First Use Case: Virgin America
Booking flight tickets can often become a complicated and stressful process. So, when Virgin America redesigned its website to simplify this process, it was met with adulation from loyal customers and also caught the attention of the airline business as a whole. Here are some of the improvements made:
Full-screen booking steps

: Everything that needs to be displayed at a time for the booking of a flight ticket is displayed on a single page, without the user having to scroll down.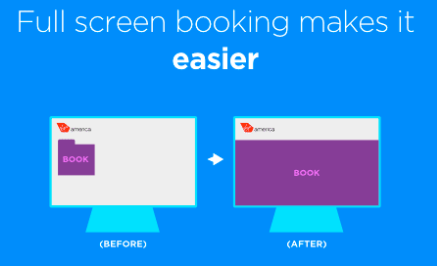 Source: https://tomkenny.design/
One task at a time

: The top bar describes what the user is doing and with the single-choice auto-scroll the user is taken to different panels for selecting destinations, number of recipients, category, etc. one by one.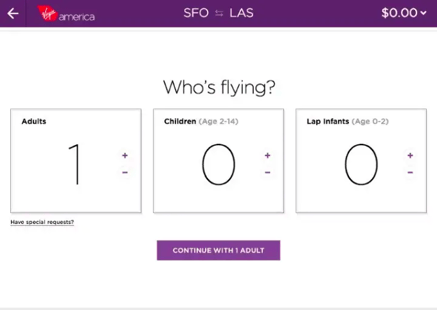 Source: https://tomkenny.design/
Multi-city flights

: The booking for multiple flights when you need to choose a layover destination is made as simple as possible.

Source: https://tomkenny.design/
Clever intricacies

: Adults are allowed to travel with a single infant per adult and so when selecting the number of tickets, the user is not allowed to select a higher number of infants than the number of adults.

Date and time selection

: The dates are displayed big large text, making it hard to miss details such as the cheapest fares. Once the dates are selected, the times of available flights are listed along with the number of available seats.
=>Second Use Case: Airbnb
The Airbnb website and application employ subtle design choices leaving a subliminal impact on the user that keeps them coming back to their platforms ensuring repeat business. These UX design elements are not easily spotted but are backed by science that is based on actual user behavior on digital platforms. Here are some of those UX enhancers:
Z-Pattern:

The designers at Airbnb used this approach for creating landing pages that capitalize on their users' eye movement. Based on attention heatmaps, the designers identified the areas of interest and strategically placed action items where users are most likely to spot objects and click on them.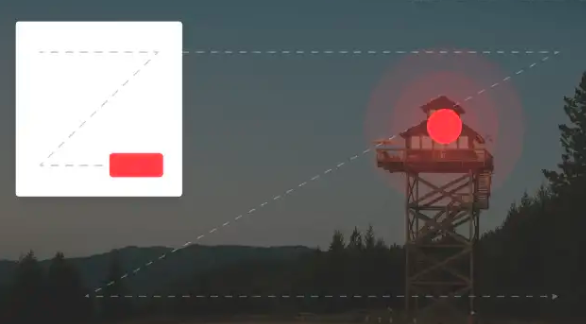 Image: Z-Pattern
Priming

: This is a process wherein certain areas are exposed to users with a greater focus so that the users become more inclined to click when interactive widgets pop up in these areas of exposure. This is put to good use so that users never get disoriented or lost when hopping from one page to another.

Side-by-side map view

: The side-by-side map view that pops up as you browse through hotels is a great option that allows users to zero in on a specific location when they are not privy to the area they plan to visit.

Concise Language

: Another important aspect that the Airbnb UX design touches upon is simplified messaging. This ensures that the user never misinterprets the information given on the screen, and helps avoid misdirecting the users to pages and widgets that they do not need to check.
How Good UX Benefits the Target Audience
Targeted demographics are important for planning your design process, and UX tries to please them. Establish the goal of UX design and how it may increase profits, expand your company, and produce success.
Here are a few elements that can help zero in on your target demographic's needs and aspirations:
1)Understanding UX Design and its role in business strategy:
It probably won't be simple at first to make links between business aims and UX design choices, but a competent business strategist may assist you in locating and understanding the meaning of business strategy plans, and paperwork. For all of the company's channels, you must transform the business plans and strategy into UX principles, wireframing, and guidelines.
2)Leveraging UX Design to create a competitive advantage:
The task of competitive benchmarking is very simple for UX experts. The user experiences of rival brands' products can be readily and publicly tracked. When one business introduces an innovation, others are free to decide whether to adopt it.
Customers can access competitive offerings from any business, anywhere in the world. Although simple, monitoring the user experiences of conventional rivals takes time. Tracking all of the competition is difficult and necessitates ongoing attention in a market that is constantly evolving.
3)Utilizing UX Design to build customer trust and loyalty:
To completely comprehend clients' evolving purchasing habits and finally win their confidence and loyalty, in-depth customer research is required. Many businesses have engaged in some early customer research, but they hold on to their early personas or user profiles as if they will never change.
The emergence of new social and mobile technologies has resulted in a significant change in consumer behavior necessitating a better focus on mobile app UX. When a trusted relationship is established, it secures the bond between a company and its clients. Direct communication between the parties results in some of the strongest partnerships possible.
4)Measure the success of UX Design:
Understanding the extent to which a product can be used by certain users to achieve specific goals with effectiveness, efficiency, and satisfaction in a specific context of use is one way to assess the success of UX design. Select the metrics you want to track and combine qualitative and quantitative metrics.
To comprehend the emerging trends, establish precise timeframes. The metrics collected over the course of a week may convey a very different narrative from those collected over the course of a single day. Metrics to be measured to gauge the success of UX design include task completion time, task success rate, conversion rate, retention rate, satisfaction, etc.
ALSO READ: Redesigning UI/UX of the Redfin App
How We Can Help Your Business With Our UX Design Expertise
We bring state-of-the-art design thinking and UX design solutions with airtight proof of concepts to drive optimal business outcomes for your products and services. Our team is flexible and scalable to fit your needs and facilitates rapid prototyping, audits, as well as user & competitor research all the way to ongoing customer engagement. Daffodil Software's UI/UX Design Services can help you provide positive and wholesome experiences for customers utilizing your product or services, leading to lasting business value addition.
When interacting with a design, a person has a certain objective in mind or a task they wish to complete. The overall experience will be scored highly if the product is made in a way that aids the user in obtaining the desired result. And that is precisely what a business gains from an end-to-end UX design strategy.