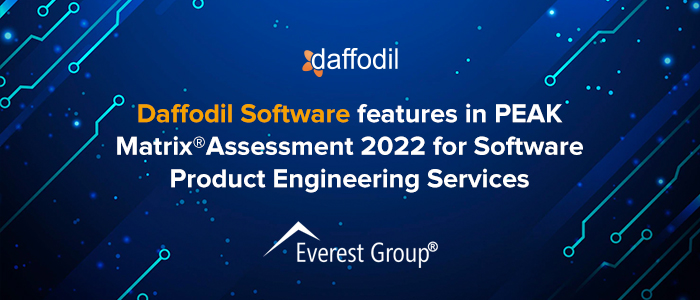 Daffodil Software, a global provider of software engineering solutions, has been featured yet again in Everest Group's PEAK Matrix® Assessment 2022. Daffodil has been recognized for the second time since its debut assessment in 2021. The provider has been positioned as an 'Aspirant' in Software Product Engineering Services for BFSI, Healthcare, and Retail sectors.
PEAK Matrix is a proprietary framework that alerts key stakeholders about the placement of global service providers, solutions, and products within various market segments. Everest Group assesses organizations on the basis of two primary parameters; market impact and vision & capability, which are measured in terms of top-quartile performance improvements.
Market impact measures the excellence achieved in YoY revenue growth, new contract signings, advances in the portfolio mix, and the overall value delivered. The vision & capability parameters include innovation, growth in the scope of services, delivery footprint expansion, and technology-specific investments.
Several technology pioneers, SMEs, startups, and large IT enterprises trust Daffodil Software's time-honored expertise spread across technologies such as CloudOps, Data Enrichment, Robotic Process Automation, Salesforce, etc. Daffodil's teams of over 1000+ highly skilled individuals have been commended for project delivery in domains such as Healthcare, BFSI, and eCommerce, as well as various Public Sector undertakings.
Early adoption of best-in-class technologies and frameworks has enabled Daffodil Software to bag a diverse clientele that includes big-ticket names such as Siemens, Samsung, the Reserve Bank of India, Dangote, Apollo, and more.
Speaking about the prestigious recognition, Yogesh Agarwal, CEO of Daffodil Software, says, "The honorable acknowledgment by Everest Group is a testament to our value-driven implementation of technological solutions. For over two decades, we have been innovating to enable faster digital transformation and enhanced system integration for our clients. This PEAK Matrix® placement has reinforced Daffodil's reputation as a provider of cutting-edge digital strategies and custom tech solutions. Time and again, we have proven our mettle in driving domain-focused business outcomes for our valued clientele."
About Daffodil Software:
For more than 20 years, Daffodil Software has been a trusted software technology partner to organizations across the globe. With our roots in innovation, tech agility, & time-proven processes, our team of 1200+ technologists strives to shape the tech industry and help businesses elevate their value proposition through technology. For more information, visit https://www.daffodilsw.com.