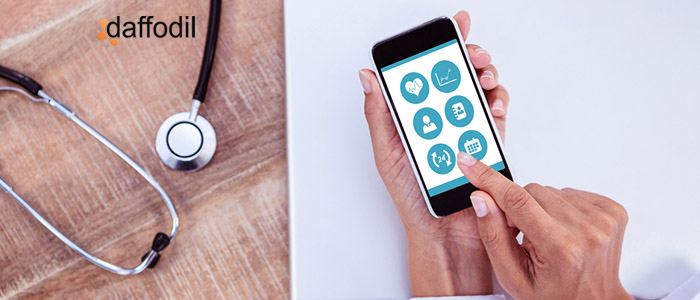 The COVID-19 crisis made the healthcare system realize the importance of mHealth like never before. It has enabled seamless communication between the patient and the provider, despite the distance. It allows for 24/7 management of patient's health data, offering the ability to personalize healthcare per patient.
Moreover, patient healthcare apps have proven advantageous in regular monitoring of chronic health issues, maintaining a healthy lifestyle, setting up counseling/consultation remotely, reaching out to the best physicians, managing health records, etc.
If we go by the statistics, the health and medical industry are one of the top three fields that accelerate the growth of mobile devices. The mobile health market is expected to exceed $300 billion by 2025, according to Statista.
There are a variety of patient healthcare apps out there, enabling consumers to track, analyze, and act on different health issues. In this blog post, we are going to discuss 7 such apps that are doing the rounds in the market and every consumer is recommending them to one another for better management of their health and lifestyle. Let's know about them.
1. Remote Patient Monitoring (RPM) App
Remote Patient Monitoring apps enable patients and physicians to connect with each other remotely. These apps usually consist of an appointment scheduling module that helps patients to find physicians in their vicinity, check for their availability, and then connect with them either through an audio or video call.
READ MORE: Remote Patient Monitoring Systems: Major Components, Relevance, and Types
2. Diagnostic Tests App for Preventive Care
mHealth apps for lab test booking are a new rage. It enables people to schedule lab tests at a time of their own convenience. Apart from this, the benefits include online report generation, discounts & packages, consultations with physicians & dieticians, availability for ample collections in remote areas, etc.
3. Chronic Disease Monitoring Apps
Apps for chronic disease monitoring and management hold potential in treating conditions like diabetes, hypertension, heart disease, cancer, etc. These patient healthcare apps help in regular tracking of health vitals and are integrable with third-party monitoring devices and wearables. The data recorded can thus be shared with the physicians for reference to the regular changes in healthcare vitals, leading to change in medication, dosage, and frequency intake.
CASE STUDY: How Daffodil developed a Remote Patient Monitoring app for an EKG recording smart device
4. Reminder Apps for Medicine & Goal Tracking
Medication adherence is one of the prime requisites for chronic disease management. In complex medication regimens, there are several intentional and unintentional factors that usually disturb the treatment cycle. This includes forgetting to take or refill medication, improper understanding of doses or schedules, decision to stop or change the treatment regimen based on medication response, etc.
Medication adherence apps ensure that the patients are reminded about their medications, i.e. dose timings, quantity, drug interaction warning, refill reminders & history, etc.


These adherence apps also help in tracking the goals. For example, it can help a diabetic patient in tracking sugar levels, managing it via medication, and checking results.
ALSO READ: Medicine Adherence Systems: Improving Patient Health and Treatment Outcomes
5. Healthy Lifestyle Maintenance Apps
There is no better medication than a lifestyle change. That is why patients these days try to keep themselves informed and try to adopt a healthy living. mHealth apps are a way to ensure that the goals for a lifestyle change are achieved.
Ample sleep, water intake, number of steps during a walk, sugar intake control, calorie count, etc. are some of the habits that patients try to improve using the healthy lifestyle maintenance apps. In addition to aiding patients to achieve their goals, these patient healthcare apps are proven helpful with their ability to be integrated with wearables and other tracking devices.
6. Fitness and Yoga Apps
Online fitness studios got all the attention during the COVID-19 pandemic. The unique ways to stay fit like Zumba, Yoga, boxing, indoor cycling, etc. became important when the 'at at home', 'anytime' exercising regime became a need due to restrictions to move out.
Amongst the various types of fitness apps, online yoga studios became the most popular mHealth apps for exercising. People could watch their trainers giving live lessons or they could access the content provided by them, anytime.
ALSO READ: A complete guide to launch a fitness studio online
7. Mental Health Apps
mHealth apps for mental health provide tools, activities, and support that help in managing stress. Anxiety management, addiction control, mood-boosting, eating disorders, suicide awareness, stress management, meditation, etc. are some of the mental health benefits provided by mHealth apps.
Research shows that mental health apps help to monitor and manage mental health conditions. These apps show results because of their ease of usage, increased engagement and treatment plans, and ability to monitor symptoms earlier.
mHealth App Development: Getting Started
There is a mHealth app for almost everything. Team Daffodil has been continuously receiving the need for patient mHealth app development, regularly.

While the features and scale of the app vary from one provider to another, the concept and aim remain the same. If your healthcare business is planning to create a patient healthcare app, then you can trust our team of experienced healthcare experts. Schedule a 30-minute free consultation with our health-tech experts who guide your way to develop a market-fit mHealth app for your business.