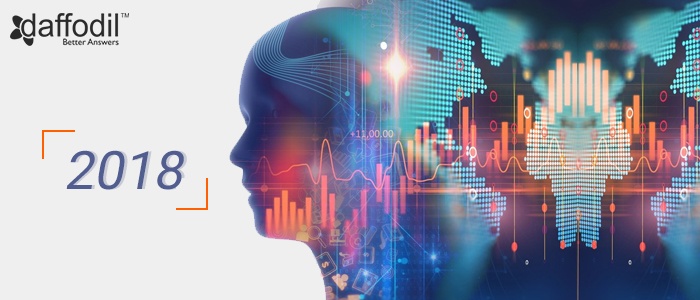 Artificial Intelligence (AI) remained the driving force of various industries in 2017. With so many tech giants and startups already delving into the AI ecosystem, it is expected to grow with better use cases in the year 2018. Considering the acceptance, development, and applications of AI, here we are with significant opportunities and perils that this ingenious technology will put forth in 2018.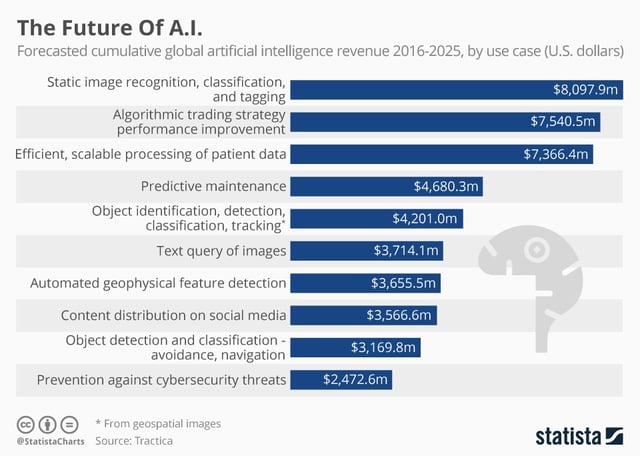 1. AI Integration with Web and Mobile Apps
"Over the next few years every app, application and service will incorporate AI at some level." - Gartner (Click to Tweet)
Artificial Intelligence (AI) is anticipated to be on the quiet in most of the web and mobile applications. This inventive technology would be the battlefront for most of the software and services industry.
AI in the form of machine learning, deep learning, computer vision etc. enable developers to build intelligent apps. Some of the examples that exhibits and justify AI integration of apps includes abstraction of big data, enabling recommendations, smart search, fraud detection, healthcare and fitness management etc. In the following year, we could see expansion in use cases and result in productive intelligent apps, without developers being explicitly coding for it.
ALSO READ: How ML will Enhance User Experience in Mobile Apps
2. There will be a Surge in Chatbots Number
Chatbots are another use case of Artificial Intelligence that developers can put to use. Bots are not just facilitating individuals to get anytime support but also helping businesses in augmenting their customer support and utilize human intelligence for more productive tasks.
Considering the acceptance and popularity of these communication channels, a number of tech giants like Facebook, announced platforms and tools to build chatbot for business. According to IBM, 65% of Generation Y prefers interacting to bots. In June 2017, Facebook announced 11,000 bots for Messengers. With such great numbers and positive response, we could see bots becoming the frontrunner of customer service industry in the following time.
3. Intelligent Things will be the Trend
In the year 2018, we could have Intelligent Things ruling, an artistic intersection of Internet of Things (IoT) and Artificial Intelligence. So basically, what these intelligent things do is they use AI and ML to interact with the surrounding or people, in an intelligent manner. Or, they can make the existing things intelligent. Example: Turning camera into smart camera or using fitness tracker to not only monitor health but analyzing the user routine (using machine learning) to recommend changes for improving health or avoid risk.
4. AI will back Medical Research/Diagnosis/Treatment
One of the various industries that are disrupted by Artificial Intelligence is Healthcare. Making the most of AI applications like cognitive learning, big data management, deep learning, healthcare industry is pulling off a number of diagnosis, treatment, and research processes.
According to an Accenture analysis, the healthcare market is projected to reach 6.6 billion by 2021. Big brands like IBM (Watson, Medical Seive), Google (Deepmind Health), Atomwise (Drug discovery with AI) are heavily investing in Artificial Intelligence to put forth the finest healthcare solutions. And considering the scope that AI brings in, a number of startups are pulling out the best from AI and will continue to grow in time to come.
ALSO READ: How is AI Revolutionizing the Healthcare Industry [EXAMPLES]
5. More Hardware will be Powered by AI
Artificial Intelligence has made us believe in future where complex decisions can be taken faster, automatically through learned experiences. And this is not just possible with the software applications. In the following time, we could see hardware industry paying more attention to AI and its applications.
In Oct 2017, Intel announced about Nervana Neural Network Processor family of chips that is specially designed for Artificial Intelligence use cases. These chips will be shipped by the end of this year. Also, the year 2017 has seen brands and individual developers working on a number of projects that are powered by AI, which includes bit is not limited to drones (Skydio), vehicles (Driverless cars), robots.
6. More AI Based Startups will Launch
AI is evolving and its potential is being realized by businesses and individuals. If Angellist is referred, it reports that over 3,510 companies with 2,562 investors, and 4.9 million average pre-money valuation are listed there. And in the recent past, we have seen tech names like Intel, Apple, Google, Microsoft, Amazon taking over a number of smart AI startups. We can expect this to be followed up in the year 2018, with startups fetching an attractive funding.
7. AI will Impact the Workforce
Amongst the various perils of Artificial Intelligence, it's impact on human jobs is the most debatable one. Forrester predicts that cognitive technologies (ML, automation, robots etc) will replace the 7% of US jobs by 2025.
However, if the the applications of AI are perceived well, this ingenious technology will augment the human jobs, instead of replacing it. And to be precise, the impact of AI on human workforce will be dependent upon the type of job. For example: If you are a customer service executive, intelligent chatbots might serve your purpose to a business. However, with AI, we can see augmentation in jobs like data scientists, robot monitoring, automation monitoring etc.
ALSO READ: How is AI Changing the Way Businesses Team Up with Technology
How do you See AI Disrupting 2018?
Manufacturing, healthcare, entertainment, retail, automotive! AI has caused disruption in almost every industry and with this massive technology growing steadily, the following year could see some better use cases and innovations. AI development services will also experience a consequential rise, resulting in mobile applications of AI, reaching a large share of users.
What you think about AI possibilities in 2018? What could be its best use case according to you? Share your views with us in the comments below.