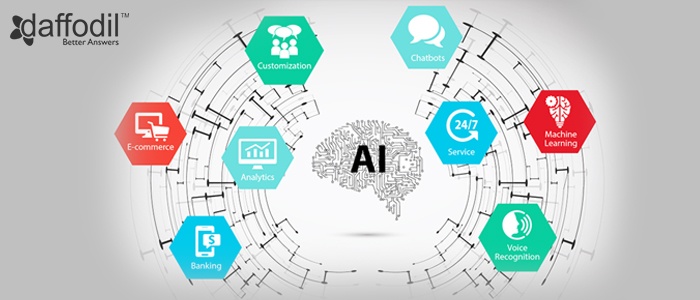 From personal assistance to self-driving, Artificial Intelligence (AI) is already proving its potential to replace humans with machines. If a Google's prediction is to be believed, robots will be exhibiting human intelligence by 2029. Gartner, an IT research firm predicts that 3 out of 10 jobs will be replaced by software, robots, or smart machines by 2025. However, before you become panic-stricken, it is important to understand that AI actually aims to replace human brainpower for more strategic tasks, which may consequently augment jobs instead of replacing them.
Artificial Intelligence is not simply a labor-replacement or a cost cutting mechanism. It is rather a catalyst for building markets and driving innovations. Hence, businesses nowadays are open heartedly adopting AI and here are a few industries that have started to realize its benefits.
Healthcare
From assistance in repetitive jobs to medication management, AI is on its way to revolutionize healthcare and fitness sector. And here are few examples of how.
Identifying Treatment Plans: Watson for Oncology is a cognitive technology that recommends evidence based treatment options to the physicians. It checks out for key points in the EMRs of a patient (available as structured or unstructured data), looks into its data, and identifies the best treatment plan for the patients.
Medical Records Mining: Collecting records, storing them, and then tracing their lineage is one of the ways healthcare industry is operating. Taking it to another level, Google's AI research branch have launched a project called Deepmind Health that mines the patient's data for better solutions.
Assisting Repetitive Tasks: You must have heard about Johnson and Johnson's Sedasys system that has received approval from FDA to deliver anesthesia for standard procedures like colonoscopy.
Well, that just seems to be the beginning of AI transforming the healthcare, fitness, and wellness industry. In time to come, you may experience virtual nursing, drug creation; all done via machine intelligence.
Manufacturing
Automated assembly, tracking and isolating physical faults have become some of the obvious applications of AI in manufacturing industry. But, how about AI making some real time production decisions? A manufactory is churning out (let's say aircraft nacelles), wherein a sensor detects a fault. This input when reaches the computer on cloud can call for action, i.e. replacement of the defective part, saving million dollars of manufacturers. While the robotic intelligence for manufacturing industry might not good enough today but it is surely going to take leaps in time to come.
Transportation
Self-driving cars, trucks, bicycles on roads. That's one of the much awaited, commercial applications of AI. While not produced commercially, Google's self-driving bicycle, Tesla's self-driving cars, Uber's trucks are under the early production phase. With this, you can actually think of decreased risk of accidents, relief from traffic congestion, which will ultimately have low energy cost.
Also, we would be noticing AI bringing change into logistics as well. By 2020, Robots will cost about half when compared to human worker, says a study conducted by Roland Berger Global Strategy Consulting. In the logistics of order-delivery process, drones can be seen playing a major role, which can be immensely contributing in sectors like eCommerce. With possibilities that AI brings in, an autonomous and self-arranged supply chain can be expected in future.
Customer Service
For serving customers in the business, there are two ways AI is being used. First is AI powered bots, which are small, conversational programs developed to assist or interact with customers, without involvement of humans. Second is AI assisted humans, wherein human representatives of a service are supported by AI to help the customers.
Companies are creating their chatbots for famous messaging platforms like Facebook, Twitter, WeChat etc. These chatbots are helping businesses to handle customer queries with automated answers, schedule meetings, and much more. Since customers expect businesses to be available anytime for help, deploying AI services like chat bots will surely prove to be the backbone of customer care.
How is your Business Using the AI Model of Success?
AI is a buzz world in the business world today. While many of the sectors still think that they don't need it, there are some who consider AI as a spark to cause disruption in their industry. In the following decade, we may see robots build with brains and brawns that are likely to act like humans and AI would be thanked to bring this storm of change, all for good.