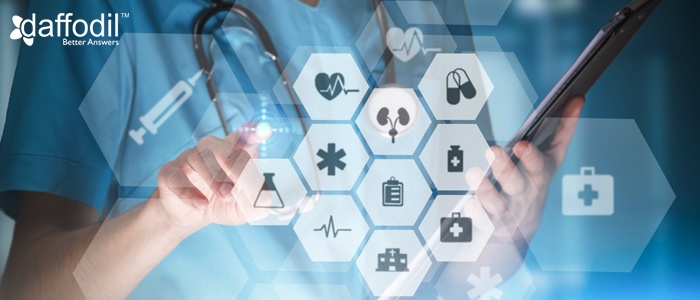 The Internet of Things (IoT) has been gaining a lot of traction in the recent past. The entire concept revolves around the usage of electronic devices for monitoring data, which is connected to the public or private cloud, making them trigger events automatically.
IoT has got a myriad of use cases in the healthcare industry. While the hospitals are using it to manage inventory, workflow optimization, track patient's vitals; individuals are making the most of it balance their dynamic vitals, diagnosis, treatment suggestions, and more.
With these amazing applications, we have compiled a list of different ways IoT is impacting and doing all good for the health. Let's talk through them.
1. Wearables to Track Health Vitals
Wearables are a versatile and convenient mode of tracking health. They are advocated for recording dynamically changing health vitals, very often in chronic disease. For monitoring heart rate, glucose levels, blood pressure, and many physical activities, they are serving the purpose (quite adequately).
Wearables and mobile applications complement each other. While the wearable sensors collect the dynamic vital signs, the data thus collected is then processed in apps, which in result offer an output (in the form of alert or recommendation). This helps the patients to monitor their health on regular intervals and the records thus maintained help the physicians to analyze the patient's behaviour in different scenarios to improve the treatment.
2. Virtual Health Assistants
Virtual Assistants at home and hospitals are helping patients to remember their medication dose, alert them about taking medical advice, taking notes etc. Voice-based virtual assistants like Amazon Echo or domain-specific versions like Orbita Health are helping the patients to save the cost of in-house caretaker, adhere medication, and more. They train the patients about a procedure, offer health advice in accordance with their past health issues, and take care of related information to improve suggestions and experience.
3. Portable Devices for Diagnosis
Several patients require testing the biomarkers regularly. Instead of visiting the pathology labs often to get the tests done, smart and portable diagnostic devices enable performing the tests at the comfort of homes, giving output in a format that can then be instantly shared with the physicians or care providers. An active example of such model is Wiwe, which uses a smart sensor system and a unique set of algorithms to analyze properties of an ECG wave. This is then used to calculate if there is an underlying risk of cardiac arrest of a fib related stroke.
4. Emergency Response System
This IoT application in healthcare is helpful for patients with physical injury, seniors, or those requiring special care and attention. There are several products, powered by IoT that passes an alert when a fall is detected when emergency assistance is needed, or some navigation guidance is required (say, for Dementia patients). The features and functionality of such products may vary. One of the superb examples of this is ActiveProactive's smart belt, which detects falls, attach an airbag to the patient, and triggers an alert to the assigned contact.
5. Medication Adherence
One of the biggest challenges that healthcare treatments confront is missed doses. This consequentially results in exacerbation of the medical conditions, thereby leading to slow recovery. To overcome this, IoT can help patients with medication adherence, wherein they are alerted about their appointments, dosage, tests, exercises etc. Some of the examples of such models are MedMinder, AdhereTech.
ALSO READ: Possible Use Cases of Blockchain in Healthcare Industry
Integrate IoT to Healthcare Solutions. We can Help
IoT has introduced some sure benefits to the healthcare industry. And with new, creative ideas, several businesses and individuals are coming up with thriving solutions. If you do have ideas that are awaiting a master conversion, check out our healthcare application development services that will ascertain you connected, device-agnostic, scalable and robust solutions.