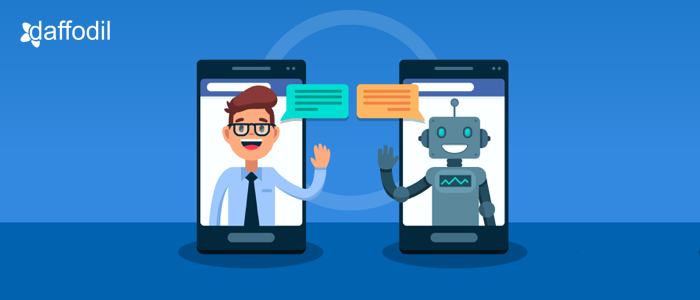 "We see our customers as guests to the party, and we are the hosts. It's our job every day to make every important aspect of the customer experience a little bit better." - Jeff Bezos, CEO of Amazon
Whether a startup or a fortune 500 company like Amazon, great customer experience is a key to make towards success. That is why businesses are adopting unique approaches to make customer-services responsive, interactive, and engaging. One such quintessential approach is handling real-time customer queries.
Gartner predicts that by 2020, 25% of the customer service operations will be managed by virtual customer assistants, such as chatbots. | Click to Tweet
A chatbot is a software that mimics human conversation, using technologies such as Artificial Intelligence, Natural Language Processing, Machine Learning etc. Through chatbots, brands are building their presence on consumer messaging apps, such as Facebook Messanger, WhatsApp, Slack, and even Alexa. Such an approach allows them to reach customers where they spend a high percentage of their time.
Big brands, irrespective of the industry are investing in chatbots for improving the customer experience. Starbucks, Lyft, Spotify, Sephora, The Wall Street Journal, Mastercard, Pizza Hut are to name a few. Here are 5 ways a chatbot can help your business to improve customer experience.
1. 24/7 Availability for Customers
Unlike a human customer service agent, a chatbot is available 24/7, addressing queries from multiple customers at the same time. This ensures the customers that there is someone to listen to them, address their queries, or take their issues forward.
Just imagine this. A potential customer from a different time zone checks out your website, services or products enlisted on it. Before making a decision, he is willing to ask a few questions. A chatbot available as a company rep, in this case, can help by answering the customer queries, at any time they are asked.
2. Offer Personalized Experience
Chatbots can go a long way to maintain customer loyalty. For businesses to cater to the personal requirements of customers, it is important to constantly follow their customers, track their buying habits, and thus push offers on their most-used messaging platforms such as Whatsapp, Messenger.
3. Customer Onboarding made Easy
Chatbots make it easy for businesses with onboarding products and services to customers. Depending upon the type of chatbot developed, customers can receive answers related to a product or service that they are interested in.
For making a chatbot answer complex queries of a customer, AI-powered chatbot development can be preferred, wherein, the bot is trained with data and algorithms to respond to user queries.
4. Millenial-Friendly Conversational UI
Chatbots are deployed on messaging interfaces which gives a casual messaging experience to the customers as if they are talking to one of their friends. Not just text messaging interface, chatbots can be integrated with voice-based platforms like Alexa.
5. Handling Simple Transactions
Chatbots can perform several simple transactions, ranging from buying tickets, booking hotel rooms, money transfer etc. 1-800-Flowers chatbots allow its users to check order status, making it easy for customers to track their delivery. Similarly, chatbots (irrespective of the industry) can be deployed for repetitive, less complex tasks.
ALSO READ: Best Practices to Launch Customer Service Chatbot for your Business
Want to Improve your Customer's Experience with a Chatbot?
Chatbots have some sure advantages for a business to improve customer experience. If you're planning to include chatbot in your tech-strategy, it is important to figure out the most relevant platform for chatbot development.
If you want Daffodil to help you to identify chatbot use cases in your business, schedule a free 30-min consultation with our Chatbot expert.