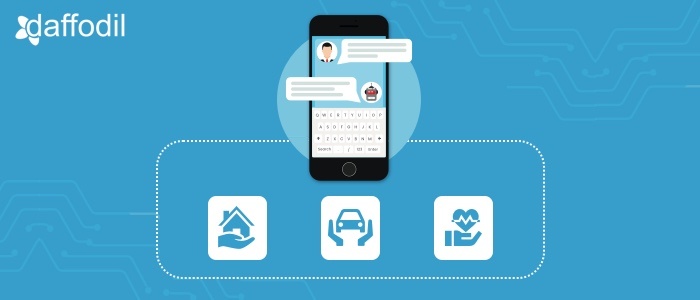 25% of customer service and support operations will integrate virtual customer assistant (VCA) or chatbot technology across engagement channels by 2020, according to Gartner.
As the number of digital channels expands, self-service interactions are increasing. That is why, businesses are now investing to build presence in consumer messaging apps, such as Facebook Messenger and WeChat, to reach customers where they spend a high percentage of their time.
Almost every industry is leveraging the benefits of chatbots and insurance is no exception. The two groups that can make the most of an insurance chatbot are the customers and insurance brokers. Here are a few examples, illustrating advantages of chatbots to the insurance industry.
Chatbots for Insurance Brokers:
While Artificial Intelligence (AI) and its applications (including chatbots) are criticized for taking away the jobs of brokers, here is how insurance chatbots can be best utilized for the good.
Automated Assistance: Chatbots can handle base-level queries that brokers receive regularly. It can reduce the burden of responding to repetitive queries by directly answering the customers. With such relaxation, brokers can dedicate their time focussing on new client and handle complex cases.

Customer Onboarding: Chatbots can provide basic information to the customers, depending upon their interest and information shared. A chatbot can ask for relevant information, such as name, contact info, type of insurance the customer is interested in, budget etc. Insurance agents can review this information and accordingly draft an insurance plan that best suits the potential customer's requirement.

Manage Fraud Claims: One of the major problems that the insurance company confronts is fraudulent claims. Chatbots can thoroughly analyze the claim data, analyze info that humans give a miss.
Chatbots for Customers:
Access to Insurance Information: Consumers prefer communicating through instant messengers than email or phone. Chatbots can be deployed across variety of messaging platforms like Facebook Messenger, WeChat, Whatsapp etc.; whichever work best for the targeted consumer-base.

For customers (especially the millennials), insurance can be intimidating. By connecting to insurance companies or individual brokers through chatbots, they can have anytime access to the information they need, through the medium that they feel comfortable with.
Anytime Access to Required Info: Chatbots are available 24/7, which means, consumers can get answers to their queries, anytime. AI-powered chatbots cn inform customers about available insurance plans, their insurance coverage, and ways to redeem it. An advanced chatbot may allow customers to buy insurance plans as well.
ALSO READ: 6 Types of Chatbots: Know Which One Works Best for your Business
Planning to Build a Chatbot for your Insurance Business?
Chatbots can go a long way in improving customer engagement and increase efficiency of brokers and insurance companies. However, befor getting startd with chatbot development, it is important to analyze the use cases of chatbot, so as to conclude the chatbot type that best suits the business requirements.