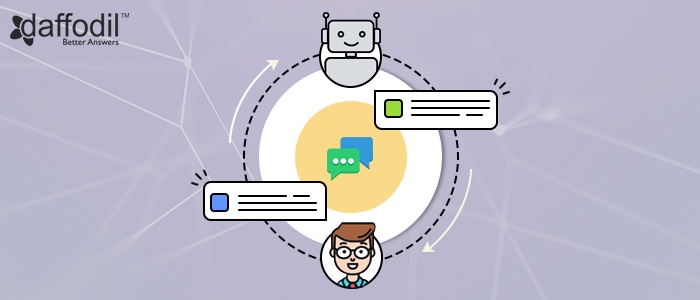 Conversational platforms have introduced a paradigm shift in how humans interact with the digital world. For businesses, they are fostering a personal connection between users and the brand that's ultimately adding value to the customer service.
The advent of chatbots-the computer programs for conversation via auditory or textual methods has transformed the way consumers interact with businesses. Their ability to mimic conversations and set engagements (just like humans) has made them a promising entrant into the customer service industry.
Following the benefits that this AI application offers, businesses are making them a part of their customer service department for engaging customers, cut-down the human workload, resolving repeatedly confronted problems etc. And not just the businesses, customers also realize the advantage of chatbots and prefer them over human agents for getting a quick answer to their questions in emergency scenario (stated in survey results by Statista).
While automation in customer service is projected to put human jobs at risk, surveys reveal that customer service agents have all favourable reasons to deploy a chatbot that could replace them. This, as a consequence, will allow them to invest their intellect in handling complex tasks, enable them to provide a personalized experience to the customers and make them feel more committed to the company. Chatbots are therefore claimed to augment the jobs, instead of putting them at risk.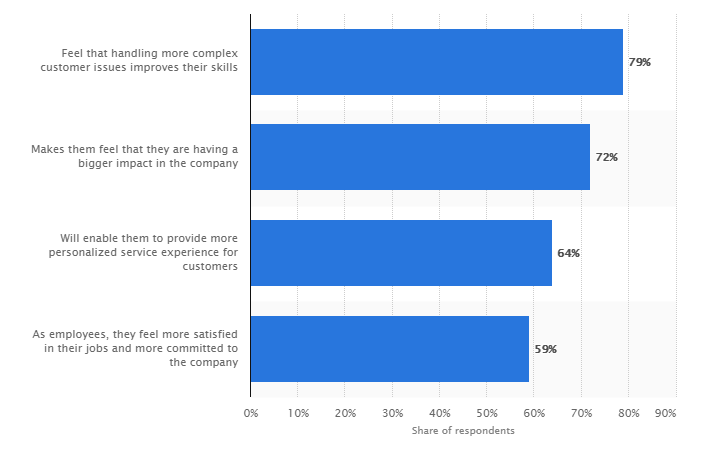 Customer service agents by their opinion about chatbots indirectly leading to improving their value to their company (Source: Statista)
Considering the possibilities and the opportunities that chatbots bring in, businesses are counting upon them to improve their customer service. However, before deploying chatbot, any business needs to identify their use cases and act accordingly. Here are some best practices for deploying chatbots for your business.
1. Identify Tasks for the Chatbots
For any business, it is important to deliberate the tasks that a chatbot is expected to do. For this, you can determine the purpose for which you want your customer to turn to the chatbot.
Do you want your virtual agent to be available when human agents are unavailable? For example: Taking up a query from the customer and raising a ticket for their concern. The problem of the customer is then passed for action to the human agent, whenever they are available.
For answering repeated questions of the users. There are a few, common questions that users ask. Deploying a chatbot to answer those simple, oftenly asked question will save the customer agent's time so that it can be invested to resolve complex issues.
Understand what your consumers expect from your brand/business. When users interact with chatbot, it can help you to identify pain points, their expectations, or challenges that they confront in connecting to your business. By understanding these concerns, you can take steps to fill the loopholds, and ultimately, serve them better.
Realizing the list of tasks that you want a virtual agent to do for your business can help in getting expected results after deployment. This analysis will further help your business to list down the requirements during chatbot development.
2. Understanding Tools and Technologies
A chatbot represents your business and because these virtual agents are dedicated to responding to user queries, they should be prepared to do it, efficiently. Remember that the goal of a chatbot is to set a seamless connection between the business and the customers.
It is important to have a human connection between the virtual assistant and consumers. For this, make sure that the answers given by the chatbot aren't too wordy or vague. This disappoints them and may not make the bot serve its purpose.

Make your chatbot understand the intent. AI technologies like Machine Learning (ML) can make virtual assistants smarter, as they are used by the customers. Other AI technologies like Recurrent Neural Network (RNN), Natural Language Processing (NLP), and

chatbot development tools

can add value to the assistant.
3. Defining the Platform for Chatbot
For B2C customer service, sales, and marketing, chatbots are integrated with messaging platforms like Whatsapp, Facebook Messenger, WeChat, Hike, Telegram, or via SMS. Since every messaging platform targets a niche, you can choose a platform for your chatbot where you are likely to find users, well-suited for your business.
For example: If you have an eCommerce app, having a chatbot for Facebook, Twitter or SMS service will serve you the benefit. You can look around for the positive facts about each messaging platform and the type of audiences that they have. For instance, the benefits of having a Facebook chatbot is it has a huge user-base, lets you have the marketing insights/stats, and more. So, before moving on to the chatbot development phase, analyze if the features of a platform compliment your business.
4. Understanding the Need to Involve Humans
Almost every industry is leveraging chatbots for efficient customer service. Online retail, healthcare, banking, telecommunications are to name a few. However, depending upon the industry, the complexity and involvement of humans can be defined.
While chatbots are capable of handling a majority of inquiries, there are instances where human agents have to take over the conversation. In such scenarios, live customer service should be made available to handle the query or a revert (through mail or call) should be scheduled. Although the latest technologies used while building a chatbot makes them understand the customer, problem context, and learn as they grow, the complexity of queries requires human intervention to serve customers with 100% satisfaction.
5. Get Started with a Pilot Chatbot Project
Before you introduce a full-fledged chatbot of your business to the customers, it is recommended to test their requirements and expectations from it. From example: You can get started with a pilot chatbot that includes the basic functionality that you think will help users.
During this chatbot-customer engagement, you can comprehend the high-end requirements that your customers have from the chatbot, which can further help you in developing a chatbot that can maximize the productivity of your business and serve your customers, better.
If you want Daffodil to help you to identify chatbot use cases in your business, schedule a free 30 min consultation with our Chatbot expert, Nitin Goyal