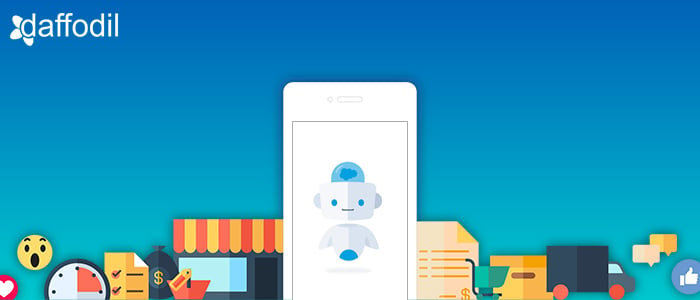 Behind the success of every eCommerce platform is a complex network of diverse services- customer care, payments, tech support, logistics, marketing, etc. With millions of eCommerce portals existing out there, only a few manage to set themselves apart. These are the platform that continues to improve its sale and customer experience.
A number of technologies have been bringing a positive change to the way eCommerce companies operate. Artificial technology and its related technologies are one of them.
Chatbots, one of the popular use cases of AI is transforming the way two-way conversation between the businesses and customers happen. Moreover, conversational bots are helping to automate processes, update customers, and boosts sales.
If your eCommerce business that started to thrive and you're looking for tech-help to improve your customer experience in every aspect, then a custom chatbot development is what your business needs right now. Here are 3 creative ways a chatbot can automate tasks for a better service to customers.
1. Offer Shipping and Delivery Updates
Once your customers have placed an order, they eagerly wait for it to get delivered. How about enabling your customers to check all updates, right on their favorite messaging app (say Whatsapp). A number of popular eCommerce platforms have been adopting their approach to make it easy for customers to check the shipping and delivery status on IM apps.
While you can send automatic updates to the customers about a product's whereabouts, you can give them the option to inquire about shipping and delivery updates. Customers who can track their product and knows about when their product is arriving have high chances of coming back to the platform and shop. Product shipment and delivery details are as important as the quality of the product.
Chatbots can be customized to fetch a customer's shipping and delivery details, keeping them informed about their products. As this process is automated, customers have round the clock support to interact with a virtual business executive.
2. Provide Personalized Offers and Updates
Push notifications, emails, messages. Your marketing team must be doing them all to retain the customers and to acquire them back. But, how many customers are converted from it, even though offers of their interest are specially curated and sent to them?
To improve the conversion rate of personalized offers and updates, it is an intelligent move to send them to a platform where your customers send their maximum time- their instant messaging platform (like FB Messenger, WhatsApp). When you send these offers though IM apps, the likelihood of your customers opening it and getting converted increases.
ALSO READ: 5 Real Life Use Cases of Artificial Intelligence (AI) in E-commerce
3. Engage Customers with Innovative Campaigns
A number of high-end eCommerce brands are making the most of chatbots to engage customers. Sephora, one of the popular multinational chain of personal care and beauty stores has a Facebook bot named Sephora Virtual Assist that allows its customers to try and see how Sephora's product would look on their face.
H&M, a popular clothing brand has their chatbot on Kik that asks users questions about their personal style and then offers photo options to select. This way, the clothing brand can create a fashion profile of each user and make outfit suggestions, accordingly.
Creating Custom Chatbot Development for Messaging App

Integrating chatbots with messaging apps have a number of advantages to offer. If building a chatbot for your eCommerce platform is on your mind, then schedule a 30-minute free consultation without AI experts who will guide you through the best use cases of a chatbot for your business and help you out in custom chatbot development as well.