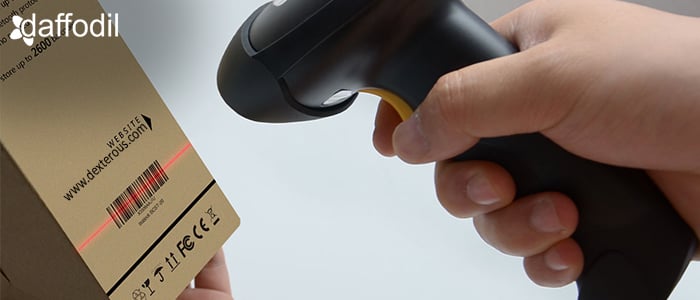 Retail stores, pharmacies, warehouse & distribution centers, hospitals, mobile & IT asset management companies spare no effort in managing their assets. Tracking physical assets and updating their details manually into the database can be tedious. To deal with this asset management trouble, organizations are opting for Automatic Identification and Data Capture (AIDC) solutions.
What exactly is an AIDC solution and how it can help in managing physical assets? In the later segment, we will discuss the use cases of an AIDC system and how to get started with asset management software.
AIDC refers to the automation of the process to identify, collect and feed data of an object in the system. Such technology typically involves the use of identifiers such as making dynamic QR codes, bar codes, RFIDs, biometrics, OCRs, voice recognization, etc. to identify an asset.
Asset management with an AIDC system offers a number of advantages to warehouse managers, which include, but is not limited to:
Detecting assets using identity tackers like QR code, RFIDs, etc.
With asset management software, it is possible for warehouse managers to track the right location of an asset and log availability/misplacement of assets.
Add new assets to the database (tagged with a unique identifier)
AIDC system for asset management allows to discover and add new assets and directly update it into the system, without having to manually update the asset database. At the same time, the custom attributes of an asset can be added and updated to the system.
Reporting and analysis of assets become easy
With asset details updated continuously, creating an asset report to analyze their net value is possible with ease. This makes it possible to optimize asset lifecycle, manage investments, and make better decisions.
Success Story: Building an Asset Management Software
Requirement:
One of the leading manufacturers of identification products (labels, tags & nameplates) for asset tracking wanted to expand their brand presence and reach out to a new segment of the customer base. For this, they wanted to develop an AIDC solution that can help their customers to identify, track, and manage assets.
Solution:
A mobile app was developed that detects all assets using an RFID scanner and keep a track of them within the app. Along with this, the app allows its users to track logs for the history of asset assignment, check-ins/check-outs, assigning assets to team members, etc.
A web app was developed that enable users to add and application users, assign roles to them, create an analytical report of assets, assign custom attributes to the assets, etc.
Impact: The AIDC system is expected to save more than 60% in labor cost that goes in manually scanning and updating assets in a warehouse or any other office location.
Developing an Asset Management Software for your Enterprise
Do you have an inventory that needs tracking and management of physical goods? If yes, then set-up a free consultation session with our tech-experts to understand what it takes to build a custom asset management software for your enterprise.