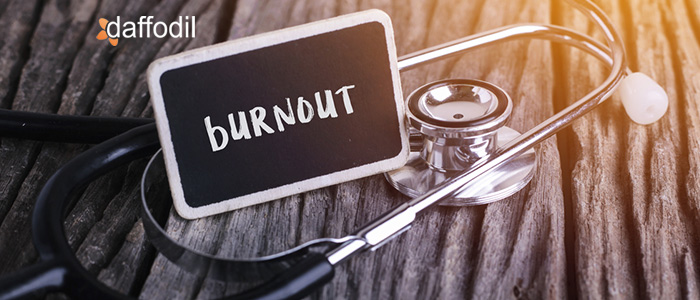 The global public health crisis due to COVID-19 has exposed healthcare workers, especially physicians to physical and mental exhaustion. This state, called burnout, has a pervasive negative effect on all aspects of medical care, which also includes the career satisfaction of healthcare professionals.
In a survey by the American Medical Association (during the peak of the 1st COVID wave), around 42 healthcare organizations across the U.S. were assessed for workers' stress during the pandemic. The result exhibited that 61% of those surveyed felt high fear of exposing themselves or their families to COVID-19. Also, 38% of respondents reported experiencing anxiety or depression, 43% suffered from work overload and 49% had burnout. | Number of survey respondents: 20,947
However, COVID-19 is not the sole reason for physician burnout. It was present long before and will continue to persist if remain unaddressed. According to Medscape National Physician Burnout & Suicide Report 2021, 79% of the physicians stated that their burnout started before the COVID-19 pandemic. Physicians and nurses are overworked professionals and their symptoms are unacknowledged by system leaders.
Physician burnout can be identified from three common symptoms: Exhaustion, depersonalization, and lack of efficacy. These symptoms can be signaled through the following activities:
Physical and emotional energy starts draining
Cynicism or sarcasm (about patients or job)
Not being emotionally available for the patients.
Doubting the meaning and quality of work
Why physician burnout is a concerning condition in the healthcare system? To understand that, let's have a look at some of the consequences of burnout.
Lower patient satisfaction and care quality
Higher malpractice risk
Higher error rates
Higher physician and staff turnover
Higher tendency to give-up easily
Reduced motivation and persistence
Depression
Burnout may also result in physicians or healthcare workers quitting their practice. This can also end up with physician increasing their cost for consultation, which impacts the healthcare system economically.
The burnout condition is not something that has developed during the COVID-19 pandemic times. It has been existing in the healthcare system (in one form or the other) and is largely attributed to organizational and systemic factors. Therefore, to lessen the impact of burnout, solutions should be identified and developed at the system level. This can be done by understanding the challenges that physicians & care teams face in the system and developing strategies that are distinctive to the needs of an organization, physicians, care team members.
How to Lessen the Impact of Physician Burnout?
Reduce Excessive Workload
Excessive workload is one of the common and obvious reasons for a physician to have physical and mental energy burnout. At the systemic level, it is necessary to take measures that could help to manage the duty hours by providing healthcare providers with fair productivity targets and ensuring appropriate distribution of job roles.
To ensure this, it is a good idea to expect and include all work-related responsibilities within work hours. Also, provisioning flexible work schedules, including part-time employment can help physicians do complete justice to their practice. For physicians who want to extend their practices in Healthcare Organizations (HCOs) as well as their own clinics, part-time employment can be a help.
To avoid extensive work hours, telehealth applications can be rescuing. These solutions enable physicians to have virtual consultation sessions with the patients, at a convenient time slot. Here, the physician is not location bound to consult a patient and can be available with his services under healthcare security and compliance.
Apart from helping physicians to optimize their schedules, telehealth solutions are helpful in avoiding commuting hassles and are also known to reduce the consultation time. Studies suggest that an in-person consultation (which usually takes 15-20 minutes) can be reduced to 7-8 minutes. Since the physicians have the opportunity to work from anywhere with telehealth, a virtual consultation solution, it helps to maintain a work-life balance as well.
Interested in building a telehealth solution for your healthcare organization? Check out how Daffodil helped VivoDoc build a custom telehealth solution that's helping the U.S. healthcare system deal with challenges such as physician burnout, patient no-shows, and Fee-for-Service (FFS) payment model. Find out more about the telehealth app development story.
Appropriate Use of Technology
The healthcare industry is embracing technology for improving the quality of care. One of the appropriate and most prominent use cases of technology is medical EHRs.
Electronic Health Record (EHR) solutions are used at varying levels in a healthcare ecosystem. It is used by clinicians, hospitals, pathology labs, and other healthcare centers for managing patients and other administrative work.
Despite numerous benefits of an EHR system, physicians report that EHRs have contributed to their workload and affected their efficiency. Since physicians are expected to add detailed patient information in an EHR during appointments, they think that it adversely affects their patient time. Instead of giving more time to patients, physicians are forced to add data to EHR including patient history (medication, allergies, chronic conditions), ICD & CPT codes, etc. in the name of patient care improvement and compliance management. This, despite improving the administrative & research work, is creating chaos for the physicians.
Such issues can be resolved by ensuring that tech solutions are simple to use and cater to specific requirements. Issues are encountered when comprehensive, third-party solutions are provided to the physicians or healthcare workers that don't resonate with the operational workflow of the system.
Instead, it is a good idea to go for custom EHR software development where the system to gather information is less cluttered. The physicians can be presented with a simple interface that asks them to collect limited information needed for patient management & engagement.
Management Level Improvements
Weak leadership, poor management, dysfunctional culture & teams, administrative burdens, lack of resources, excessive policies & procedures are some of the reasons for physical and emotional burnout at the management level. To overcome these issues, it is necessary to introduce cultural changes within a healthcare organization. Along with this, certain facilities can be introduced that can lessen the effect of long work hours. For example, time banking can be offered to compensate for extra working hours. Additional services (like extended insurance plans, on-call rooms, residence to rest, etc.) can be provided.
Along with changes at the management level, individual-level improvements should also be done. For physicians, stress management sessions should be organized so that they can learn to deal with the symptoms of burnout effectively.
Technological Advancements to Deal with Physician Burnout
Technology can be a great help in lessening the impact of burnout at the systemic and individual levels. Telehealth solutions, custom EHRs are amongst some of the technology-driven solutions that can curb the impact of burnout. To know how technology can help your organization to reduce physician and emotional pressure from physicians, connect with our healthIT experts to know about some innovative ideas that can help.