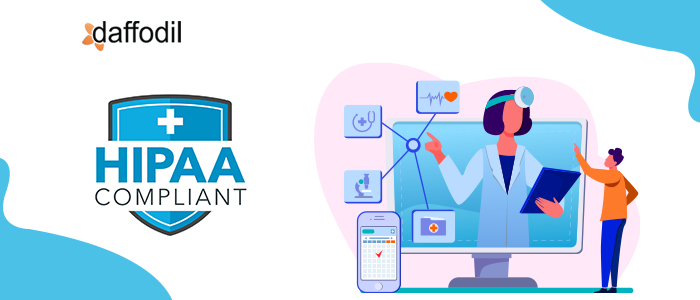 In effect to the COVID-19 pandemic, remote services have become the new normal. That is why, telemedicine, the practice of providing care to the patients remotely has been gaining ground in the healthcare industry. During the challenging times of pandemic, telemedicine services are a go-to option for safe consultation sessions.
The rise of telemedicine amid coronavirus outbreak opens up new avenues to control the spread of the pandemic while ensuring that patients are able to reach the providers, when in need.
Telemedicine solutions are enabling patients and providers to connect with each other through options like appointment scheduling, video conferencing, prescription refills, store-and-forward capabilities, etc. Since telemedicine solutions have a lot of personal healthcare information (PHI) of patients which is being stored, analyzed, and retrieved; maintaining the privacy of PHI holds the utmost importance.
When it comes to the security and privacy of electronic PHI, it is essential to make telemedicine solutions compliant with HIPAA standards. When healthcare organizations build telemedicine software for the first time, the following factors should be considered in context to the privacy:
How virtual consultations and other communications will be secured in transit


How recorded consultations, clinical documentation, and other PHI will be stored and accessed
What channels would be used for communication between patients and providers


Monitor communication involving ePHI to prevent and respond to any malicious data breaches
While building a telemedicine solution, healthcare organizations need to assure that only authorized users should access the content in software. Also, it should be ensured that any unsecured options such as Skype, SMS, or email should not be used for sharing ePHI. Similarly, there are a number of security and privacy concerns that must be taken into consideration during telemedicine software development. Let's talk about them in detail.
1. Using a Secure Way of Communication
When ePHI in a telemedicine software is stored by a third party, the healthcare organization (who is the covered entity) should have a Business Associate Agreement (BAA) with the third party storing the ePHI. The BAA comprises of the methods that the third-party providers use to ensure data privacy and provisions to regularly audit the data.
When applications like Skype are integrated into the telemedicine solution for video conferencing or other communication purposes, the covered entity would have to sign a BAA agreement with Skype. Since Skype is not an application that's specifically meant for healthcare communication, it does not sign BAA. On the other hand, Skype does not include controls for backing up the messages, neither does it maintain the HIPAA-compliant audit trail. However, the enterprise package of Skype would satisfy HIPAA rules for backup and auditing maintenance.
Likewise, there are other consumer-grade services that do not comply with the privacy and security standards of HIPAA. Therefore, a wise selection of tools and applications should be made in order to make two ends communicate with each other.
2. Technology Considerations for HIPAA Compliance
To make a telemedicine solution secure, it is important to select the right set of technologies and security systems. For example:
Intrusion Detection System (IDS): A telemedicine solution should be built with a strong IDS that continuously monitors a network for any policy violation or malicious activity.
Web application Protection: Internet-facing solutions need stringent protection against external attacks. Thus, it is important to implement a Web Application Firewall (WAF) that can provide protection against external threats by blocking them and passing alerts to the IT team when bad requests are encountered.
Log Management: This is the approach of managing volumes of messaging logs that can further help in auditing. These logs may have a record of events based on users, applications, or systems.
Apart from deploying such security systems, a HIPAA compliant telemedicine application needs to have a data encryption facility to protect data during transmission, should have peer-to-peer secure network connections, etc. A reliable technology partner in the healthcare sector can keep help you out in this concern (i.e. it will help you in right technology selection to make a telemedicine application HIPAA compliant).
3. Consent and Privacy Concerns of Patients
Patients have the right to be informed about how their information (personal or PHI) will be used and how it will be protected during a remote clinical encounter. Therefore, it is the sole responsibility of the providers to keep the patients informed about the measures taken to protect their confidential information, describe the potential benefits and constraints of the telemedicine solution, brief them about a contingency plan (in case there is a technology or equipment failure), outline policies around billing, scheduling, & cancellations, etc.
Final Thoughts on HIPAA Compliant Telemedicine Solution
Telemedicine solutions are reviving the old-school models for care delivery. By setting up at-home consultation sessions with preferred physicians, patients are able to avail of cost-effective and convenient care services.
However, a large share of patients refrains from the benefits of telemedicine solutions. Some of the reasons for it include lack of awareness about such solutions, integration of insurance programs with telemedicine services, lack of confidence in virtual consultation sessions, security concerns, etc.
To deal with such scenarios, healthcare organizations offering telemedicine services should take steps to keep their patients informed about the services and benefits so as to give them confidence to try out this new and highly-efficient mode of consultation. With the right solution and feature-set, giving this confidence to the patients is a possibility.
If you are planning to launch a telemedicine solution or thinking of modernizing an existing one, then our health-tech team can help you out. The right selection of technology, feature-set, idea validation according to the business are some of the factors that our team can help you with. To connect with them, set-up a 30-minute free consultation session with them.