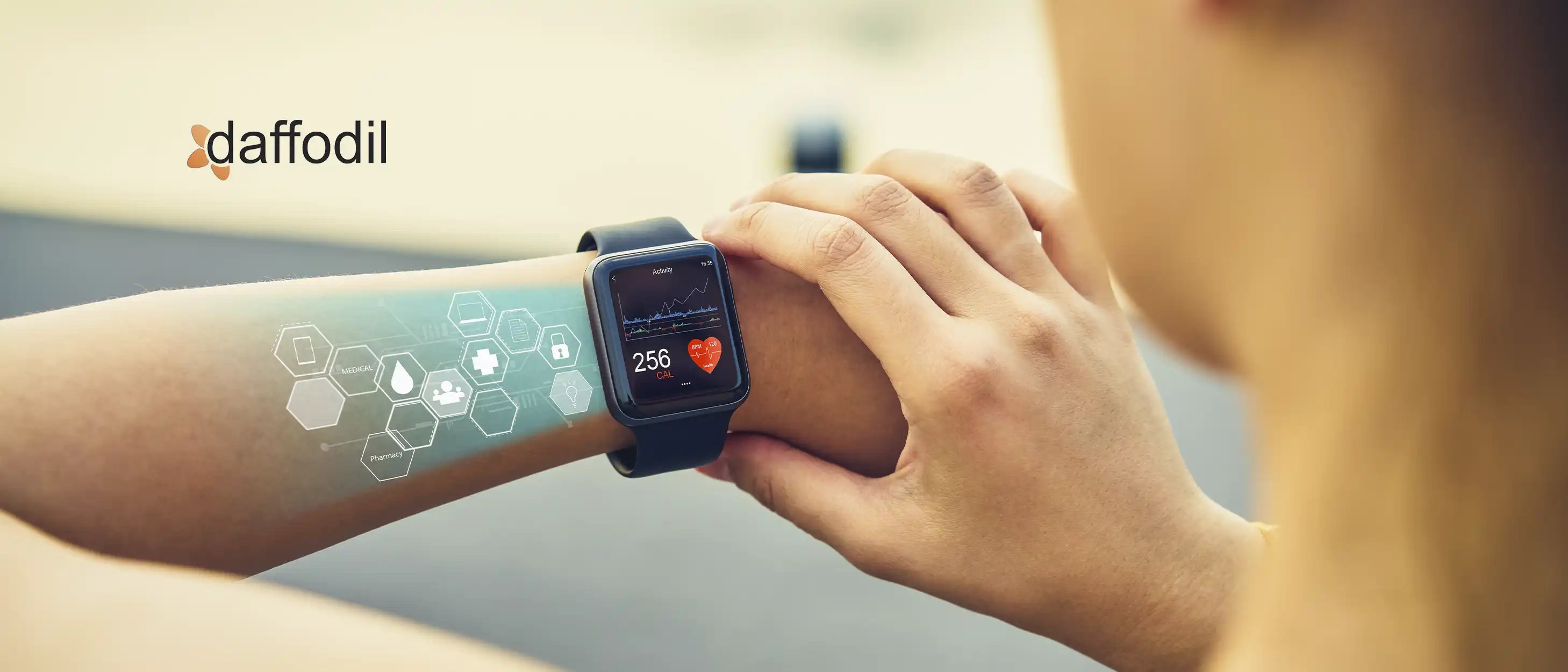 From our smartphones to smart homes, technology has permeated every aspect of our lives, and now, it's making a profound impact on how we approach our health and well-being. Among the numerous technological advancements, one that stands out for its transformative potential in healthcare - wearable technology.
Wearable technology encompasses an array of devices, such as fitness trackers and smartwatches, which can be effortlessly worn on our bodies. These innovative gadgets serve as indispensable tools, enabling us to closely monitor and analyze various aspects of our health.
But the influence of wearable technology reaches far beyond the individual level. Healthcare providers and organizations are recognizing its potential in improving patient outcomes, enhancing remote monitoring capabilities, and fostering a more patient-centric approach to medical care.
According to Deloitte Insights, the global market for wearable medical devices is rapidly growing, projected to reach nearly 440 million units by 2024, up from 275 million in 2021. This significant rise has led healthcare organizations to realize the importance of incorporating these advanced solutions into their practices.
In this blog, we delve deeper into the latest advancements in health monitoring devices, exploring their impact on the medical landscape and the opportunities they present for a brighter, healthier future. Moreover, we'll discuss some of the key factors that developers must consider when creating medical devices.
What is Wearable Healthcare Technology?
Wearable healthcare technology, commonly known as wearables, refers to a range of smart electronic devices designed for monitoring and improving personal health. These devices are typically worn by individuals and are part of the Internet of Things (IoT) ecosystem. By integrating hardware, software, and mobile applications, wearables collect and analyze health-related data, which is then transmitted to the cloud for further processing. The insights obtained from this data help individuals take proactive steps toward managing their health and well-being.
The primary purpose of wearable healthcare technology is to provide health monitoring on the go. These devices use biosensors to collect a range of data from the wearer, including heart rate, blood pressure, sleep patterns, and physical activity. Through continuous monitoring, users can gain insights into their overall health and well-being, enabling them to make informed decisions about their lifestyle and healthcare choices.
The architecture of wearable healthcare technology typically comprises the following components: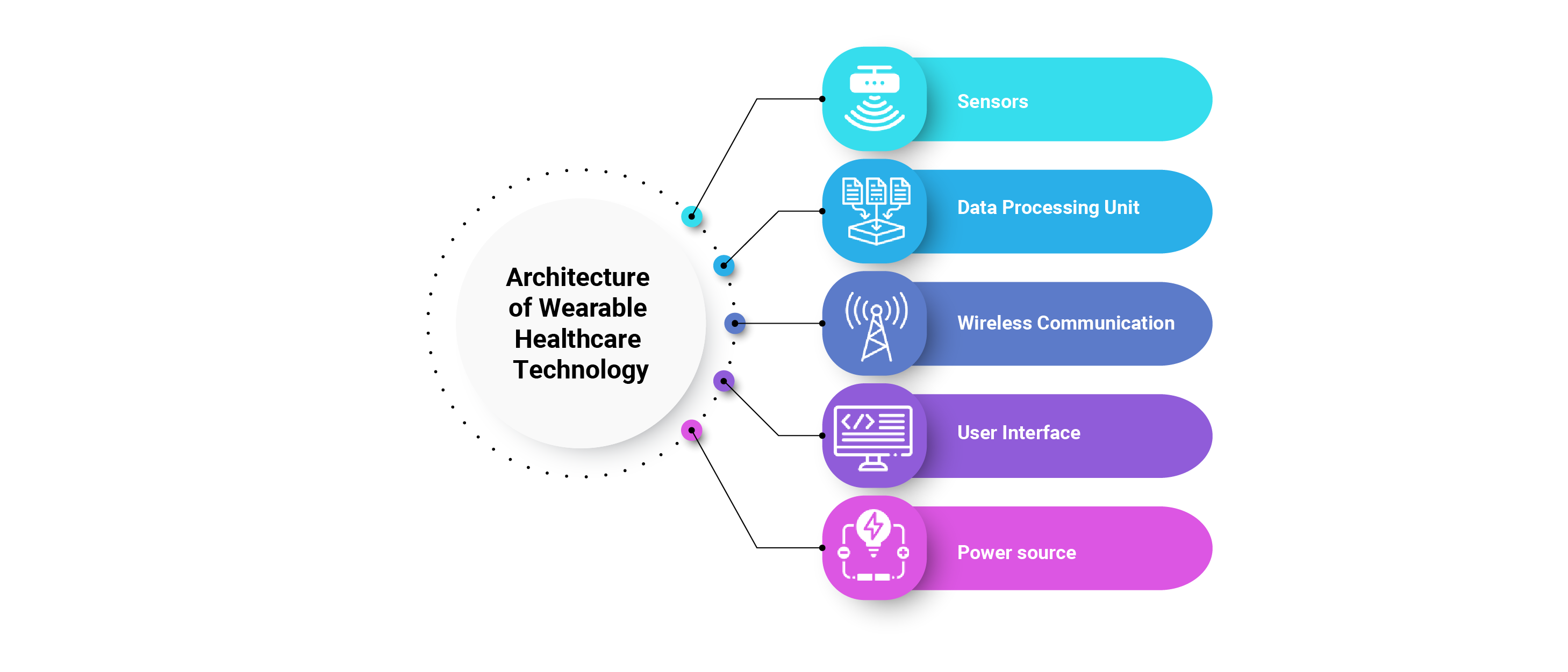 1. Sensors: Wearable devices are embedded with a variety of sensors that capture specific health metrics. These sensors can include heart rate monitors, accelerometers, gyroscope sensors, temperature sensors, blood pressure monitors, and more. Each sensor serves a specific purpose, collecting data related to physical activity, sleep patterns, heart rate variability, stress levels, and other vital signs.
2. Data Processing Unit: Wearables are installed with a data processing unit, usually in the form of a microcontroller or microprocessor, which analyzes the raw data collected by the sensors. This processing unit may also include built-in algorithms for real-time data processing and interpretation.
3. Wireless Communication: These devices often have wireless communication capabilities, such as Bluetooth, Wi-Fi, or cellular connectivity. These features enable seamless data transfer and synchronization with smartphones, tablets, or cloud-based platforms, where health data is stored and analyzed in greater detail.
4. User Interface: These gadgets come with a user-friendly interface, typically in the form of a touchscreen display or LED indicators, allowing users to interact with the device, view health data, and access various functionalities.
5. Power Source: Since wearables are designed for continuous use, they are equipped with a power source, such as rechargeable batteries or, in some cases, energy harvesting technologies that can extract energy from the user's movement or body heat.

Key Benefits of Wearable Technology in Healthcare
1. Real-Time Health Monitoring
Wearable technology offers continuous and real-time monitoring of vital health metrics, such as heart rate, blood pressure, sleep patterns, and physical activity. This valuable data enables individuals and healthcare providers to stay informed about health conditions, facilitating timely interventions and personalized health management.
2. Empowering Active Health Management
Wearables empower individuals to take charge of their health journey. With easy access to health data at their fingertips, patients can set health goals, track progress, and adopt healthier lifestyles. This sense of ownership fosters proactive engagement in preventive measures and self-care.
3. Remote Patient Monitoring and Enhanced Care
Wearable devices enable remote patient monitoring, particularly beneficial for individuals with chronic illnesses or those in post-operative care. Physicians receive real-time data, allowing them to remotely monitor patient progress, intervene when necessary, and provide continuous care without the need for frequent hospital visits.
4 Early Disease Detection and Intervention
The early detection capabilities of wearable technology are paramount in healthcare. By detecting abnormal health patterns, wearables aid in early disease detection. This timely identification facilitates prompt medical interventions, potentially preventing disease progression and optimizing treatment outcomes.
5. Improved Patient Engagement
Wearable devices promote patient engagement and adherence to treatment plans. Through personalized feedback and reminders, patients are encouraged to stay committed to their health goals and follow prescribed treatment regimens.
6. Data-Driven Healthcare Decision Making
The abundance of health data collected by wearables empowers healthcare providers to make data-driven decisions. Physicians can analyze trends, identify potential health risks, and tailor treatment plans based on individual patient needs, leading to more personalized and effective care.
7. Facilitating Telehealth Solutions
Wearable technology facilitates telehealth solutions, enabling remote consultations between patients and healthcare providers. Telehealth expands access to healthcare services, especially in remote or underserved areas, and during challenging circumstances, such as pandemics or emergencies.
8. Optimized Chronic Disease Management
For patients with chronic conditions like diabetes, asthma, or heart disease, wearable devices serve as valuable tools for monitoring and managing their conditions. Continuous tracking allows individuals and healthcare teams to make informed adjustments to treatment plans, optimizing chronic disease management.
9. Wellness and Fitness Tracking
Beyond medical applications, wearables support wellness and fitness tracking. Individuals can monitor exercise routines, set fitness goals, and track progress, fostering a culture of proactive health and encouraging healthier lifestyles.
10. Cost Savings
The integration of wearable technology in healthcare can lead to cost savings by preventing hospital readmissions, enabling remote monitoring, and promoting preventive care. It contributes to more efficient healthcare delivery, optimizing resources and enhancing overall healthcare system efficiency.
11. Research and Public Health Initiatives
Wearable health data contributes to research and public health initiatives. Aggregated and anonymized data from these devices can help identify broader health trends, aid in disease surveillance, and shape health policies for the benefit of communities.
12. Seamless Data Transmission
Wearable health devices ensure seamless transmission of crucial patient information with HL7 integration and HIPAA-compliant software. Physicians have access to comprehensive medical histories, enhancing the accuracy of diagnoses and treatment plans.
Key Factors Developers Must Consider When Creating Wearable Technology for Healthcare
Here are some key considerations for developers working on wearable technology in healthcare: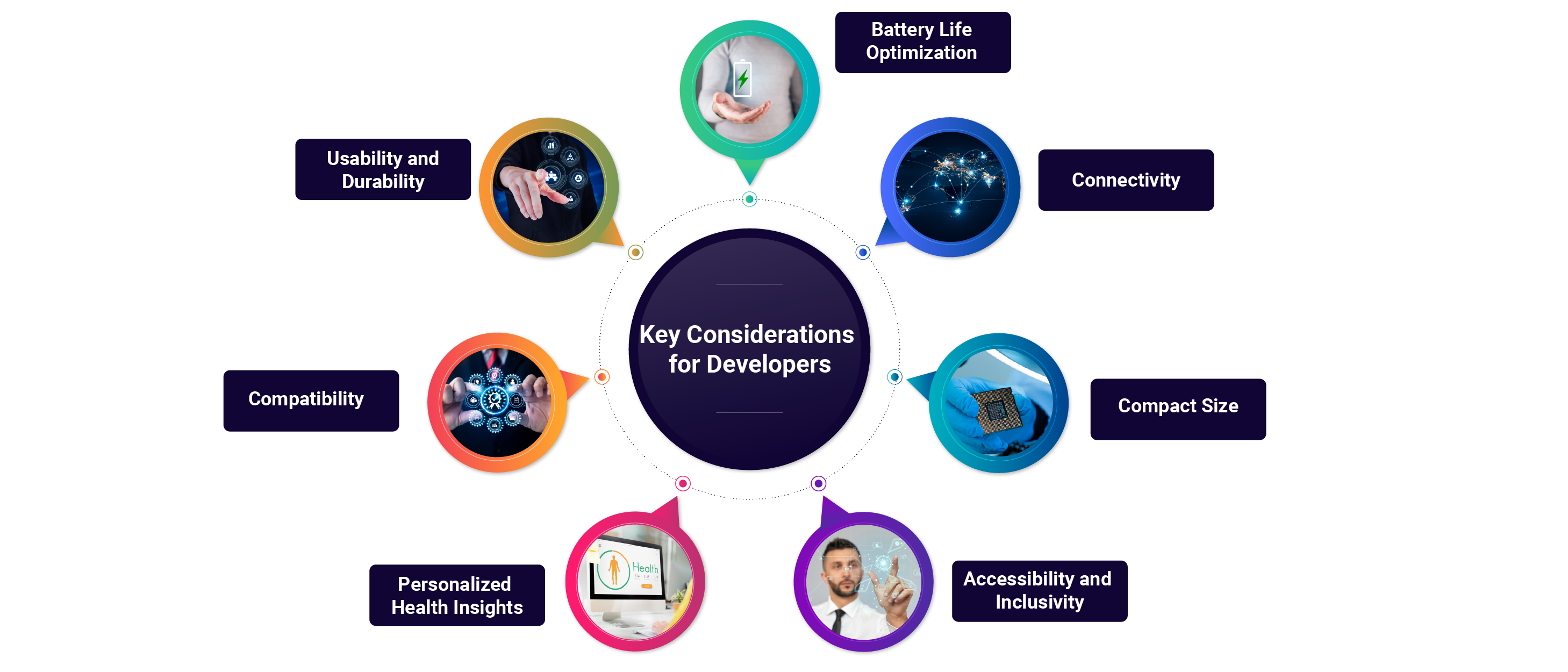 1. Usability and Durability: Ensure the wearable device can withstand various environments and daily activities, such as exposure to water during showers. Focus on making the device less cumbersome, improving aesthetics, and enhancing medical device usability engineering to make it comfortable and practical for users.
2. Battery Life Optimization: Consider the importance of long-lasting battery life to enhance convenience for patients. For continuous monitoring devices like ECG monitors, a prolonged battery life reduces the need for frequent battery changes or recharging, allowing users to lead their lives without interruptions.
3. Connectivity: Enable seamless connectivity options, such as Wi-Fi, Bluetooth Low Energy (BLE), or cellular connections, to ensure data collected from wearable devices can be easily accessed by medical providers. Effective connectivity supports informed decision-making and personalized treatment plans.
4. Compact Size: Design the wearable device to be compact and discreet enough for comfortable wear under clothing, without compromising performance and connectivity. Overcoming design challenges in packing advanced technology into a small package is essential for a successful wearable device.
5. Accessibility and Inclusivity: Design the wearable with accessibility in mind, making it usable for individuals with diverse abilities. Consider factors such as font size, color contrast, and voice navigation to make the device inclusive for all users.
6. Personalized Health Insights: Develop algorithms that can analyze the data collected by wearables to provide personalized health insights and recommendations to users. Personalization enhances user engagement and motivates behavior change.
7. Compatibility with Multiple Platforms: Ensure that the wearable device can connect and synchronize with various platforms, such as smartphones, tablets, and computers, to accommodate different user preferences and devices.
Customer Success Story: Discover how Daffodil Modernized a health-tracking app for Canada's fastest-growing health-tech startup.
Top Wearable Devices in Healthcare
When it comes to health monitoring devices that you can use every day, there are several top-rated options available in the market. Here are some of the best health monitoring devices that offer valuable insights into your well-being and can seamlessly integrate into your daily routine:
1. Fitness Trackers
Fitness trackers are versatile wearable devices that monitor various health metrics, including steps taken, distance traveled, heart rate, sleep patterns, and calories burned. They provide comprehensive data to track your daily physical activity and encourage you to achieve fitness goals.
2. Smartwatches
Smartwatches go beyond fitness tracking and offer a wide range of health monitoring features. They can track heart rate, sleep, and activity levels, and provide real-time notifications, making them an all-in-one health companion on your wrist.
3. Blood Pressure Monitors
For individuals with hypertension or those looking to monitor their blood pressure regularly, portable blood pressure monitors are a valuable tool. They allow you to track blood pressure levels at home and share the data with your healthcare provider for better management of hypertension.
4. Glucose Monitors
For people with diabetes, continuous glucose monitoring (CGM) systems or blood glucose monitors are essential devices. They enable individuals to monitor blood sugar levels regularly and manage their diabetes effectively.
5. Pulse Oximeters
Pulse oximeters are non-invasive devices that measure the oxygen saturation levels in your blood and pulse rate. They are useful for monitoring respiratory health and assessing oxygen levels during physical activities or recovery from illnesses.
6. Body Composition Scales
Body composition scales go beyond measuring weight and provide insights into body fat percentage, muscle mass, bone density, and more. These scales help you track changes in your body composition as you work towards your health and fitness goals.
7. Smart Thermometers
Smart thermometers offer accurate temperature readings and can sync with smartphone apps to track fever patterns and monitor your health during illness.
8. ECG Monitors
Some advanced smartwatches and wearable devices feature electrocardiogram (ECG) capabilities, allowing you to monitor your heart's electrical activity and detect irregularities that may warrant medical attention.
9. Breath Analyzers
Breath analyzers can measure your breath's acetone levels, providing insights into your body's fat-burning state. They are useful for individuals following ketogenic diets or those interested in understanding their metabolism.
10. Sleep Trackers
Sleep trackers monitor your sleep patterns, including duration, quality, and disruptions. They help you assess your sleep habits and make lifestyle adjustments for better rest and recovery.
Remember that the best health monitoring devices for you depend on your specific health goals and needs. Before investing in any device, it's essential to research and choose one that aligns with your lifestyle and provides the data you find most valuable for managing your health effectively.
Transforming Healthcare Delivery through Wearables
While physicians and healthcare providers can offer valuable advice during annual wellness visits, the integration of wearables takes patient care to a whole new level.
It is important to note that wearable technology in healthcare should be seen as a complementary tool rather than a replacement for professional medical care.
Embracing wearable technology fosters a stronger bond between patients and healthcare providers. By encouraging proactive health management, these devices hold the potential to enhance health outcomes and create a healthier future. As we witness continuous advancements, the fusion of wearable tech and healthcare promises an exciting and beneficial path ahead.
Interested in personalized healthcare solutions? Check out our healthcare services! As one of the leading healthcare software development companies, we are dedicated to driving advancements in the healthcare industry through cutting-edge technology solutions. Our team of experts focuses on creating user-centric healthcare software that caters to the diverse needs of patients and healthcare providers.