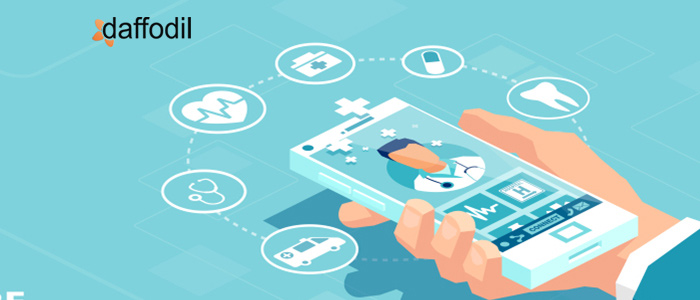 Today's tech-savvy patients are using smartphone apps to access their medical records, view lab results, and scheduling doctor's appointments. There is an ever-increasing onslaught of users on such apps. Therefore, several healthcare providers are turning to data analytics in the cloud to better manage activity on patient-side apps.

It was during the pandemic last year that providers accelerated cloud adoption to quickly scale up their infrastructure as per patient needs. Healthcare and life sciences teams feel that COVID-19 gave a huge boost to their reliance on cloud solutions, especially for enhancing telehealth apps.
As per a Frost & Sullivan report, more than 50% of health IT workloads are currently deployed in the cloud, with more to follow. Supporting patient needs is the top priority for any healthcare provider and doing this through patient-side apps efficiently is possible only with cloud adoption.
In this article, we will discuss putting the power of mobile medical care in your patients' hands through cloud-deployed services. We will go on to discuss how real-time data further improves patient care and also how the cloud enhances technologies like data analytics in this regard.
Modernizing Health IT Infrastructure With Cloud Services
Healthcare providers had already expanded their health IT budgets to accommodate the management and maintenance of legacy health systems. Since these organizations cannot afford to maintain their infrastructure with on-premise solutions, cloud adoption is a no-brainer in dealing with financial constraints.
Digital transformation has been a great driver of optimized patient outcomes through mobile apps. Additionally, healthcare organizations have been able to reduce costs, get across data silos and manage data access for the appropriate personnel.
With cloud solutions tailored for healthcare setups, you can leverage real-time patient information with efficient data analytics tools. Hospitals can decide on how much transparency they would like their patients to get on the patient-side app.
Some organizations prefer giving them all-access transparency to the information on patient volume, hospital staffing levels, and equipment at the hospital. Patients score hospitals highly if they give out all of the data on the health app so that they can in turn make an informed decision in choosing the right health setup for themselves.
How Patient-Side Apps Leverage Real-Time Analytics
These days, several nonprofit healthcare systems are modernizing their IT infrastructure with cloud computing services. This is also to facilitate replication of real-time patient data from Electronic Health Records (EHR) as well as supply chains and ancillary applications from data centers. Building centralized data lakes and data warehouses for organizations becomes a lot more seamless with this kind of workflow supported by open cloud services.
Data analytics with in-house data warehouses and servers is not always possible for healthcare providers. This is because they need to consistently handle compute-intensive analytics tasks alongside daily data processing needs. The existing on-premise IT infrastructure is not always up to the mark to handle so much computation on its own.
To push the analytics efforts, cloud computing services such as Azure come in handy for these enterprise setups. The most obvious use case for their data warehouses is sidestepping high capacity constraints using cloud computing tools. Azure Data Lake Storage Gen2 can be used for storage, Azure Databricks for analytics, and Power BI for real-time report generation.
By providing cloud-powered dashboards for frontline caregivers to make critical decisions, you are also allowing seamless process transitions on the patient-side apps. Proper forecasting and anticipation of hospital staffing with predictive analytics can help patients as per the need. If a hospital is full, the patient can be notified on their app, while diverting them to another nearby facility.
Cloud And AI-Powered Diagnostics: A Case Study
On-demand cloud computing platforms such as Amazon Web Services (AWS) are utilized for running AI algorithms for diagnostics. For instance, researchers at UC San Diego Health programmed a machine learning algorithm that scans chest x-rays to detect possibilities of pneumonia in patients.
When cases of COVID-inflicted pneumonia started to rise at the peak of the pandemic, the university deployed the algorithm on AWS to help with diagnosis. The algorithm uses color-coded maps overlaid on the x-rays to show the probability of pneumonia. The AI result is generated as soon as a patient gets their x-ray developed.
Using these results, physicians at UC San Diego were able to review x-rays before they went to radiologists, helping make fast and critical decisions on patient care.
The Hybrid Cloud For Patient Data Management
The public cloud with on-demand computing services is perfect when it suits the task at hand. Quite a number of healthcare organizations the world over, however, have made the switch to the hybrid cloud when it makes strategic sense to do so. This is especially a useful approach when the organization plans to upgrade the enterprise resource planning component of its patient-side app.
Apps that involve the capturing of images for diagnostic use like in the case of a dental consultation app are deployed on a hybrid cloud-based image archiving platform. When it is time to upgrade any part of the application the product owners have the liberty to consider both public and private cloud options.
Cloud services are used to cull, analyze, manage and extract important information from piles of unstructured patient data.
ALSO READ: How To Ensure Efficient Patient Handoff On EMS Platforms?
The Reliability Of Cloud Services For Patient Apps
The healthcare industry is always on the lookout for reliable options be it Software, Infrastructure, or Platform-As-A-Service, and is the same with patient-side applications as well. With more and more cloud companies making their services more feature-rich and secure, more healthcare organizations are becoming open to cloud adoption. To know how Daffodil can do the same for your patient-side service delivery, check out our Custom Patient Engagement Software service.