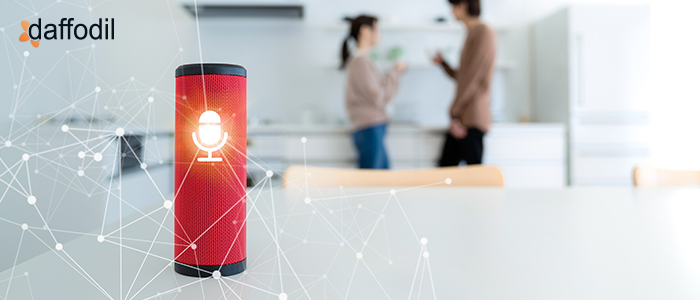 "Okay, Google! Book me a taxi from my place to Oxford street." "Alexa, Order a large Veg Exotica from Nick's Pizza."
In the voice-first era, performing a web search, ordering food, playing music, setting alarms, getting real-time traffic updates doesn't require tapping the screen. Thanks to the Voice User Interfaces (VUIs) that are offering intuitive modes to set human-machine communication.
Considering the benefits, businesses are leveraging VUIs to create a great customer experience through innovative practices. While the concept of VUI has existed for a long time, there is some gradual improvement in it. This article highlights the importance of VUIs, discusses its history & evolution, and its use cases in the real world.
What is a Voice User Interface (VUI) and Why they are Important?
Voice User Interface (VUI) is a speech recognization technology that allows users to interact with a machine (like a laptop, mobile, TV) using voice as the medium. VUI is an extension of a conversational interface like a chatbot. A VUI accepts user input through voice, processes it, and then provides a voice-based output, which could be accompanied by text, graphics, or video on the screen.
Despite several conversational interfaces available, VUI has been gaining a lot of traction in the recent past for the following reasons:
Intuitive Mode of Communication: On average, a human being speaks 7,000 words a day. Certainly, voice is one of the most comfortable and intuitive modes of communicating for humans. With technology making VUIs intelligent and empathic like humans, there is accuracy in understanding the input, processing it, and provide a desirable output.


Convenient Interaction: Car, home, public places, and office are the four most common places where users make the most of the voice interface. Since VUIs provide a hands-free interface, they are considered as an anytime, anywhere mode of communication.


Interprets the Message Right: How many times have you received an email or text and you wondered what's the tone? When conversing through voice messages, there is an understanding of tone, volume, rate of speed, intonation, etc. which makes the conversation clear and accurate. Also, voice conversation creates an empathic connection that engages the users at a personal level too.
A Brief History of Voice-User Interface
In 1952, engineers at the Bell Labs developed an automatic digit recognizer called Audrey. It could recognize the numbers 0-9 by performing pattern matching on predefined classes of voices. Audrey was 6-fee tall, having numerous analog signals with capacitors, amplifiers, and filters. While it was able to recognize the voice input with 97-99% accuracy, its large size, expenses, and complex electronics didn't make it a product to be commercialized. However, it marked the inception of VUI and the research further continued.
The first-gen VUI was introduced by SpeechWorks and Nuance in 1984 through Interactive Voice Response (IVR) systems. These IVRs were able to recognize human voice over call and performed the tasks given to them. The IVR systems became the mainstream in the 2000s and are a major part of customer support services today.
In 2006, Apple introduced the concept of Siri, enabling users to interact with machines using voice. Following this, Google introduced a voice-enabled search in 2007. Tech-giants like Microsoft, Apple, and Google then launched voice assistants for mobile.
Siri (Apple, 2007)
Cortana (Microsoft, 2011)
Google Assistant (Google, 2016)
In 2014, Amazon introduced Amazon Echo, a smart speaker that integrates with virtual assistants (Alexa, Siri, etc.). These speakers are can be integrated with mobile apps through Alexa Skills. Similarly, competitors introduced Google Home, Apple HomePod to improve the user experience when they are in office, home, or even at the shopping mall.
ALSO READ: The History and Evolution of Chatbots
Voice User Interface: Understanding the Use Cases
VUI for Hotels: With Voice User Interfaces, the hotels can offer a personal concierge in every hotel room. Smart speakers placed in hotel rooms can help to offer personalized and immersive experiences to the guests. The VUIs can be integrated with existing services and amenities in the hotel, becoming virtual concierge for the guests. VUIs can simplify tasks for guests such as controlling in-room temperature, finding local restaurants and attractions, playing music, switching on-off the lights, etc. All that guests have to do is "ask for it".

Alexa for Hospitality
VUI for eCommerce: For buyers shopping online, VUIs can make the experience better by enabling hands-free shopping. Here are a few examples of how online commerce can be boosted using VUI.



VUI for Workspace: Several day-to-day tasks at the workspace can be managed by integrating VUIs (such as a smart speaker) with software solutions being used daily. This video exemplifies how employee experience can be elevated using VUI.
Alexa answers employee queries in real-time
Voice User Interface for your Business: Getting Started
Today, Voice User Interface is a significant part of a tech-roadmap for businesses. Irrespective of the industry, businesses are realizing the benefits that VUIs bring in and are cash in upon it. Given the complexity, designing a VUI requires know-how and experience with computer science, human psychology, and linguistics, along with cognitive learning. A Daffodil, we identify the right technology to make VUIs smarter, depending upon its use case for businesses. Know more about our VUI development services in detail.