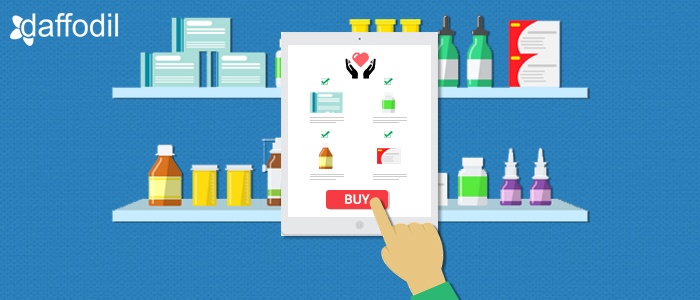 The proliferating concept of on-demand healthcare is reviving the old-school care delivery models and online-pharmacies offering medicine on-demand is one of its crucial components.
By 2023, the global online pharmacy market is predicted to reach around 128 billion dollars.





In spring 2017, the number of internet users who used online medical services on a computer amounted to 29.19 million within a period of 30 days.




These statistics support the rise of on-demand medicine services, and so does the digital healthcare consumers. (Source: Statista)
Factors Triggering the Growth of Medicine On-Demand
Consumer convenience is the new currency in the healthcare system and in this B2C model of care delivery, digitization and consumerization has a major role to play. Over the time, the medicine on-demand model of care delivery has evolved with proven benefits, which includes:
1. Doorstep Delivery: Online pharmacies offer the option to get healthcare products and drugs at the doorstep, in minimum delivery time. With rising population of working individuals, continuous refilling of prescription for elder care or chronic disease management can become an iterative task (every week or month). By ordering medicine online, the insistent job of buying and refilling prescription can be simplified. Also, ordering medicine online comes as a handy option for people with locomotive disabilities.
2. Informed Purchase: Keeping the buyers informed about their purchase can be another benefit that (most of the) online medical stores are offering. Information about the drugs like salts/chemicals present in it, variants and alternatives, side-effects, symptoms/disease to which the drug responds etc. helps users to know their medication and purchase accordingly.
3. Ease of Access: While online pharmacies are criticized for being accessible to the rich, the reality is far from this. e-pharma, which is available through web and mobile apps is a household-thing in metro cities. In-fact, medicine delivery over a minimum order is free by a number of e-pharmas, which makes using the services quite accessible for everyone.
4. Cost-Effectiveness: The concept of buying medicine online comes with an advantage of cost-effectiveness. Since e-pharma reduces the number of mediators between the pharma companies and patients, the cost of medicines when buying online stays effective. Plus, portals offering medicine on-demand offer cashback offers and discount to the customers, which gives them another reason to get back to online purchase facility.
5. Record Management: Online pharmas maintain a record of every purchase that's made by an account holder. Such records help them to prevent drug overuse and maintain a track of their medication. Moreover, iterative order records can help physicians to identify drug response on the disease and make changes to it accordingly.
With such utility (in terms of convenience, financial rewards, awareness), e-pharmas have potential to revolutionize the way care is delivered and accessed by providers and patients, respectively.
Some of the Disruptive Online Pharmacies
Pharmacy2U, founded in 1999 is UK's leading internet and mail pharmacy. Prescription, over the counter medicine, and healthcare products can be ordered from this NHS approved pharmacy of UK.
1MG, is India's leading on-demand medicine delivery platform, founded in 2012. Besides medicine delivery, the platform facilitates medical consultation and diagnostic test bookings.
PillPack, the Amazon acquired online pharmacy fills, sorts, and delivers medications in personalized packets via mail based on when the medications are meant to be taken.
Insightfil works with medical advisors and their patients. The online pharmacy then assemble and send convenient, personalized daily dose medication packages to the patient.
ALSO READ: How to Improve Customer Engagement in Medical Apps with Gamification
On-Demand Medicine Services: Getting Started
From on-demand delivery of prescriptions to virtual pharmacists, startups are dramatically changing the medicine distribution system. While some of them (like 1MG, Pharmacy2U) are providing on-demand solutions for quick and convenient delivery of pharmaceutical drugs, others are acting as virtual pharmacist and delivering drugs in pre-proportioned packets (like PillPack, Insightfil). Both the on-demand medicine delivery models are accepted and appreciated by consumers worldwide.
Want to make far-reaching change in the medicine distribution system? Talk to our healthcare experts to know the best way and cost to digitize your idea.