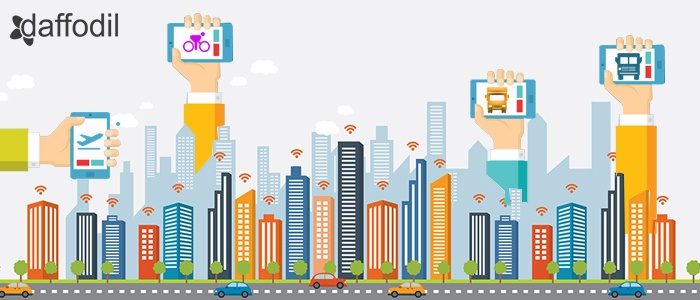 By 2035, 812.2 million people worldwide will live in urban areas with a population of 10 million or more. As the urban populace continue to grow, the city municipalities are striving to create a better living environment for its digital natives by leveraging technology.
In the making of a smart city, transportation has a significant role to play. With billions of people choosing one or the other public transit mode for commuting, an inefficient transport system can certainly bring the life to an halt in urban cities. Thus, it is important to have proper means and management of transport channels, which ultimately defines the living standard of people in the modern, hi-tech cities.
By integrating Information and Communication Technology (ICT) in the transportation system, it is possible to make far-reaching changes in the way people commute in metro cities. With introduction of different modes of commuting, traffic and mobility management solutions, and advanced infrastructure, it is possible to improve the overall efficacy of the system in terms of cost and performance. The ICT approach uses a number of electronic, wireless, and communication technologies to ensure that consumers have a fast, safe, and smart mode of travelling.
Must Haves for Transforming Public Transportation System
Transportation Management System: Public transportation has got a number of advantages over private vehicles. For example: It promotes shared mobility that helps in curbing the traffic and pollution. Thus, it is important to encourage people to use public transport services. This can only be achieved by convincing them about the convenience, planning, and management of the system, which can be made possible with real-time data analysis of different routes. By tracking the data and information about vehicles and their location helps in checking their availability, keep updated about deviations (if any), and also ensures security of individuals travelling through the public transport channel.
Route Information Management: Providing travellers with information about the best route for their journey can go a long way in making their journey comfortable and time saving. Updating people with real time information like traffic conditions, estimated arrival time (ETA) of public transport, the most convenient channel to travel (according to cost, distance, and traffic conditions) can ease travel. Such an info can be made available through mobile devices that can track the current location of the traveller.
Safety and Vehicle Control System: Along with keeping the commuters informed, another important aspect of smart transportation is aiding the vehicle operators with information regarding control and vigilance of vehicle. For this, the vehicles can be equipped with technology that enable drivers to assess their driving competence and inform them about vehicle performance. For example: Advanced sensors in the vehicles can assist drivers during poor visibility scenarios.
While developed nations like United States, Dubai have been leveraging ICT equipped solutions to build smart cities, developing nations like India have been strong in its endeavors to join the league. By using modern technologies like mobile apps, GPS, RFI, video surveillance etc., the challenges in making systematic transportation can be overcome, similar to how Chalo (a public transportation tracking app) is doing.
Creating a Public Transport App to Enable Smart Cities