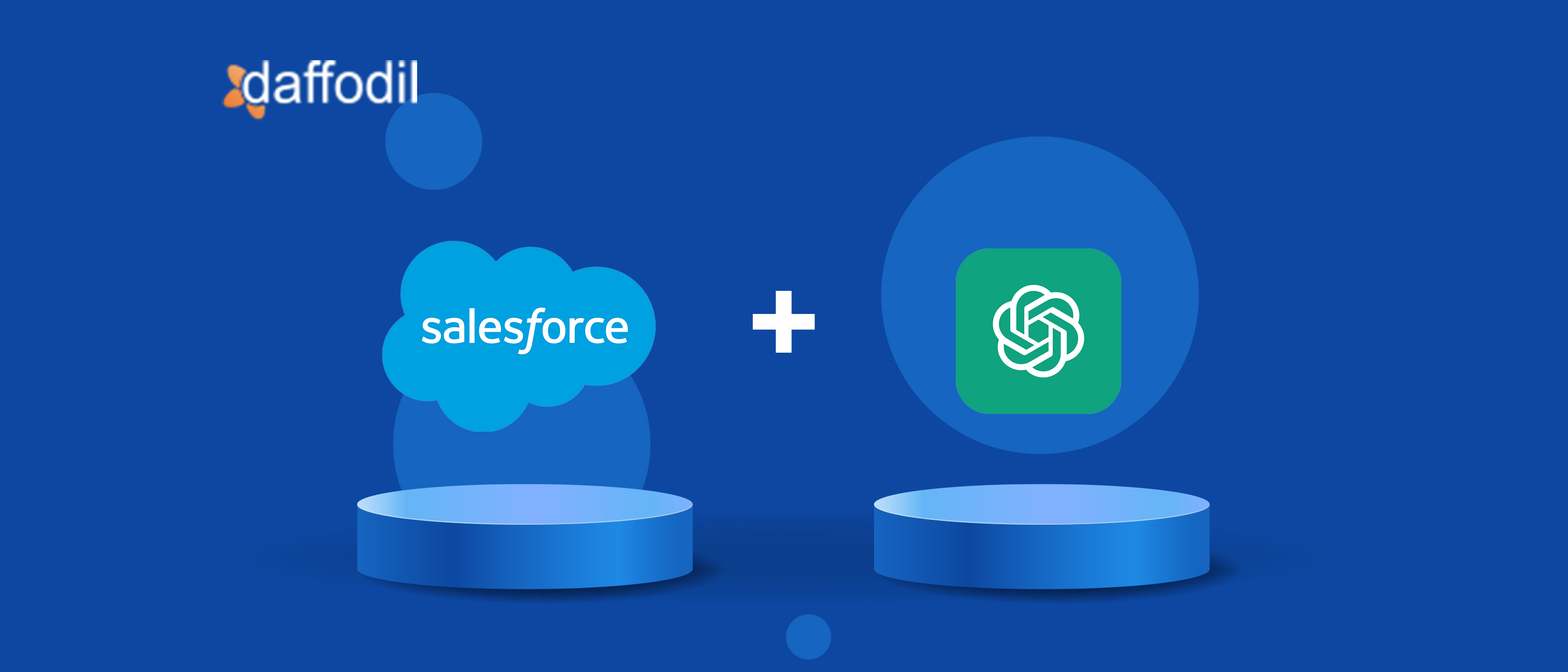 Generative Artificial Intelligence (AI) has revolutionized the way businesses interact with their customers, and Salesforce is no exception. As one of the world's leading CRM platforms, Salesforce has been leveraging generative AI technology to enhance its features and capabilities.
A study found that companies that embrace AI technology can increase their productivity by up to 40%, with 69% of business executives saying that AI will be necessary to remain competitive in the future.
For instance, ChatGPT has emerged as a disruptive technology that is transforming the landscape of AI. When coupled with Salesforce, it has empowered businesses to focus on high-value activities, such as building relationships with customers and scaling up revenue.
In this informative blog, we'll delve into the details of how your Salesforce platform can be optimized through ChatGPT integration and help your business stay ahead of the curve.
How ChatGPT can optimize your Salesforce Platform?
With the integration of these technologies, businesses have been able to gain deeper insights into their customers' behaviors, preferences, and pain points. It has enabled them to offer more personalized experiences, improve customer engagement, and streamline their business operations like never before.
So, let's figure out how Salesforce's services can be enhanced through advanced AI technology.
Improved Customer service

1. Automated Responses: The service cloud can be enhanced With ChatGPT, simple customer interactions can be automated, such as answering FAQs, scheduling appointments, providing product information, and processing simple requests. As a result, the customer service reps would be able to focus on more complex and urgent inquiries, thereby increasing overall efficiency and customer satisfaction.
2. Round-the-clock Availability- Be 24/7 available to respond to your customer queries which can help reduce the workload on customer support teams. Additionally, it can minimize customer wait times by handling customer queries immediately, even outside of regular business hours.
3. Personalized User Experience: Identify patterns based on customers' past interactions with the company and provide personalized experiences to increase engagement. For instance- The AI chatbot can be trained to recommend products based on a customer's previous purchases or browsing history. This can help improve Salesforce Commerce Cloud and drive revenue.
4. Data-Driven Insights: Analyze customer interactions to identify trends in customer queries and issues, and provide valuable insights into product and service improvements. Salesforce Einstein Analytics can further help in making informed decisions and enhancing customer experience.
5. Multilingual Support: Serve a diverse customer base across different regions and languages. With proper integration, businesses can expand their reach and provide better service to their customers by breaking down language barriers.
Read More: What is ChatGPT and How to Use this AI Chatbot with Salesforce?
Enhanced Sales Performance
1. Lead Qualification: ChatGPT's integration with Pardot or Sales Cloud enables sales reps to identify patterns with CRM data, and focus their efforts on potential leads. For instance, prospects can be qualified based on their behaviors, interests, and budget. This information can be leveraged to assign appropriate sales reps and target specific audiences with personalized messages and offers.
2. Sales Forecasting: Improve the accuracy of sales forecasting through the proper integration of ChatGPT and Einstein Analytics. Your sales team can derive predictive analytics that can help them to anticipate customer needs and preferences. It can help them forecast sales by evaluating historical CRM data and identifying patterns in the sales pipeline. This can ultimately help sales reps streamline the sales process and tailor their strategies accordingly.
3. Pipeline management: Ensure effective management of your sales pipelines by staying up-to-date with real-time updates on deal progress, identifying potential hurdles, and recommending appropriate next steps. It can identify patterns and determine the likelihood of a lead converting into a customer. Moreover, it can assist your sales reps to spot potential bottlenecks and make more informed decisions about resource allocation, budgeting, and much more.
4. Omnipresent Customer Support: Build a strong digital presence to connect and engage with your target audience through Community Cloud and ChatGPT integration. According to the Salesforce report, an average customer now uses eight different channels to communicate with brands.
As a result, it can help improve customer interaction and sales performance. According to market research, AI chatbots can increase sales by an average of 67%.
You can increase brand awareness by facilitating your customers with seamless omnichannel communication across different channels, such as email, SMS, and social media. Furthermore, you can improve customer engagement by providing personalized messaging and support throughout the customer lifecycle such as post-sale support, renewal reminders, and customer feedback collection.
Streamlined Marketing Operations
1. Content Creation: Generate high-quality and relevant content such as blog posts, social media content, and email newsletters based on specific keywords and topics. Through this cohesive integration, your marketing team can save time and resources when creating content, enabling them to focus on other strategic initiatives. Additionally, it can optimize content for search engines and improve SEO rankings. This feature can eventually help drive organic traffic and improve visibility and brand awareness.
2. Tailored Marketing Campaigns: By seamlessly combining Marketing Cloud and ChatGPT, you can better understand your customers' preferences, past purchases, and pain points. It allows you to tailor your marketing campaigns more effectively which can help improve open rates, click-through rates, and ultimately customer engagement. With this integration, your marketing team can deliver a frictionless customer experience and improve conversion rates.
3. Brand Monitoring: Increase your brand awareness by monitoring your social media channels and tracking brand mentions, customer reviews, and competitor activity. The integration of Community Cloud and ChatGPT can help analyze customer sentiment and respond to their queries and complaints in a timely and effective manner, thus improving your brand reputation.
4. Customer Journey Mapping: Leverage Salesforce's Journey Builder and map the customer journey by assessing CRM data and identifying touchpoints where buyers may drop off or disengage. This information can help make informed business decisions, rebuild better marketing strategies, and improve ROI.
ALSO READ: How Salesforce Customization Services Boost Business Efficiency and Performance
Assistance and support to Salesforce developers
1. Training and tutorials: Learn new techniques and improve your team's skills through Trailhead and ChatGPT's advanced algorithms. You can facilitate your team with learning resources like tutorials and documentation on various Salesforce development topics, such as Apex coding, Salesforce Lightning, and other technologies.
2. Offers Best practices: Develop higher-quality code and design scalable software by integrating Visualforce, Heroku, and ChatGPT. Your team can learn best practices for building Salesforce applications, including how to write effective code and how to utilize Salesforce tools to their full potential.
3. Debugging Support: Troubleshoot all Salesforce-related issues, including data migration errors, Apex code problems, configuration problems, etc. With the right incorporation, it can provide insights into Salesforce error messages, allowing developers to understand the cause and devise steps to resolve the issue.
4. Performance optimization: Improve the performance of Salesforce applications by offering suggestions on how to optimize workflows, reduce page load times, improve query performance, and minimize the number of API requests. By following these recommendations, developers can improve their efficiency and build better applications.
Unlocking the Full Potential of Salesforce with ChatGPT
As businesses continue to adopt Salesforce as their primary CRM platform, the demand for tools like ChatGPT is only going to increase. With its ability to provide intelligent recommendations, streamline workflows, and improve overall efficiency, ChatGPT is poised to become an essential tool for businesses looking to maximize the potential of their Salesforce applications.
If you're looking to optimize your Salesforce platform and achieve new levels of efficiency, productivity, and growth then Daffodil is the right technology partner for you. We are a registered Salesforce consulting partner with 20+ years of experience in providing Salesforce solutions to 100+ clients across various industries. With our Salesforce managed services, we will help you integrate ChatGPT into your products to take them to the next level and help you overcome any challenges in your Salesforce ecosystem.