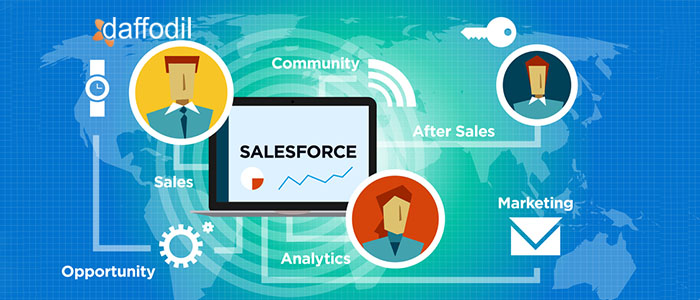 Salesforce is the world's leading CRM with over 150,00 customers that include businesses, non-profits, and institutions. The cloud-based CRM unites sales, marketing, eCommerce, service, IT, etc. under a roof, enabling businesses to drive growth.
Today, when there are hundreds of industry-specific CRMs out there, Salesforce stands firm in the competition. Thanks to its customization and integration capabilities that help to set up business-centered workflows and processes.
Salesforce is enabling digital transformation at a fast pace for several industries including healthcare, finance, manufacturing, government, non-profit, media, energy & utilities, etc.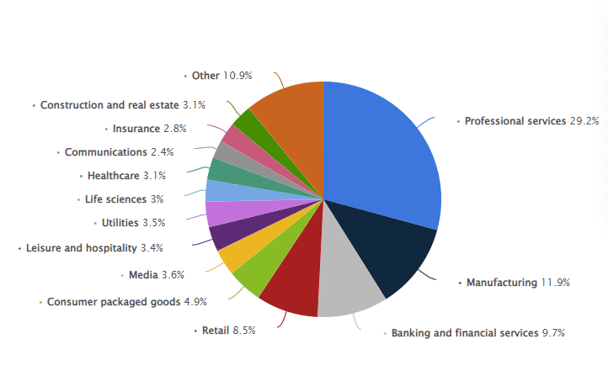 The expanded product portfolio of Salesforce applications (AppExchange) helps in resolving business challenges quickly. Instead of building a solution from scratch or investing high cost in development, the AppExchnage offers the opportunity to discover and install Salesforce-compliant apps according to the use case.
Now, let's discuss a question that matters. How can a business make the most of this extensive CRM, optimize it to align it with the business workflows, and maintain it? Since Salesforce is an encompassing solution for various business subdivisions. Thus it is necessary to create a compact business utility to make the platform work with the business goals. But, how is it possible?
To utilize Salesforce to its best potential, there are Salesforce administrators!
Salesforce admin(s) work with the stakeholders to understand and define the business requirements and customize the solution accordingly. For example, the sales team uses Sales Cloud for tracking opportunities and closing deals. A Salesforce admin can help to create personalized dashboards, alerts, fields, and reports to simplify and shorten the sales cycle. Customization would also help the sales team track the leads in detail.
The Salesforce admin is a bridge between the business and the technology. Depending upon the business size and requirements, one or more admins can be employed to perform the role.
However, if a business wants to focus on its core functions and operations, then it has the option of outsourcing the development and administration part. This is done through Salesforce Managed Services.
In the upcoming segment of this article, we will be discussing this Salesforce managed service in detail and cover the following aspects of it:
What is Salesforce Managed Services?
What is included in a Salesforce Managed Service?
How to choose a Salesforce Managed Service Provider?
What is Salesforce Managed Services?

Managed Services are a set of tasks that are outsourced to offload general functions to an expert, to improve service quality, optimize cost, and free internal teams for other business-critical tasks. The company that provides these services is called Managed Service Provider.
A Managed Service Provider (MSP) is responsible for remote monitoring and management of services, such as infrastructure, network, applications, security, support, and active administration on customers' premises, etc.
Salesforce Managed Services is a set of activities and processes that enable businesses to customize, monitor, and maintain Salesforce for a business. In this model, instead of hiring Salesforce admin(s), a business partners with a Salesforce Consulting firm for the implementation, development, and growth of the platform.
What is Included in Salesforce Managed Services?

Salesforce Managed Services comprise end-to-end solutions to implement and maintain the platform. This includes consultation, customization, integration, upgradation, monitoring, and maintenance of the Salesforce platform.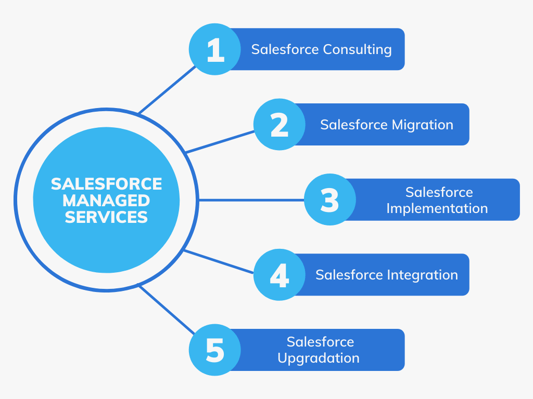 Salesforce Consulting Services: A Salesforce consulting provider is a company that has certified specialists to implement a custom solution for a business. These specialists are an alternative to hiring a Salesforce admin within an organization who guides an organization to utilize the CRM to its best potential.
Usually, these consultation companies are Salesforce Consulting Partners, i.e. authorized by Salesforce to provide services to a business, right from installation to employee training. Such services reduce the hassle of creating a roadmap for Salesforce customization and hiring a tech team for development, deployment challenges, upgrades, migrations, and maintenance. This improves business efficiency and maximizes the output from the CRM platform.
Salesforce Migration: This is a service where a business decides to move data to Salesforce, from Salesforce, or between two or more Salesforce instances. The Managed Service Provider (MSP) takes care of the timelines, tools/add-ins/apps, data model, data cleansing, security, compliances, data integrity, business continuity, and related factors to ensure successful data migration.
Salesforce Implementation Services: What makes Salesforce stand apart from other CRMs is the ability to implement and customize the platform according to business requirements. For implementing Salesforce, a Managed Service Provider creates an execution plan that includes the following:
Defining stakeholders
Gather and prioritize requirements
Build, test, and implement feedback
Prepare deployment and go-live
Salesforce implementation includes almost everything that's needed to get started with the CRM and its services- consultation, migration, customization, development, deployment, etc.
For implementing Salesforce, it is always a recommended practice to hire an MSP than relying upon admin resources provided by the platform. MSPs help to optimize the cost of implementation, have a team to manage the business requirements, and are agile in risk management.
Salesforce Integration Services: Integration is one of the prime reasons why digital initiatives fail. The best part of Salesforce is- a business can integrate apps and services it already uses. From productivity to marketing to collaboration, and beyond, Salesforce allows connecting third-party tools to the platform so that business workflows are never hampered.
Apart from seamless third-party integrations, Salesforce allows businesses to look for specific apps from the AppExchange to implement a service without having to invest additional resources and cost in development.
ALSO READ: A Guide to Salesforce Integration Services?
Salesforce Upgradation: Upgrade Salesforce functionality by adding custom add-ons, upgrading packages, and more. Upgrading the platform ensures that a business is making the most of the latest trends in the market and integrating it with Salesforce for better performance.
How to choose a Salesforce Managed Service Provider?

Now that you know what your business can achieve by partnering with a Salesforce Service Provider, it's time to onboard one. While choosing a partner for your business, you can look out for various Salesforce certifications that the partners have. Along with this, product portfolios in the domain can go a long way in helping make the right selection.
Salesforce Managed Services offers the advantage of having a specialized team that has diverse specializations. This team can work on wide areas such as marketing, IT, sales, etc. in a variety of domains.
At Daffodil, we have been serving several industries in consulting and implementing Salesforce. To know how our team can help your business grow with Salesforce, schedule a free consultation with our tech experts. Our team answers your queries regarding Salesforce Managed Services and how your business can get started with it.