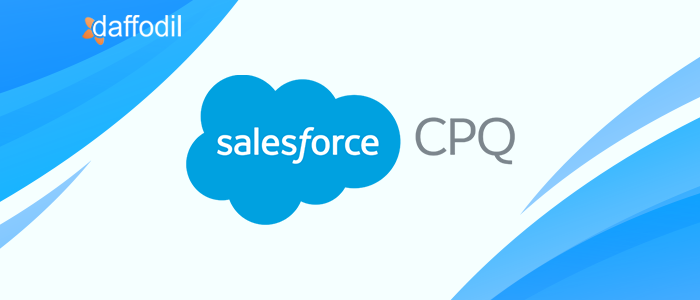 A CPQ takes your sales process capabilities a notch further giving you that extra edge over your customers. How? Read below.
What is CPQ?
CPQ stands for configure, price and quote and is a tool that lets you configure products, avail pricing, and discounts, and get approvals from the built-in programs. It is a tool that lets you generate quotes for orders.
In this article, we will attempt to break down the Salesforce CPQ.
Configure: Make your sales rep armed with information about product, service, company size, and more. When your sales reps are well-informed they'll be able to sell more efficiently.
Price: Once the products or services are chosen by a company, your sales team can then find the prices for the same using Salesforce CPQ. Even when your sales rep applies some discount the CPQ will calculate the same for the ease of the job. Salesforce price book also comes equipped with price tools that lets you add a list of prices for multiple products and services.
Quote: Here, you can view all the details about a certain product or service with one click. You can create single or multiple quotes for an opportunity by clicking on 'new quote' for a more dynamic customer experience. On creating a new quote, you can view a list of active products that you can bundle up in one single quote.
Also Read: 5 Ways Salesforce CRM can help you improve conversions
Why is CPQ software important?
The CPQ software has always been instrumental for sales professionals but the advancements in the same have boosted the sales optimization tools. CPQ software works in sync with CRMs and other technologies for better-integrated data and consistency.
The quotes generated by the CPQ are automated per predefined rules and protocols for accurate pricing that includes multiple revenue types, discounts, incompatibilities, account quantities, and more.
With a CPQ tool, your sales team can save time on generating quotes, and receiving approvals. A CPQ helps your sales reps by reducing approval time by 95 percent and escalating quote generation by 10 times. Besides a CPQ can also help your sales process further if you are looking to implement AI.
Know More About: Daffodil's end-to-end Data Management Services
Main advantages of Salesforce CPQ
Increased revenue: By suggesting the right products for your customers following their preferences Salesforce CPQ helps the sales team cross-sell, or upsell driving more business for your organization.
Improved efficiency: A CPQ lets you maneuver around the approval process through manual intervention if necessary. Otherwise, the sales reps can close the deals quickly with the automated approval process.
Better accuracy: Providing the right quote to the customer is of absolute importance. With Salesforce CPQ your sales reps are trained well by its step-by-step procedure with information on policy and pricing so that your representatives don't miss out on the relevant information.
Also Read: Salesforce Commerce Cloud vs SAP Commerce Cloud: 5 Differences that Matter
Conclusion
Many companies are switching to CPQ software for its functionality and the impact it has on the business. To reap the most out of Salesforce CPQ, it's better to integrate it with ERM and CRM. If you are also thinking of adopting CPQ then look no further. Our experts are right here to help you with your business needs. Get in touch today for more information on CPQ.