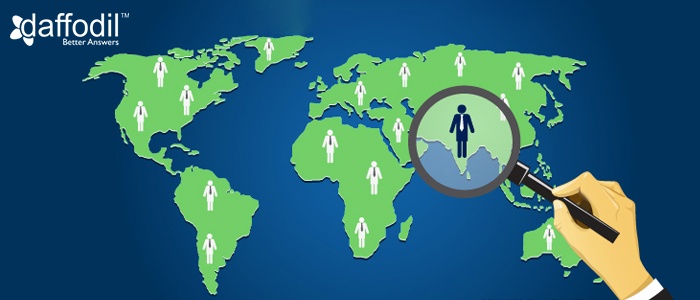 In the era, when companies are betting on offshore/nearshore outsourcing for various IT and business services, teaming up with the right technology partner holds the core of enterprise wide strategy. Here, we confer upon India being the front-runner in offshore outsourcing for software development.
Facts & Figures:
India has a whopping talent pool. Talking in terms of academics, there are 5.8 million graduates registered every year (approx), which includes around 1 million technical graduates. (Source: Gartner)
The IT industry in India has its specialization in cloud, digital marketing, analytics, programming and software development.
In 2017, businesses and governments spent around 110 billion U.S. dollars on networks and other outsourcing worldwide. (Source: Statista)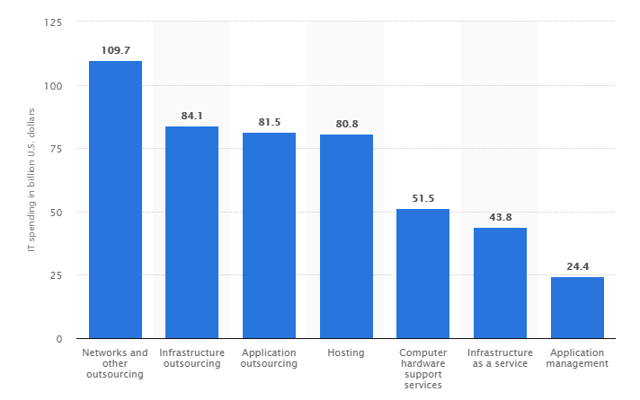 India is the pioneer offshore location for four major reasons: cost effectiveness, skills, market size, and innovation. It leads the global market as a source for offshore software development, giving competition to other Asia/Pacific countries in terms to resource pool, maturity, market penetration, and brand. (Source: Gartner)

Spending in the software industry in India is forecasted to reach around 5.75 billion U.S. dollars in 2018. (Source: Statista)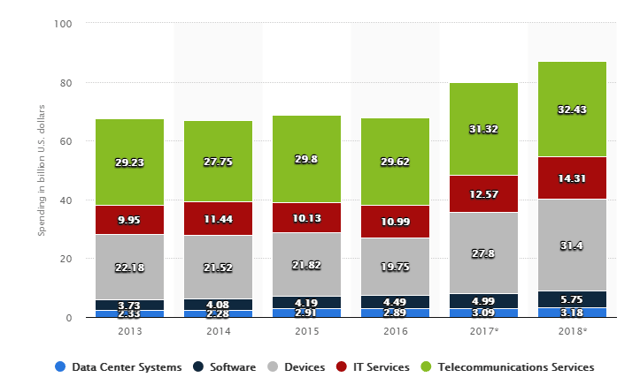 India responds to the ever rising quest for scarcer skills (like UX design, AI, IoT, blockchain, cloud etc.). With home to about 3000 startups, the fast growing, domestic market offers opportunities to MNCs establishing in India.
India Versus Asia/Pacific Region: A Comparative Study
We have already discussed the reasons advocating India being the best for software outsourcing. To support the fact, here are 3 factors for which India is leading the offshore outsourcing game.
In the Asia/Pacific region, Vietnam, Sri Lanka, China, Philippines, Malaysia, and Pakistan are some of the competitive countries against India, offering IT and business outsourcing services. The comparison chart shared below illustrates that India leads the offshore software development services in terms of labor pool, cost, and maturity.
Labor Pool: The bubble size in the chart below represents the size of labor pool, where India leads the score board, followed by Philippines and China.
Maturity: This factor is a mix of education system, government support, infrastructure, security and privacy, language, and cultural compatibility. An assemblage of all these factors define the maturity of services that every region can render. This is quite high for India, pointing towards India's overall ability to develop innovative and advanced software solutions. (For reference to contributing factor, see the chart above).
Cost: Cost-effectiveness is one of the strongest factors that give India an edge over other countries, given its maturity over a number factors.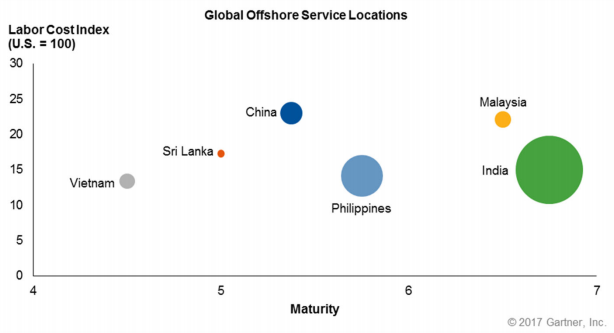 Choosing the Best Offshore Development Center in India
The stats and figures shared above reveals a picture of India being a hub of talent in IT and software development services. However, in the process to outsource software development in India, it's important to choose the right technology partner for same.
While you can look around for various impactful services available in India, we recommend you to take a tour of our portfolio and Offshore software development services.