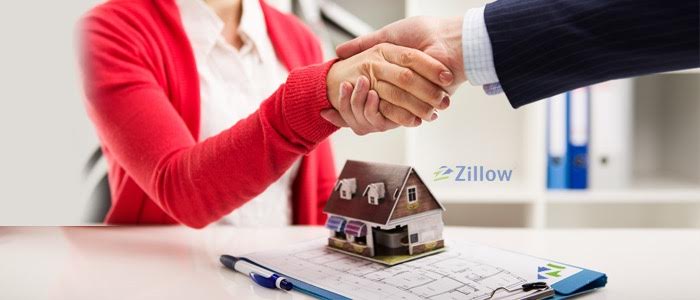 How to develop a real estate marketplace like Zillow? How to build a real estate and rental database like that of Zillow? It's free to browse properties in Zillow. How does the real estate search engine makes money?
Recognized for the expertise in real estate software development and delivering apps such as docu tools and Area Owl, we often come across such interrogations from our prospects. Here we anatomize Zillow to figure out its selling points, business model, revenue streams, and technology behind the scenes.
About Zillow?
Zillow is a real estate and rental marketplace, dedicated to helping homeowners, buyers, sellers, renters, real estate agents, mortgage professionals, landlords, and property managers find and share vital information about homes, real estate, mortgages, and home improvement. The real estate search engine makes this possible with its massive database of 110 million U.S. properties, which includes homes for rent, homes for sale, and homes currently not on the market (foreclosure, make me move).



Zillow also facilitates its visitors to get rent/purchase zestimate of properties, enable them to find real estate agents, property managers, home inspectors, and get detailed information of listed properties.
Zillow primarily operates through its website- zillow.com and have a popular suite of mobile real estate apps, with more than two dozen apps across all major platforms.
Zillow operates as subsidiary of Zillow group, Inc. that houses a portfolio of the largest and most vibrant real estate and home-related brands on the web and mobile. Zillow, Trulia, StreetEasy, hotpads, Naked Apartments, RealEstate.com, Out East are subsidiaries of Zillow Group.
Zillow: Succes Timeline
Founded: February 8, 2006
Founder (s): Rich Barton, Lloyd Frink
Revenue: $1.1 billion (2017)
Competitors: Trulia, Yahoo Homes!, Realtor, RedFin
Availability: Web, Mobile (Android, iOS)
Funding Status: IPO
4 out of 5 homes in the United States have been viewed on Zillow. (Source: Zillow Group)





Zillow, which is currently valued (somewhere) at $400 million is a renowned real estate marketplace in the United States with 36 million unique visits on the platform, every month. (Source: Statista)
But, behind these fascinating numbers are years of hard work and gradual development. Here is a glimpse of Zillow's evolution over the years and establishing itself as the Uber for real estate industry.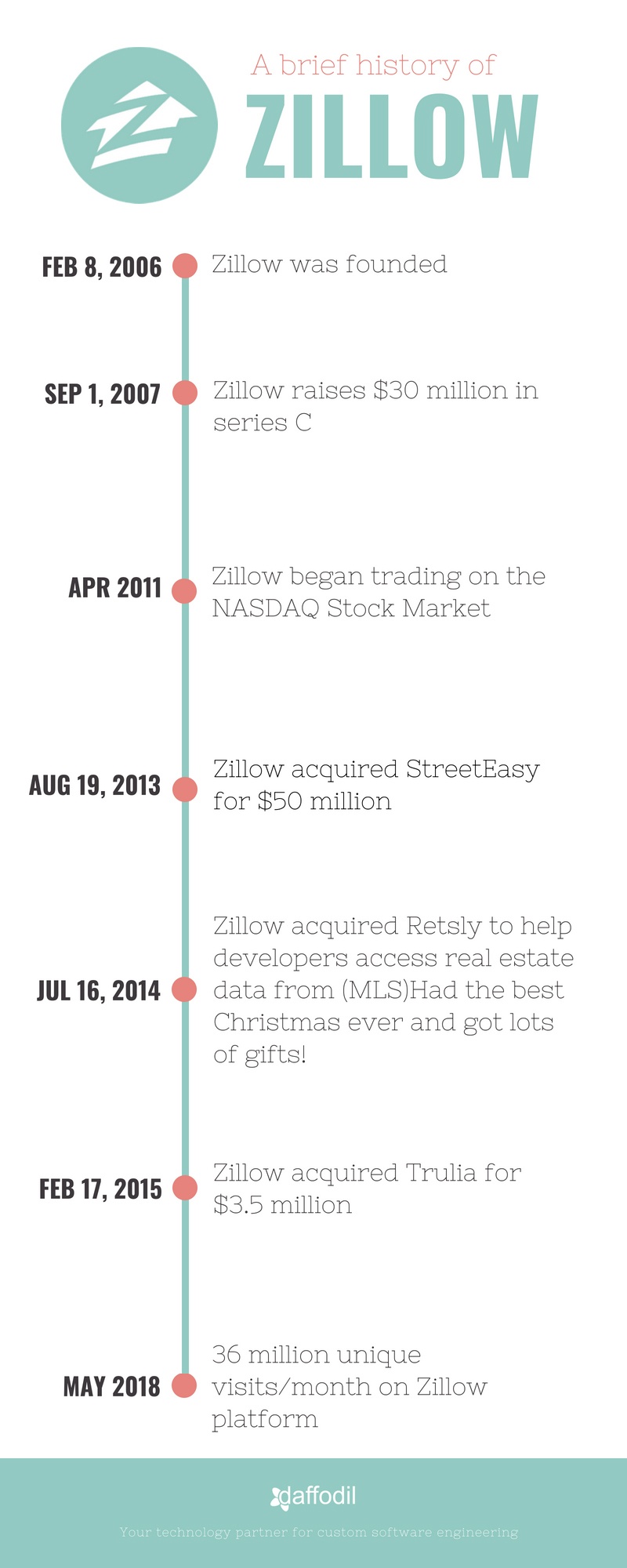 How Zillow Works: Business Model
Zillow is empowering people with tools and information to make intelligent decisions about their homes - whether it's buying a home, selling, renting, leasing, remodeling or financing. To simplify this job for its 36 million visitors every month, Zillow categorizes the properties on its portal into four major segments:
1. For sale: The visitors on Zillow can find properties for sale by filtering them on various parameters such as agent, by owner, new construction, foreclosure, and coming soon.
2. Potential Listings: This includes a list of properties that can be made available for purchase in future. The type of properties under this category includes:
Foreclosed:

Properties where the homeowner has failed to pay the mortgage and the property has gone for foreclosure auction.
Pre-foreclosure:

Properties that are in the early stage of being repossessed due to the property owner's inability to pay an outstanding mortgage obligation.





Make Me Move

: Properties that homeowners enlisted to test the market and gauge potential interest, without officially listing the property for sale.
For Rent: This includes rental buildings and apartments for rent across the U.S. Also, the Zillow Rental Manager service enable landlords to accept applications and rent payments through Zillow. While the service is free for landlords, renters have to pay a fee of $29 for an application that includes background check and credit analysis.
Also Read: How Daffodil help Planet Rent bring 28% reduction in rental voids with 46% increase in average rental period per tenant.
How Zillow Generates Revenue:
On Zillow, it's free to list a property for sale or rent. Zillow's website, its online tools, and mobile apps are absolutely free for end users. The online search engine offer its services for free but still has an annual revenue of $1.1 billion. Let's find out how Zillow makes money.
1. Ad Sales to Property Management Companies
Zillow offers its rental network to property management companies for advertising. The rental network, which comprises of Zillow, Trulia, StreetEasy, and Hotpads maximizes visibility of advertisers' property to the renters.
Zillow then sends the qualified leads-the prospective renters to the advertisers for an action. Rentals bring a huge revenue generating opportunity for the company as rental property managers in the U.S. spend $3.5 billion per year on advertisements to get new rentals.
2. Premier Services for Real Estate Agents
Zillow's premier agent program is dedicated to bring buyers, sellers, and better business for agents through advertising. A premier agent is someone who pays Zillow a monthly fee to appear to all the property listings on the site. Zillow charges $10 a month for its Premier Agent websites.
Real estate agents pay Zillow on the basis of number of ad impressions delivered to users in specified zip code. The premier agent program has three levels- gold, silver, and platinum, which can be chosen according to the visibility and scope of service offered by Zillow.
3. Ad Sales to Mortgage Lenders
Zillow sells advertising space to mortgage lenders and businesses such as interior designers, general contractors, home organization retailers etc. Zillow charges mortgage lenders on the basis of cost per click (CPC) or cost per thousand impressions (CPM).
How Zillow Builds its Database?
Multiple Listing Service: Real estate data in the U.S. comes from real estate agents or realtors, who are members of local associations of Realtors. This data is accumulated and accessed through the Multiple Listing Service (MLS). Real estate search engines like Zillow pull data from MLSs.


Listing by Buyers/Sellers : Zillow attract a number of agents and individuals on its website, who contribute to their listing.


National Association of Realtors

: NAR is a national organization of real estate brokers, sales people, property managers, counsellors, appraisers, and others engaged in real estate industry. It's America' largest trade association, representing 1.3 billion members.
In addition, Zillow continuously works in its research part to understand the latest trends in real estate industry. Zillow produces monthly reports on housing trends for more than 450 metros nationwide, with data often available down to the ZIP-code level. Also, their team performs an a research on various real estate topics, ranging from rental and mortgage affordability, negative equity and forecasting, to policy, generational and mortgage research to serve the people better.
Also Read: How Daffodil helped Docu Tools saves more than 20% of documentation time for large projects.
Building a real estate marketplace like Zillow:
Zillow's success can be accounted to its massive database, smart use of technology, a great network of realtors, and continuous research to keep up with the market. By using advertising as source of monetization, the leading real estate marketplace is having an annual revenue of $1.1 billion.
If building an app like Zillow is on your mind, register yourself for our Discover and Frame Workshop that will guide you with right features, technology, revenue sources, development cost etc. to get started with your idea.
To Know more about How Zillow Works, take a look at out our Website and our other posts.