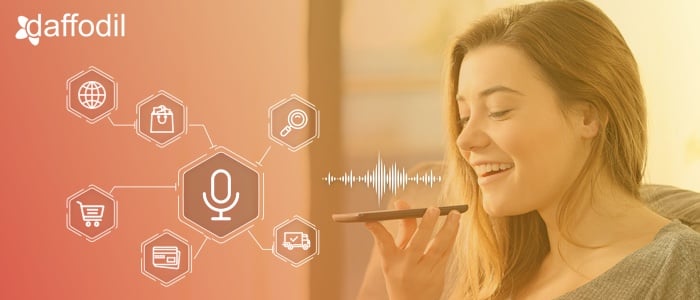 The digital voice assistant market is projected to experience continued expansion in the coming years, with the number of voice assistants in use increasing from 3.25 billion in 2019 to around 8 billion by 2023.
Voice-enabled virtual assistants have transformed the way users interact with their digital devices. They are assisting users in ordering food, managing calendars, play music, get the weather forecast, open apps, check the status of a task, and a lot more.
In fact, in a survey conducted by Statista, mobile users revealed that convenience is the prime reason behind using voice search.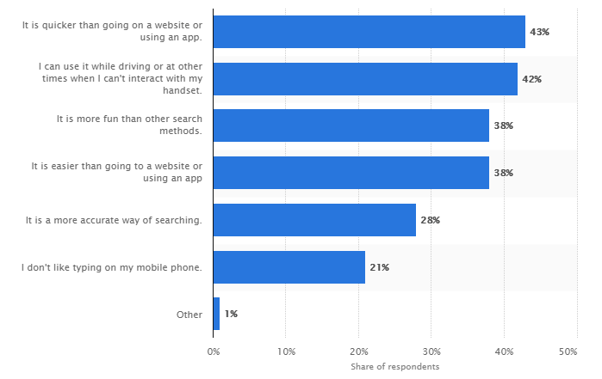 Main reasons for global mobile users to access voice search
With voice assistants holding so much potential to improve user experience, businesses, no matter to what industry they belong to are investing in voice-enabled solutions. Over time, industries such as healthcare, retail, automobiles, and customer service have been making the most of this tech advancement.
Here, we will talk about voice technology disrupting the businesses by taking customer experience to the next level. Let's get started.
Evolution of Voice-Enabled Solutions in Digital Commerce
An average user spends 3-4 hours on their mobile phones, daily. With a majority of digital users spending their time on mobile, it is imperative for businesses to design a strategy to improve the user experience around it.
Voice-enabled solutions for businesses may include an Alexa skill developed for smart speakers (Amazon Echo, Google Home) or integration of voice assistants (Siri, Google Assistant) with the mobile app. The core technology used here in Natural Language Processing (NLP) that enable devices to understand human language, context, and offer answer/solution accordingly.
A report by Google unveils that "Voice-activated speaker owners think that talking to their virtual assistant – rather than having to type – helps them get things done quickly and efficiently. And that means more multitasking." When customers are able to look out for products while they are involved in other tasks, it can actually give them an advantage of exploring the products, which can later be converted.
ALSO READ: 6 Industries that can Leverage Alexa to Wow their Customers
Some of the brands and creative ways a voice-enabled platform can be utilized for better customer experience and conversion rate.
GoodNes: Hands-free Cooking Assistant
Nestle, the world's largest food and beverage company has a Alexa Skill called "GoodNes". The skill is accompanied by a visual guide, which connects to customers' web browser on their computer or tablet to offer visual voice browsing. The consumers can use Alexa to search to look out for recipes and receive the results in voice and visual form. Consumers can view recipe steps, nutritional information, ingredients, and cooking videos in their browser. They can ask Alexa to email a shopping list and even ask Alexa to play music in the background as well.
Dominos: Voice Ordering System
Dominos, the global chain of pizza restaurants has introduced an Alexa skill that enables customers to order pizza. An AI-powered skill, it allows customers to place a new order, repeat last/favorite order, track order, and more.
Marriott Hotels: Simplifying Hospitality
Marriott Hotels, the world's largest hotel chain has integrated Alexa skills with Amazon Echo devices Aloft hotels. Guests are therefore allowed to turn off/on the lights, control room temperature, close drapes, etc. This way, voice-enabled assistants are helping hotels to improve their services and enhance the guest experience.
How Alexa can be your personal concierge inside hotel rooms
Defining Voice-Enabled Strategy for your Business?
If your business is planning to include voice into the customer experience strategy, then schedule a 30-minute free consultation with our tech-experts to know how to get started with it.