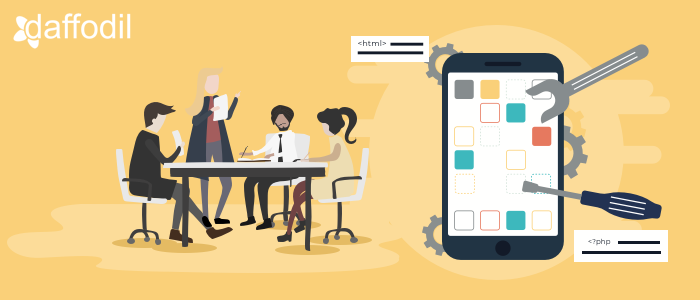 Businesses nowadays are taking advantage of new technologies and models that originate and develop in consumer space, rather than the enterprise IT sector. In effect to this impact, called consumerization, businesses are leveraging mobile apps to reach out to their potential customers and engage with them.
Whether a startup with a disruptive idea or a brand with an established business model, having a right technology partner means transforming app idea into a solution for targeted customer base.
That is why, when it comes to converting an app idea into reality, it is important to choose a reliable and experienced mobile app development company, who can ideate your idea, assimilate requirements, design a roadmap for development, and convert it into a functional solution.
However, amongst the thousands of app development companies mushrooming across the globe, it is difficult to single out the one, who can provide consultation services to assist your business in different phases of app development.
If you have been struggling to get to the well-founded technology partner for your business, then following tips to shortlist and select the right partner will surely help you out.
1. Non-Disclosure Agreement (NDA): In the phase of spotting the right technology partner for your business, you might come across a number of companies with whom you will share your idea (having the potential to become the next big thing). To ensure that the app idea is not disclosed to a third party, start your discussion with a NDA agreement.
2. Technology vs Solution Focused: Team augmentation or project outsourcing- depending upon the outsourcing model chosen, an app development partner can be selected.
If the requirement is to build a solution from the scratch, opt for a company who can help you in all phases of development- right from creating RUD to development to setting the ap live on app store, i.e. choose a development partner that focuses on solution over technology.
If the purpose is to extend in-house team with expertise over technology (AR, VR, Blockchain, AI),

tools, libraries, or frameworks

, then opt for a company that focuses on technology.
3. Compliance and Regulations: This is one of the critical aspects when developing apps for industries like healthcare, finance; compliance holds utmost importance. Similarly, for business apps dealing with European user data, GDPR compliance is a must. Before finalizing an app development partner, check if they build apps with defined compliance and regulations.
4. Code Ownership Post Development: Before you sign a contract with your mobile app development company, have a clear communication about code ownership. Make sure that you choose a company who can hand over 100% ownership of the source code, once the project development is done.
5. App Maintenance and Upgradation: Depending upon how an app, its features, UI/UX, architecture is being received by users, an app undergoes maintenance and upgradation process. Once the product is live, ask if the app development partner helps you out with bug fixing, new feature roll-out or any technical issues that the app may confront.
Need more help to choose the right mobile app development company for your next big project? Download this eBook encloses 12 things to consider while choosing the right technology partner.