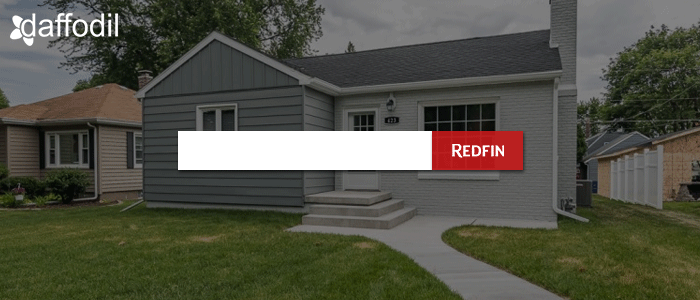 How much does it cost to build an online real estate brokerage app like Redfin? What are the must-have features and functionalities in a real estate listing app? Which technology is best suited for developing a real estate app like Redfin?
Recognized for our real estate software development expertise in building apps like PlanetRent (property management app), docuTools (compliance management app), we often come across aforesaid interrogations from our prospects.
Redfin is a technology-powered real estate brokerage platform for buying and selling residential property. The company operates in over 80 markets and offers local agents to simplify the buy/sell experience for consumers.
Redfin is one of the most popular real estate websites in the United States, with approximately 6 million unique monthly visitors. | Source: Statista
Redfin's revenue has increased by 28% year-over-year to $140.3 million during the third quarter of 2018.
Impressive, isn't it? But reaching this height of success, and that too, in a highly conservative market like real estate wouldn't be easy. Let's dissect this online real estate brokerage for its business model, revenue streams, and technology to know how it works.
Also Read: How Daffodil helped Docu Tools saves more than 20% of documentation time for large projects.
Redfin: Success Timeline
Founded: 2004
Founder (s): David Eraker, Michael Dougherty, David Selinger
CEO: Glenn Kelman
Competitors: Trulia, Yahoo Homes!, Realtor, Zillow
Availability: Web, Mobile (Android, iOS)
Funding Status: IPO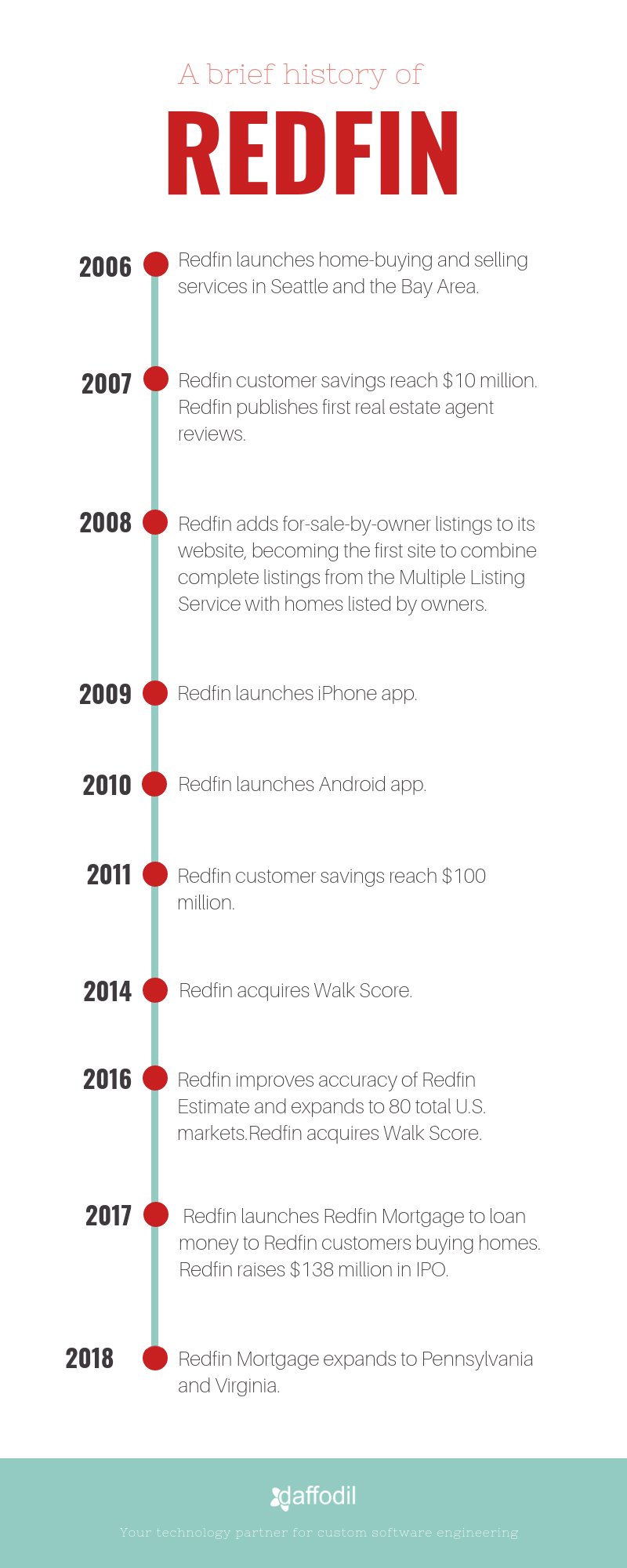 What makes Redfin Sell?
The real estate industry is open to tech-driven disruption. A wide variety of services and companies, including property and lease management (Cozy, Planet Rent), short term rentals (Airbnb, Pillow), commercial real estate (Costar), brokerage firms (Redfin)are making ways to disrupt the highly conservative real estate industry, through technology.
Alongside technology aid in buying and selling residential property, what makes Redfin sell are some of its consumer-centric strategies, such as:
Sellers can enlist their properties on Redfin for only 1% or 1.5% listing fee.
Buyers pay a closing cost. Buyers who work with a Redfin Agent get a refund at closing, which can be applied to closing costs.


When sellers list their properties on Redfin, they get signage (a yard sign, pus directional signs around the neighbourhood), flyers, photography, 3D scans, etc. for better marketing and visibility of an available property.
Download the Business Models Ebook For Free!
How Redfin Works: Business Model
Redfin is a hybrid real estate platform, i.e. it utilizes human and technology expertise for buying and selling deals. The platform works similar to the traditional brokerage system while ensuring that both buyers and sellers pay the least commission for a transaction (when done through Redfin agents).
Redfin's strategy is to pair its own agents and proprietary technology to deliver services and offer suggestions to the customer for faster and cost-effective suggestions. It has access to Multiple Listing Services (MLS) and therefore has more updated data than online platforms that rely on manual home listing only.
Source: Redfin.com
Redfin connects both buyers and sellers with local agents, who provide listing recommendations based on the needs and local market. The agents prepare a comparative market analysis (CMA) for properties in the neighbourhood area. Buyers can schedule a meeting with the agents to take a tour of the properties that fit their requirements.
Also Read: How Daffodil help Planet Rent brings a 28% reduction in rental voids with a 46% increase in the average rental period per tenant.
How Redfin makes Money: Revenue Streams
Redfin makes money through two sources:
1. Commission from listings done by the seller on the Redfin website
2. Commission from buyer and seller's agent
The home seller pays agent fees for both their agent and the buyer's agent at closing. The total commission is typically 5%–6%, with half paid to the seller's agent and a half to the buyer's agent.
Redfin advertises a 1% -2% seller commission (they call it a "listing fee"), but unlike REX, Redfin seller's are also responsible for paying the buy-side agent commission, because the houses are listed in the MLS. This means that most Redfin sellers end up paying 3.5%-5% in commissions.
Redfin Reviews: Pros and Cons
Generally, Redfin has fair to good reviews. On Consumer Affairs, Yelp, and Google averaged out to 3.2 out of 5 stars.
Redfin offers many advantages compared to traditional, full-price real estate brokerages. But it's important to weigh Redfin's pros and cons carefully. Only then can you decide if Redfin is your best option, or if another discount service provides better value.
Pro: Solid savings for home sellers
Most sellers choose Redfin for its low fees. And a consistent theme among many selling with Redfin reviews is that those savings are genuine.
Pro: User-friendly technology
Lots of discount brokers claim to have user-friendly technology, but Redfin's popular platform is still the gold standard.
Redfin's home search app has been downloaded millions of times. And for the most part, it draws rave reviews from users. This isn't just beneficial for buyers. The app's popularity gives Redfin sellers a leg up since the company gives its listings priority placement when buyers search for homes.
Pro: Fewer risks than other discount brands
You'll face service quality compromises no matter which discount broker you list with, but the risks seem a bit less pronounced with Redfin.
Con: Lackluster savings for home buyers
Redfin claims its average commission refund is $1,500. This seems a bit lacklustre compared to the home buyer rebates other discount services offer.
Con: Less hands-on attention than traditional realtors
Redfin may have fewer service quality risks than other discount brokers, but customers should still expect less hands-on support compared to traditional realtors.
Con: Premium listing packages may limit your savings
If you list with Redfin, the company may try to upsell you on its Concierge Service. This premium listing package includes more features than the standard plan, but it costs roughly as much as hiring a traditional realtor.

In most cases, you'll maximize your savings by choosing Redfin's standard 1.5% listing fee and hiring local contractors to help you get your home market-ready.


Download Today! Business Models Ebook For Free!
Planning to build an app like Redfin?
Redfin's success can be accounted to the smart use of technology and human strategy to connect buyers and sellers through local agents. If building an application like Redfin is on your mind, register yourself for our Discover and Frame Workshop that will guide you with the right features, technology, revenue sources, development cost etc. to get started with your idea.