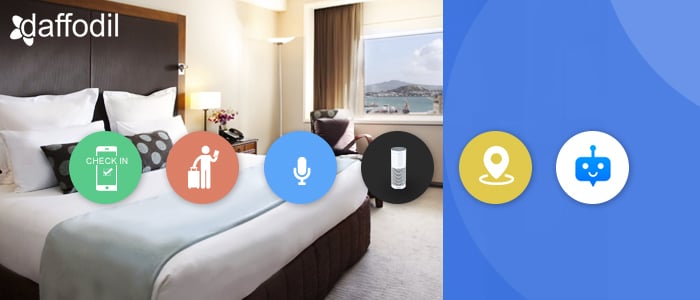 In an Oracle hospitality survey, 2/3rd of U.S. guests said it is extremely important for hotels to continue investing in technology to enhance the guest experience.
With changing customer attitude and expectations, the hospitality industry is recognizing the importance of technology as a catalyst to improve their guest experience. Not only this, but tech-advances in hotels, conference centers, and other hospitality locations allow hoteliers to improve operational efficiencies, thereby improving the overall ROI.
While there are some obvious technologies that have made their way to hotels, like a WiFi in hotel rooms to connect wireless devices; there are some exceptional ones, going an extra mile to provide convenience that guests appreciate. In the upcoming segment, we are going to discuss 5 such technologies that are poised to change the guest experience and create new opportunity areas for hospitality locations.
1. Service Automation
Service automation can range anything from automatic check-in through mobile apps, unlocking rooms with facial recognition, providing amenities based on preferences during booking etc. By automating guest-centric activities, hotel staff can offer personalized experience, with reduced headcount.
For service automation, Artificial Intelligence is the key. AI technologies, such as Machine Learning can act as a concierge service to learn guest preferences, depending upon their activities in the room, food ordering, services availed etc. This data can be utilized during future stays of the guest, giving them more reasons to opt for a hotel or hospitality location.
2. Guest Apps
94% of business travelers and 80% of leisure travelers value the ability to use their smartphones to request service and message hotel staff.
Imagine your guests being able to make a request to adjust room lightening, getting notified about their package waiting at the front desk or arrival of their spa therapist, all through a mobile phone. With a mobile app, meant for communication between guests and staff members, info and updates can be passed through an app, reducing in-person availability of staff to attend the guests.
3. Voice-Based Assistance
Voice-based assistants, such as Amazon Alexa integrates seamlessly with existing amenities and services, to become virtual concierge for guests. Such assistants simplifies tasks for guests like ordering towels, controlling in-room temperature, looking out for local restaurants, booking them etc. Such hospitality experiences are not just convenient and personalized, but are memorable as well.
4. Chatbots
25% of customer service and support operations will integrate virtual customer assistant (VCA) or chatbot technology across engagement channels by 2020, according to Gartner.
Chatbots have the power of predictive analytics and artificial intelligence to provide personalized customer service, such as offering recommendations based on a guest's experience, help them find locations within a property, make payments for services received or even place room service orders on behalf of customers.
5. Location-Based Services
Location-based services ensures that guests are happy from the time they check-in to check-out. Knowing where the guests are while they are on the hospitality location can help improve marketing efforts, such as pushing out coupons or special offers to a guest's mobile device when they are near the hotel restaurant or gift shop, or providing outstanding customer service, such as greeting the guest at her room door with a bottle of water when they return after a workout session.
Planning to Empower your Hotels with these Technologies?
Technology is one of the critical component in offering unique, memorable stay experience to the guests. If you have plans to improve or create new guest experiences with tech-enabled services, set-up a 30-min free consultation with our experts to move ahead.