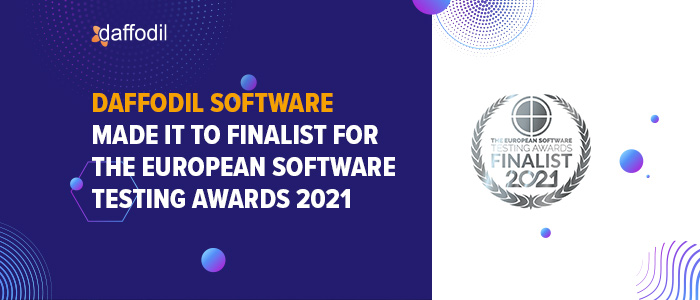 Gurgaon, 30 November 2021: Daffodil Software, a leading software engineering company based in India, announced that it has made it to the finals of the European Software Testing Awards under the category of- Cognizant Best Use of Technology in a Project.
European Software Testing Awards accolades individuals and companies that have made significant achievements in the software testing and quality assurance market. The awards feature 15 amazing categories with the final reward being the Deloitte European Software Testing Award.
The category- Cognizant Best Use of Technology in a Project recognizes and rewards teams or businesses that have excelled in all areas in testing a project. Daffodil Software has made it to the finals for exhibiting proficiency in performance testing for a unicorn eCommerce portal. It is India's leading online retailer for multi-brand cosmetic and wellness products.
With an active user base crossing 20 million, the eCommerce portal processes more than 500k orders in a day. It has got 2000+ brands, 200,00 products, 12 warehouses across India, and offers a comprehensive selection of makeup, skincare, haircare, fragrances, personal care, luxury, and wellness products for women and men.
For a newly added service within the portal, team Daffodil automated critical scenarios for regression testing on both web and mobile platforms, which saved up to 75-80% of the testing time for around 1000+ test cases. In addition to this performance and scalability testing for 15k concurrent users on a renowned beauty portal with an average response time of 1 second.
Daffodil's software testing expertise spans a wide range of software applications including client-server apps, web apps, mobile apps, high-volume transaction applications, and highly complex software systems. Their high-end services include manual & automation testing, test advisory & transformation, performance testing & monitoring, AP testing services, usability testing, Managed QA, and automation framework development.
Yogesh Aggarwal, CEO (Daffodil Software) talks about the achievement and says: "Testing is certainly one of the most critical aspects of software engineering. Our QA team adopts modern tools and approaches to ensure that the performance & security of the software applications are up-to-the-mark. This recognition- Cognizant Best Use of Technology in a Project exemplifies our team's ability to handle test and monitoring cases with precision. Despite such fierce competition, it is a massive achievement that we have made it to the finals."
The CEO further comments on the growing demand to outsource software testing and says: "Along with our engineering services, we have experienced a high demand for testing third-party software applications. Even companies that have in-house dev teams are looking to outsource testing for gaining independent feedback. Nowadays, when applications are complex and most of them follow DevOps/containerization approach for development, it has become important that the testing approach complements development. Outsourcing software testing also assures businesses that a professional & structured approach, along with best practices would be followed for assessing the performance, usability, and stability of the application."