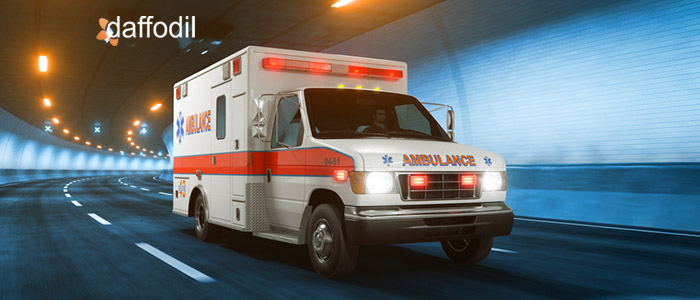 There has been a steep rise in the demand for Emergency Medical Services (EMS) apps and platforms that ensure smooth patient hand-off. The transitioning of patient care from the prehospital team to the Emergency Department (ED) doctors and nurses is the most pivotal aspect of these platforms.
Prehospital teams - such as paramedics, aeromedical units, and ground-based ambulances - need a seamless mechanism for getting the patient and also information about their vitals to the ED. While patient handoffs within inpatient teams are well defined, the transition from EMS to ED is often ambiguous.
This article explores the importance of peerless patient transfer from EMS to ED on EMS applications and platforms. It further discusses the optimization of mobile technologies and Artificial Intelligence (AI) for better communication among teams involved in the entire emergency treatment workflow.
Why EMS-ED Patient Information Transfers Must Be Efficient
Let's hypothesize an emergency situation where a middle-aged man suffers a sharp pain in his chest and is taken to the nearest hospital by a paramedics team. In a present-day scenario, this would involve an EMS-aid mobile application for dispatching an ambulance and medical team to the patient location after receiving a call from someone who would be at the incident site.
The paramedics' team would collect vital information about the man and make reports which they would hand over to the ED of the hospital. All of the initial examination information from the scene of the emergency reaches the ED doctor but with a few parameters missing. Say the man had an ischemic stroke, and the doctor fails to figure out the exact conditions of his emergency.
The doctor would have to make a call back to the EMS team to fill the gaps in the information at hand. This further lengthens the man's treatment, where decisions made every second would decide his fate. In an acute healthcare crisis like this one, an inefficient communication channel could be potentially hazardous for the patient.
Challenges in EMS-ED Communication
The EMS communication system on the designated mobile application can be described as a system that synchronizes critical patient care in emergency settings. Such a system involving links to a hospital ED, ambulance fleet management software, or dispatch centers aims to lessen the potential risk to a serious patient's health. A successful implementation of a EMS-ED solution worthy of imitation is Daffodil's efforts to reduce the door-to-balloon time for STEMI patients.
Proper EMS-ED or EMS-physician communication is tantamount to the patient outcome. A NAEMSP study reported that on average about 30% of communications that a physician gets have gaps and interruptions. These interruptions can be detrimental to a patient's health especially in an emergency situation.
Moreover, EMS providers face additional barriers in patient handoff that they find even more frustrating as they slow down treatment. The whole disorganized architecture of most EMS platforms today adds to these woes because of manual entry of data and missing out on details during the handoff.
Several EMS platforms have the following challenges associated with them:
Legacy EMS systems involve information exchange through radio messaging, phone calls, or non-standardized pages of text.
Non-standardized information can take a lot of time to interpret and can consequently be critical in acute cases for a patient.
Patient information transfers often move from person to person within a hospital setup because of a lack of interoperability and data silos in its healthcare applications.
Poor management of ambulance drivers' grievances coupled with a lack of HR support for EMS teams can lead to demotivation and a drop in effective emergency support delivery.
How Can Patient Handoff Be Optimized?
The transfer and analysis of data effectively have been demonstrated by several fleet management companies like Uber, Lyft, and Ola. Some of the ways in which these companies handle data exchanges can serve as lessons to how EMS platforms can be designed. Custom mobile application interfaces for EMS personnel and ED staff can streamline health data exchange during patient handoff.
Both EMS and ED need smart means of communication that enable them to bridge the gaps in their communication. Some potential optimization techniques for their respective interfaces are the following:
1)Better Information Gathering Interfaces
Having to constantly update a patient's information in a digital form over and over again every time new details need to be added can be quite cumbersome. This can be avoided if the EMS and ED-side interfaces have image processing AI integrated into them. The EMS and ED teams can be trained with how to feed information into the cloud via their mobile apps simply by taking pictures of documents or written material.
This can prove further useful if the patient is not always available at hand in times of travel restrictions. In emergencies, the amount of time consumed after the patient reaches the hospital can also be minimized. Hospitals can go a step further by standardizing information-gathering procedures and formats.
2)Natural Language Processing For Bridging Communication Gaps
The revolutionary advantages of Natural Language Processing (NLP) are being realized in several industries of late. AI-powered voice recognition software can listen in on EMS-ED communications over radio or app-integrated dialer UI components. Additionally, paramedics would have the option of attaching documents to the patient's profile as and when new details arise. This would allow thorough health reporting for ED doctors at the time of relaying emergency care.
3)Increase Transparency
While role-based access must be ensured across both EMS and ED interfaces on the platform, the respective patients must have some form of access to their data. Instead of the prevalent practice of providing verbatim reports to the concerned patient, they must get transparency regarding their treatment. A patient-side interface can be integrated for this purpose within the EMS system.
4)Reimbursements And Claims
By storing patient data in a centralized server, sharing it through health reports and bills becomes easier with the touch of a button. Post-treatment processing for reimbursements and insurance claims becomes that much more efficient. Patient discharge following them becoming stable can become even smoother through faster release payments enabled via the patient-side app.
Optimize Your EMS Platform For Better Patient Outcomes
Most medical guidelines recommend that healthcare organizations must leverage mobile technologies and AI to reduce the time between a patient's emergency incident and their treatment. If you are looking to deliver timely and efficient EMS support for the best patient outcomes you can avail of our Custom Healthcare Solutions.