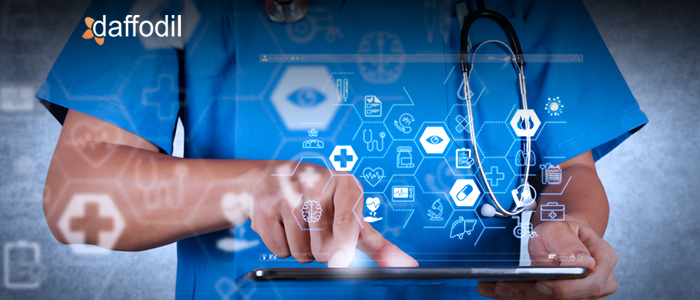 As per the Deloitte Insights, funding for health-tech developers exceeded US$7.4 billion in 2019, and the funding data shows that investors continue to be optimistic about investing in the health-tech field. In 2018, digital health organizations had secured more than $7.5bn in investment, according to Forbes.
Robotics, mobile applications, AI, machine learning, IoT - technology is paving the road for innovation in healthcare. It helps medical practitioners in scrutinizing, diagnosing, and treating patients. Health-tech isn't merely redefining healthcare procedures; it is promoting ways for sustaining good health and avoiding illnesses from ever occurring.
Health-tech Development Leading to a Digital Transformation
Now, let's look at the key drivers which lead to such a boom in health-tech adoption:
The Focus is Results, not Processes
The healthcare sector is focusing on the results instead of the processes implemented, resulting in a considerable pressure on the organizations to offer higher-quality care at affordable prices. Besides, investors have realized that to attain value-based healthcare, digitally-empowered healthcare is the only way ahead.
Introduction of Remote Health Tracking and Wearables
Since the patients are getting comfortable with the latest technologies, remote monitoring services, and situation-specific digital healthcare campaigns are acquiring more popularity. Moreover, digital sensors and wearables are changing focus from fitness to medical assistance, prompting a good number of physicians to use and even recommend digital healthcare solutions.
Pro-Active Supply of Medical Essentials
Nowadays, patients and physicians can connect more effortlessly than ever before. By using smartphone applications or remote technologies for tracking data, supplying medical essentials have become seamless and straightforward.
3 Significant Challenges Associated with Health-tech Advancement
The ultimate goal of introducing a technology-enabled healthcare system is to deliver cost-effective and value-driven solutions to those who need it. However, there are specific challenges that are proving to be the roadblocks in the growth path of Health-tech.
Operational Competence
CXOs of the healthcare provider must reply to growing customer expectations, reduce costs, and deploy successful clinical operations to administer complete ecosystem efficiency.
Regulatory Environment
Healthcare commerce has to function as per the guidelines of the authoritative national, as well as international standards such as ICD 10, HIPAA 5010, and more, which needs most businesses to alter their standard arrangements.
Health Data Interoperability
Technology advancement is making it compulsory to build apps that offer instant visibility and communication among healthcare service providers, life sciences network, and payers, for a seamless experience.
5 Health-tech Trends that Are Poised to Revolutionize Patient Care
Wearable Tech
Wearable fitness tech isn't new to the healthcare industry. Nevertheless, it's expected to turn into a key trend since wearable applications and devices are going to play a more critical role apart from being a lifestyle companion. For example, today's smartwatches aren't just competent to track the steps of the wearer. They can keep a check on the heartbeat too.
Telehealth
Telehealth solutions enable remote monitoring of the patients and medical education for the suppliers. In general, delivery strategies include video conferencing, web-based e-health solution pages, networked programs to link tertiary medical centers to remote clinics in rural regions, peer-to-peer connection to hospitals, and more.
Although remote patient monitoring (RPM) cannot replace in-person care completely, it can certainly reduce the burden on the healthcare system. It gives patients greater participation in their health management, reducing hospitalization, and treatment costs.
The monitoring solutions use technology to keep a check on the health of the patients outside a conventional clinical setting. It gathers biometric data, including oxygen levels, heart rate, and more, from the location of the patient, then examines and deciphers that data, and transfers it to the other locations.
Integrated RPM solutions with advanced healthcare technology are clinically useful symptom management utilities and let risk-bearing companies monitor patients with chronic conditions remotely.
Healthcare Software
Healthcare software has achieved great recognition. There are multiple healthcare tools available in the market, like EMR, HER, HIMS, Patient Engagement System, and more.
EMR (Electronic Medical Records): They are the digital edition of the paper documents in the office of medical practitioners, containing patients' treatment and medical history. EMRs have multiple benefits over paper records. For instance, they enable identifying which patients are left for preventive check-ups or screenings effortlessly and track data over the period.
EHRs (Electronic Health Records): EHRs are developed to share data with additional healthcare providers like specialists and laboratories; thus, they consist of information from different medical establishments indulged in the patient's care.
HIMS (Health Information Management Systems): It is crucial for the healthcare industry since they are bound to be HIPAA-compliant, to make sure that the information of the patient remains secure and private. It includes handling customer requests for PHI (Personal Health Information), medical coding and billing, guaranteeing conformity with government regulations, and more. An intelligently designed HIMS help in all these aspects.
Fitness Apps: The fitness apps have built a massive buzz among health-conscious people nowadays as they can execute a lot of functions, including tracking calorie intake, sharing progress on social media, setting fitness goals, and collecting workout ideas. Moreover, they can be utilized as a tool to endorse a healthy routine with personalized workouts, nutrition plans, and fitness advice. They can work in combination with wearable devices and synchronize the information to additional devices for ease of access.
Final Words…
Health-tech has become all the more critical with the new pandemics like COVID-19 enraging around the world. They would play a crucial role in expanding the capabilities of the comparatively less amount of the healthcare workforce. The medical practitioners would be able to deliver help remotely without putting themselves in danger.
However, often, developing such solutions is time-bound, and they need to be delivered at hyper-speed. They must be hyper-scalable to handle any unexpected increase in the requirement. At Daffodil, the core idea is to provide highly secure health-tech solutions quickly, so that the objectives of the healthcare establishment can be met in time.