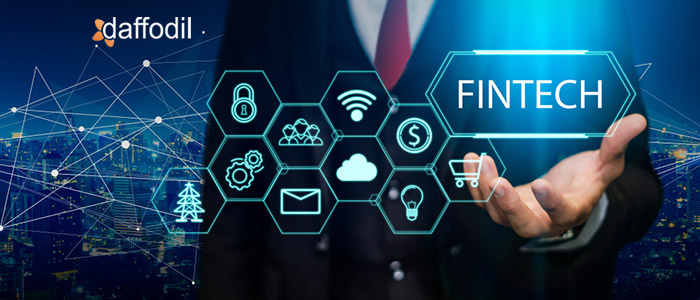 For the FinTech sector, the pandemic-riddled 2020 and 2021 had been majorly about handling the many hurdles of digital transformation. 2022 is looking like the year when businesses will stabilize and get back to business as usual after swapping their systems to digital platforms.
FinTech innovations in payment methods and customer-merchant transactions have contributed to the overall GDP and job creation. The trends of this domain in the last few years have been especially crucial during a time when physical transactions were not feasible.
The ease with which regulatory compliance and security were also ensured in online transactions was another one of the ways FinTech has been beneficial. This article talks about how this year might shape up to accommodate limitless innovation in FinTech trends 2022.
The Most Influential FinTech Trends For 2022
Cloud banking, AI implementation, RegTech, and overall decentralization of operations are some of the burgeoning talk points in the current FinTech industry. Let's take a look at some of these trends and how relevant they are for the years to come:
1)The Complete Take Over Of Cloud-Only Banking
Banking processes are far more robust and less prone to manual error when functioning on a cloud-based infrastructure. Moreover, connecting value-added services such as global payments, P2P transfers, contactless pay, etc. is seamless with cloud banking, one of the rising fintech trends 2022 will see.
Easily implementable fintech examples like unprecedented mobile penetration with digital banking and the evolution of banking service delivery are helping banks stay afloat in an uncertain market scenario. At the end of the day, it is just convenient to rely on cloud banking where there is no need for customers to deal with patience-testing long lines and agonizing paperwork.
2)The Rise Of Cross-Border E-Commerce
Cross-border e-commerce refers to selling merchandise from a domestic store's website to overseas buyers. From brick and mortar setups, these stores are also taking the cloud-only route as a bankable fintech trend. As per Zion Market Research, cross-border e-commerce is slated to achieve a market valuation of over $ 4,000 billion by 2027, growing at a CAGR of 27%. Organizations participating in this practice must have a watertight international e-commerce logistics strategy in place. Relying on fintech trends 2022 will witness innovations that'll help further grow this sector by doing away with the multiple handoffs between shipping partners and customs, making shipments faster.
3)Blockchain Technology Changing Business Workflows
Blockchain, albeit the global regulatory apprehensions, is being adopted as purely a technological tool aimed at improving financial workflow dynamics by the top fintech companies. This technology's implementation in Digital Identity Management (DIM), for instance, contributes to making both ends of a transaction funnel highly secure.
Blockchain is helping prevent fraud and comply with audits and the regulatory requirements of the fintech industry. Additionally, transfers, payments, and investments can potentially become much faster and error-free with the application of the right fintech examples.
4)Finetuning AI Strategies
Banking organizations are turning into efficient fintech companies branching out with their AI strategies, with applications such as automated advisors, credit profile assessments, and everything in between. The sector's reliance on AI provides for decreased loan defaults, enhanced risk management, optimized data collection, and analysis all resulting in a better customer experience. With AI poised to occupy a large piece of the banking pie, the ability to work with large volumes of unstructured data will also help drive up margins.
Customer Success Story: An AI-enabled mobile app to aid visually and hearing impaired to identify the denomination of Indian currency notes
5)Strengthening FinTech Regulatory Compliance
The growing volume of online transactions and the migration of all banking services to the cloud are driving the need for better data confidentiality. Regulatory bodies are writing and rewriting new norms around asset management and Regulatory Technology (RegTech) is becoming a popular buzzword as a result.
Regulatory monitoring, compliance as well as reporting are now being handled by enterprise-level software that runs on machine learning algorithms and the latest data analysis concepts. Dedicated systems for regulatory compliance are bringing down costs related to the implementation of regulations and also making the process more seamless and transparent for the top fintech companies.
6)The Concept Of Decentralized Finance
Decentralized Finance, or DeFi, is a concept taking over most conversations around FinTech's most exciting ideas. While this concept finds its origin as an alternative finance tool to support cryptocurrency, industry experts predict that it will be at the center of FinTech for the years to come.
DeFi protocols, which allow monetary exchanges without sanctions from a central authority, have their market valuation locked in at $99 billion as of October 2021. Self-executing smart contracts are the most attractive fintech tools brought to the table by DeFi and are revolutionizing the financial services ecosystem.
7)Development Prospects For WealthTech
WealthTech is all about delivering better financial management solutions to help entrepreneurs run a successful business online. As a result, a series of new digital services for the management of personal and corporate finances have cropped up. More effective solutions for advanced finance management are being developed with the implementation of AI and Big Data by the top fintech companies.
Robo-advisors are an area of intensive research and development in fintech tools. These are essentially automated platforms using AI algorithms to drive better decision-making for investors. Other applications of WealthTech include digital brokerage, micro-investment platforming and other more profitable financial solutions.
Customer Success Story: Developing a mobile solution for one of America's fast-growing wealth management platforms
8)The Emergence Of Payroll FinTech
Before fintech trends and innovations came into the picture, the payroll process had been entirely straightforward and unimaginative. The area of payroll tech that sees the most interest and consequent spending is the automation of the delivery of salaries within organizations. With payroll technologies, employers can provide a transparent company culture, while attracting and retaining talent with nothing more than simple API integrations.
9)Growing Buy-Now-Pay-Later Options
The adoption of new payment options online has been on the rise with the growing popularity of online shopping and the burgeoning millennial population. Buy-Now, Pay-Later (BNPL) is one of the fastest-growing e-commerce payment methods globally, as per FIS Worldplay. BNPL had become a $60 billion market at the beginning of 2020, which represented 2.6% of the entire global e-commerce ecosystem. With an estimated compounded annual growth of 28% annually, the top fintech companies are expected to grow to $166 billion by 2023.
10)Collaboration Between Traditional Institutions And FinTech
With the growing need for market fluidity and an overemphasis on technology, even traditional institutions are finding ways to get into the fintech industry. Hybrid setups where traditional banking and non-banking financial transactions can take both the brick and mortar and online routes are all the rage now.
Through strategic partnerships and consolidation of technological operations, more traditional financial institutions are going the hybrid way. Updating their cloud infrastructure can help conventional organizations cut costs while staying relevant in the modern-day financial market.
ALSO READ: Everything About RegTech: The Future Of Finance
Newer FinTech Trends Will Continue To Grow Their Market Share
The past few years have given us several new innovations in FinTech, the top fintech examples including RegTech and InsurTech among others. The coming years will be no exception as more such pioneering developments continue to take place to make finance a more seamless, transparent and efficient growth sector. To stay on top of these changing trends and help your business gain a foothold in financial markets, you can book a free consultation with us to know more about our innovative FinTech Solutions.