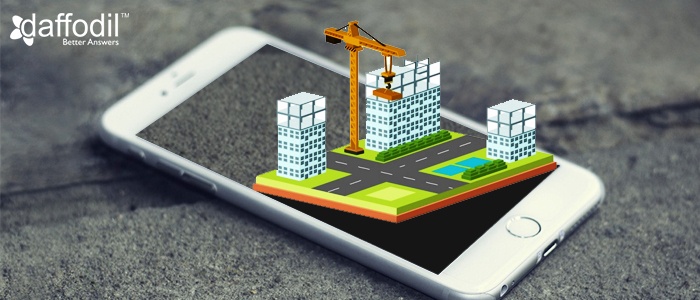 In 2020, the construction and real estate software market is predicted to have a worth of 7.9 billion U.S. dollars worldwide. - According to Statista
Recognizing the opportunities that this billion-dollar industry brings in, a slew of startups are focussing to develop technology-centric solutions that can streamline construction projects and enhance productivity.
To add more value to it, investors are joining the game by giving capital-power to the modernizers of construction industry. In fact, a number of VC firms are formed with the core purpose of making investment in construction technology.
If we just take a look at the growth of this sector in North America, there is a noticeable surge in investment made in construction technology startups, up from $182.7M in 2013 to $581.6M in 2017. And if these investment numbers are converted into number of deals, there is an appreciable rise from 44 (in 2013) to 87 (in 2017).
Modernizing Construction Industry with Technology
Over the time, the construction industry has witnessed inefficiencies and low productivity gains. Considering the players involved in construction project (manager, general contractor, subcontractor, architect engineer, suppliers etc.) and documents (time cards, site plans) involved in the process, it is imperative to take tech-aid for streamlining construction for on-time project delivery.
The idea of modernising the construction industry involves tackling major management and coordination issues with technology. In attempt to this, a number of startups are developing technology-backed solutions that can help in smooth and efficient progress of real estate projects. Same is tried to be achieved at varied stages of construction management, wherein technology can help to:
1. Create Digital Design: Construction control lay down the basis for any project. Construction project management software can offer assistance in document control and integration as design progresses from sketches to construction documents.
2. Preconstruction: This phase of construction project management deals with planning, coordination, and project control from inception to completion.
Estimation

: Software applications can automate automate construction bidding and improve the accuracy rate.
Construction Relationship Management

: CRMs that provide a dashboard to update businesses about development pipeline and project progress.
Market Intelligence

: This involves gathering and analyzing information from past projects and competitor's performance.


3. Construction: Managing construction on-site is the most laborious and prolonged process. With a compliance management software, following aspects of construction can be managed with functionally and financially viable project.
Design Management:

Visualize drawings and 3D models on-site in mobile platforms, updating blueprint in field with markups, annotations, and hyperlinks etc.
Scheduling:

Create, assign, and prioritizing tasks in real-time, track its progress, and make the schedule visible to co-workers to take necessary actions.
Material Management:

Identify, track, and locate the construction material across various supply chains.
Field Productivity:

Track labour deployment and keeping a record of on-site production at a trade and worker level.
Quality Control:

Inspect remote sites through pictures and tags shared through app, track and update the project punch list to pace up towards project completion.
Document Management:

Uploading and distribution of documents, search for projects across all phases of development, and sharing the information across all sites.

Startups that are Causing Disruption in Construction Industry
Construction-technology startups are revolutionizing the project life cycle, from design management to quality control. Some of the companies that are investing in right technology and tools to simplify engineering and construction includes:
Procore Technologies, a cloud-based construction management software application. The US based startup is backed with funding worth $229 million over time.
Francisco based PlanGrid is construction productivity software that allow owners, general contractors, and subcontractors collaborate on blueprints and build documents from any device.
DocuTools is a compliance management software that allow engineers to manage construction processes confidently and keep everyone involved with pinpoint accuracy.
Keeping mobility as priority and technology in forefront, the construction management software can keep the projects expedited and simplified to a great extent. With VC pouring in their investments in construction-tech startups, there is opportunity to experiment with varied technologies that can disrupt the way construction industry operates.
I confirm the subscription of this blog to the Paperblog service under the username daffodil_software