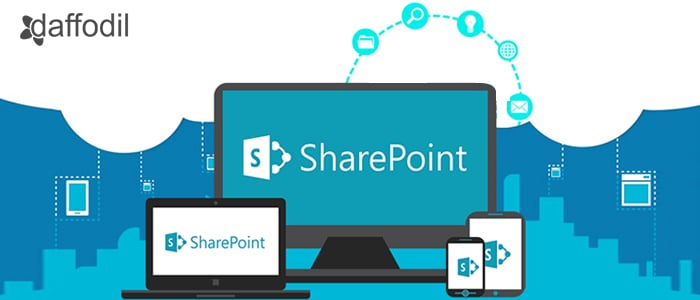 Microsoft SharePoint is the most preferred platform of choice for enterprise applications today. It enables business enterprises to customize collaboration and document management solutions to suit their growing business needs.
SharePoint development services can be used to create various web-sites with shared documents as it facilitates a robust and secure environment that enables team members to collaborate at different levels. It has proved wonders in areas like, content management, content search.
SharePoint is the preferred choice for developing web solutions, enterprise level business applications and collaboration tools on a single platforms. It is an integrated platform which allows users to develop websites that provide sharing of information, managing documents from start to end by planning and deploying and managing intranet, extranet, and internet applications.
It is a stable platform to manage all enterprise operations and function with enabled editable control buttons for displaying data and unique functions example: workflows, dashboards and customizable solutions. This reduces the business operational cost and increases productivity. Its collaboration function, gives advantage of reducing project life cycle.
As we read about the SharePoint Development, let's have a close look on its advantages for business:
SharePoint has evolved in the cloud domain that delivers powerful experiences in the area of mobility, workforce collaboration to its end clients. Few benefits of SharePoint are:-
1. Control Management– It effectively maintains control of the entire platform and controls such as application management features, system settings, monitor SharePoint farms, perform backups and restorations, manage security settings, upgrade SharePoint, change general application settings and use configuration wizards that can be easily accessible in a single location.
2. Customizable– Businesses need branding. It's easy to integrate features while developing the application and build a custom application as per the requirement of the business. Few tools could be built in advance which can be further used and accessed by the team later. For the business branding the whole application can be customised using the SharePoint.
3. Collaboration– Better collaboration will result to better result building. This feature of SharePoint allows teams to share all information within the organization and stay connected throughout project lifecycle.
4. Site Consolidation– Substantial cost saving could be done by using this feature of site consolidation. SharePoint incorporates all sites under one platform which can reduce overall cost associated with each site. The collaborative sites could be easily accessed by the team members.
5. Secure Integration– Data security is the required attribute by the company these days and SharePoint offers the ability save its integrity from unauthorised use. Managing permission to sites, lists, folders, documents and web applications and review of all documents and return it to its original state.
6. Ease of Use- SharePoint has a facility to develop your website or any online tool as per your business needs without any assistance of a developer. Even if you need you can easily perform the functions in one application and the cost savings related to that can add up quickly.
At the end, nothing beats SharePoint collaboration. Regardless of industry, all organizations strive for increased productivity and having a tool in place like SharePoint. The collaboration features easily translate to increased productivity and cost savings for any organization. If you are looking for such collaboration, request a free 30-minutes consultation with our experts now.