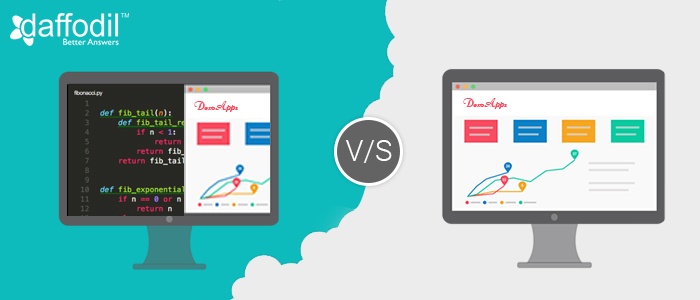 Buy or Build, this has always been a big question for businesses. Software applications that handle business operations typically fall under two categories: Custom application development and Off-the-Shelf products.
A custom software is tailored according to definite needs of a business or a group of industry. On the other hand, an off-the-shelf products are pre-developed, ready-to-use applications, often meant for a specific industry. There are a number of packaged software available that claim to cater to all business needs and appeal to a broader user base, however, in the long run, many of these tend to disappoint.
The purpose of the segment we share here is to provide insights into conditions that can help in steering a decision on which type of software service to opt for. The idea is to evaluate as which amongst the two options will best suit your business requirements.
Go for Custom Software When:
1. If you have Distinct Business Requirements
Since off-the-shelf products cover a wide range of users, they do not meet the definite requirements of the business. Their functionality may not match the exclusive requirements, which may affect business efficiency and lead to unnecessary costing. With custom applications, you can overcome such challenges as they are tailored to meet specific functionality of the business and does not impact the cost model as well.
2. A Flexible and Adaptive Model is Required
With ready-made software, you are bound to work with a rigid model. There would be a myriad of features that you can activate or deactivate, as per the requirement. This sometimes causes confusion, leaving you with many and various options that you may or may not use. As a consequence, the software may not adapt to the fluctuating needs. Custom applications can be readily extend in functionality, which makes them flexible and efficient.
3.Some Third-Party Integration is Required
An application is a successful integration of diverse functionalities. Once developed, they can be retained for a long term and upgraded, as needed. In this process, custom application offers the flexibility of integrating features and functions that covers the current business requirements. Also, integrating third-party solutions to enhance an application potential is also an added benefit with a tailored solution.

4. Security is of Utmost Importance
With an off-the-shelf product, hackers exploit the the known vulnerabilities of a software. When custom application is developed, businesses can look after to the security measures. Hence, they are less exposed to the external threats as he hackers have to take efforts in learning to breach the security system.
Go for Off-the-Shelf Software when:
1. You have a Modest Budget
Off-the-Shelf solutions appeal to a lot of businesses, especially those with small budget. While, not all of them are inexpensive, they do offer a range of features and functionalities for a flexible amount. Therefore, you get the benefit of paying for what you get. So, with a packaged solution, you have all primary benefits and that too with reduced upfront costs.
2. An Instant Fix/Solution is Required
The best part about off-the-shelf solutions are their instant deployment. Their ready-to-use quality can give an instant fix to a problem and get you up and going, without waiting. While some of the features might. e comprised in the process, they actually help in determining the exact need of the business and prepare a long term solution that aligns with the actual requirements.
3. The Best is Already Existing
In most of the cases, the packaged solutions are bundled with sufficient functionalities. If that is the case, there is no point spending the time and money on a reinventing a custom solution. If the off-the-shelf products has all the features that can keep your business operations going, without adding complexities to it, go for it.
What will you Choose between the Two?
Both the development models have advantage over one another. No matter if you go for a custom application development or an off-the-shelf solution, your decision is going to have an impact on the business. Understanding what suits best for your business environment can save you from cost over-do and also ensure seamless operations.