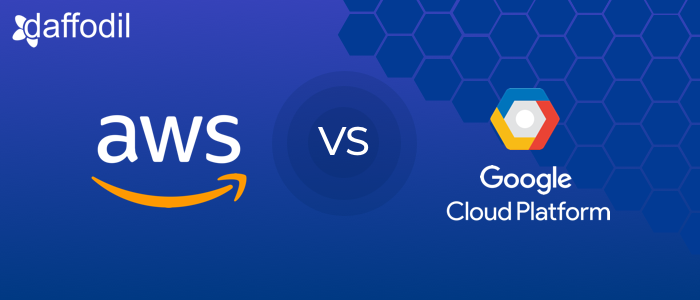 73% of organizations have at least one application, or a portion of their computing infrastructure already in the cloud – 17% plan to do so within the next 12 months. - 2018 Cloud Computing Survey (IDG)
Reduced operational cost, improved IT processes, multi-region infrastructure are some of the reasons why enterprises are moving to public cloud configurations. Making a choice between popular cloud service providers, like Google Cloud and AWS is one of the imperative steps in adopting cloud for businesses.
Google Cloud vs AWS- which cloud service provider to choose for web or mobile application development? While both the cloud computing services are known for their offerings; differences in terms of pricing, compute services, network services, databases, and management services.
Amazon Web Services (AWS)
Amazon Web Services (AWS) was launched in 2006 to provide cloud computing services to businesses and individuals. AWS has more than a 1 million active customers in 190 countries, including nearly 2,000 government agencies, 5,000 schools and over 17,500 nonprofits. It offers a wide range of services, solutions, and training programs that enables development teams to stay product focused, rather than investing time on infrastructure to support an application.
As of 2017, AWS was ranked among the four largest public cloud providers in the world, along with Google Cloud, Microsoft Azure and IBM Softlayer.
Amazon Web Services cloud computing and hosting revenue as of the second quarter of 2018 was over 6.1 billion U.S. dollars.
Google Cloud Platform (GCP)
Founded in the year 2008, Google Cloud Platform is known for its offerings- Infrastructure as a service, Platform as a service, and Serverless computing environments. For application development, GCP offer services for networking, computing, big data, machine learning, IoT, along with cloud management and developer tools.
1. Google Cloud VS AWS: Market Share
In a survey that predicted market share of three major cloud service providers worldwide in 2020, as of 2017- Amazon Web Services is predicted to hold 52% of the cloud services market in 2020. (Source: Statista)
2. Google Cloud VS AWS: Available Services
One of the biggest differences between both Google Cloud and AWS is the range of services offered by both the platforms. If that's the point of comparison, then AWS is the clear winner. AWS offers a wide range of services that provides huge set of opportunities for building scalable solutions. For developers, there are management tools, databases, and specific tools for streaming, media transcoding, etc. AWS has no rivals in terms of a comprehensive cloud computing platform.
Compared to AWS, Google Cloud Platform has a smaller list of products and is focused on Iaas and PaaS services. If your business requirements revolve around IaaS computing, relation/non-relational databases, object storage, services for DNS/Endpoints, then Google Cloud is the service to opt for. So, gather the business requirements compare Google Cloud vs AWS to understand which cloud computing platform can server your business better.
ALSO READ: How to Get More from your Cloud Platform?
3. Google Cloud VS AWS: Pricing
While cost should never drive public cloud buying decisions, comparing prices helps in making smart decisions for businesses. In the uber-competitive world of cloud service providers, researching and understanding the pricing structure can help to make the most of cloud services in long run.
The smallest standard on-demand instance of Google Compute Engine (GCE), with n1-standard-1-d machine, 1 vCPU and 3.75 GB of system memory comes for $0.132 per hour. On the other hand, Amazon's on-demand M1 Medium instance, with one virtual core, 3.75 GB memory comes for $0.120 per hour. A similar comparison for both the services, for different configurations can be done to make a choice between AWS and Google Cloud.
Google Cloud VS AWS: Which Platform to Opt for App Development?
When comparing Google Cloud and AWS for next app development project, it is important to consider the cost and features depending upon the scope and scale of the project. However, rather than opting for one service, you can combine services from two to three cloud service providers. Since the costs are relatively comparable, find the right mix of solutions to fit your development requirements.
Need help to choose the right cloud computing platform for your project? Set-up a free consultation with our cloud expert-Gaurav Sharma.