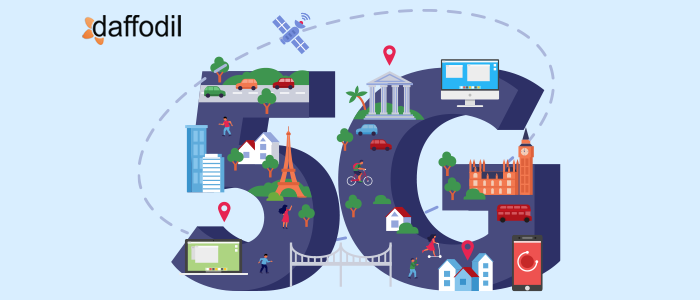 Envisioning 5G leads me to catchphrases such as speed, low latency, ubiquitous coverage and massive capacity of the Verizon 5G Ultra Wideband network. Sounds amazing, doesn't it? Now imagine compiling this futuristic cellular technology with the astute capabilities of IoT. Sounds even better.
5G
Several studies are trying to quantify and foretell the impact of 5G (Fifth Generation) and IoT (Internet of Things). Some of these studies are focused on the value it would bring to society and others on the cost. Whatever these studies may conclude, however it is obvious that 5G will impel innovation across diverse industries and springboard emerging technologies such as IoT to become an indispensable part of our lifestyle.
The commercial availability for 5G is set for sometime around 2020, various industries are already working to develop innovative global standards. Studies show that an estimated subscription of 550 million 5G would take place in 2022 and the Asia Pacific will be the second-fasted region with around 10% of all subscriptions being 5G in 2022.
The evolution of cellular technology
1G - The first generation of the mobile network focused mainly on voice

2G - The second generation of the mobile network was mainly about voice and texting

3G - The third generation of the network focused on voice, texting and data

4G - The fourth generation includes everything present in 3G but faster

5G - The fifth generation is supposed to be even faster than 4G, enabling you to download full-length HD movie in seconds
IoT
Businesses have surpassed our expectations in connecting phones, tablets and other devices. However managing and connecting growing numbers of smart cars, sensors on machinery and consumer electronics, lucratively will require new and innovative business models.
Currently, the enormous majority of revenue for IoT is generated from connectivity, but truth be told, in the next 5 years, it is forecasted that the revenue will be generated from service enablement platforms such as apps and services. Businesses, competent in creating and managing an ecosystem of service partners, distilling data from their IoT platform and converting that data into smart data will be able to produce additional revenue based on the value of the data rather than just volume.
So let us talk about how IoT and 5G can work in sync as well as how these technologies are presumed to impact businesses all over.
The possibilities
Connectivity
5G is vital for the future of IoT as there is a never-ending need for a quicker network with higher capacity that can assist with futuristic connectivity needs. You see, the thing is that the 5G spectrum expands the frequencies which will enable the sharing or transfer of data. As the name suggests the wide spectrum available for use, increases the bandwidth of the cellular network, making it easy to access and connect additional devices.
AR/VR
It is assumed that 5G and IoT would play a pivotal role in enhancing Virtual Reality/Augmented Reality (VR/AR). Since 5G would provide ultra-low latency, it would automatically enhance the AR/VR experience and open doors to multiple such possibilities for this technology in the fields of education and businesses.
Connected Devices
As technology is evolving every passing second and we have started integrating devices with IoT, we see a lot of businesses focus on use cases of connected devices in day to day life. For example, to use remote crane operations or to do remote surgery, you will need ultra-low latency over the mobile network, which 5G will bring in the future.
AI, edge computing and cloud computing will all help to manage the data volume produced by the IoT technology, as 5G boosts network capacity. With advancements further in 5G, such as non-public networks, network slicing and 5G core, will ultimately help to realise the version of a global IoT network, supporting a massive number of connected devices.
SmartCity
When cities deploy state-of-the-art ICT (Information and Communication Technologies) on a large-scale, including IoT technologies, they are referred to as being "Smart Cities".
Smart Cities are not dependant on any specific or unique IoT technology but include an array of IoT technologies, such as appropriate networks, mission-specific sensors and functions and use efficient analytics, often in the cloud. Wireless connectivity has an influential role to play in the utility of this technology. For pragmatic reasons, wireless is also important in Smart building application and Smart Campus.
IoT offers a room for improvement for resource management of many aspects related to city life and QoL (Quality of Lie), which includes smart transportation system (traffic control & vehicular automation), energy consumption and conservation, smart builds, flow of goods, occupancy/space management (outdoors and indoors), resource monitoring and sensing, pollution monitoring (for example from automobile traffic, factories, incinerators, crematoria), physical security, immersive services (including wearables and crowdsensing), the greening of the environment and sustainability.
Healthcare
IoT and 5G will be massively helpful for Healthcare where we need to collate information quickly. You will get to see the real value as people would be able to make a quicker decision from multiple sources of data coming through multiple technologies. 5G is going to bring all that together. IoT and 5G need each other, to deliver some to the result we are expected to see over the next decade.
Also Read: Read More: 3 Key Areas Where IoMT can Augment Healthcare Services
New Jobs
As it is anticipated that 5G and IoT will bring technological growth, they will also door to an estimated 22 million jobs all across the globe. This massive increase in jobs is not limited to the IT field but the digitalization of agriculture, transportation, manufacturing and other dynamic industries. With the ultra-fast transmission of data to the time-sensitive nature of their output, industries such as mine, construction sites, oil derricks and freighter fleets would greatly benefit.
Almost every industry seems to be making the most of IoT technology, which explains the surge in the IoT development company worldwide. Certainly, a data-driven technology like IoT has endless benefits to offer. If you too have an idea or a requirement where IoT holds the potential to cause disruption, then schedule a 30-minute free consultation with our IoT experts. Our Internet of Things developers will connect with you to understand your business requirement, determine project feasibility, estimate a cost, and convert the idea into a solution.