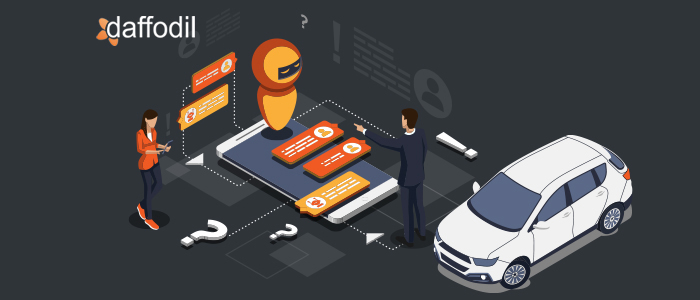 Automotive brands need to make their customer journey more personalized and innovative to maintain a competitive edge in the market. Artificial Intelligence (AI)-based chatbots have become the go-to technological innovation for these brands to make the end-user experience a notch above the rest.
Chatbots provide crucial automated assistance at different stages of a customer's journey, from clicking on the brand's website to ultimately driving the car out of the showroom. These AI tools do more than just help navigate the website. They can integrate with other services such as smart homes, Electric Vehicle (EV) charging stations, and roadside assistance.
As consumers are spending far more time than ever online, automobile brands need to establish a well-rounded online presence. Engaging your online visitors is essential to stay afloat in the industry today.
In this article, we enumerate the myriad applications of AI-powered chatbot technology in the automotive industry. We begin by understanding the industry status quo in this regard.
Chatbots in the Automotive Industry - The Status Quo
There are many successful use cases of the implementation of conversational AI in the automotive sector. The chatty conversational style of chatbots helps customers make more informed decisions when choosing a car for their needs. Some of the world's oldest automobile brands are enhancing the customers' journeys through such personalized automated channels.
Auto manufacturers can create schedules and manage workflows, enable robots to work safely alongside humans on factory floors and assembly lines using the same logic that the chatbot is built on. Machine learning models involved in the functioning of chatbots can also be used to learn buying patterns and make predictions for optimal sale conversions.
Let us discuss some of these implementations of chatbots in detail.
Vital Roles Played by Chatbots in the Automotive Sector
With the ever-increasing demand for vehicles, providing personalized customer experiences in real-time has become crucial to brands' success. The following are some of the implementations of chatbots, conversational marketing, and user experience pattern recognition used by automotive brands:
1)Smooth Purchase and Sales
A smart assistant or chatbot effortlessly segments the acquired leads for generating conversions for the sales team. Additionally, the software has the ability to connect leads to the sales reps in real-time without much of a delay.
The customers can directly be called or can call a sales rep from the chat widget without having to get off the website. The smart assistant can also be used to send sales inquiries to the sales repository and produce personalized recommendations accordingly.
2)Quick Loan Calculations
If a customer wishes to avail of loans to purchase the vehicle, the associated calculations can be done through the chatbot as well. The chatbot can let the customer easily mention the loan amount, term, and interest rate.
The chatbot can then generate a personalized report and loan amortization table. It collects the customer's personal contact information to send these reports and figures directly for their discretion. This feature can be integrated with the chatbot for a fixed loan type and amount.
3)Digital Assistance
Multiple stakeholders in the automotive industry have been driving the demand for in-car connectivity solutions for both drivers and passengers. Be it Original Equipment Manufacturers (OEM) or other associated groups, it is said to add a lot of value to the purchase.
While pre-programmed digital assistants are aplenty, they are lacking in real-time conversational AI capabilities. An emerging industry need is the combination of GPS-based assistants with ML algorithms that are behind some of the most efficient chatbots available today. According to Voicebot.ai, over 60% of smartphone voice use occurs while driving.
4)Easy Tracking of Customer Data
Intelligent chatbots can capture customers' data and create comprehensive consumer journeys around them without compromising that data. From lead generation to answering individual customer queries, each stage of the customer journey is tracked efficiently.
Based on pattern recognition and training from vast datasets of customer information, these chatbots generate the best deals. Personal preferences are taken into account with precision and data breaches are also minimized by storing data in layered databases.
5)Better After-Sales Services
There are a number of services that can add value to a car dealership following a purchase. All that maintenance and repair work tends to go to local mechanics, taking away potential business. But with continuous after-sales customer engagement with chatbots, this can be resolved.
The chatbot can automatically share brand-specific maintenance and repair-related information. This helps the brand provide in-house maintenance to ensure a great relationship between the customer and the business. The customer can book service appointments and receive instant price estimates through the chatbot.
6)Timely Insurance Renewals
Any business in the automotive industry can greatly expand its bottom line by regularizing its insurance renewals. By effectively managing the customer communication from the business end and checking up in a timely manner, insurance renewals can be almost doubled.
Chatbots that can communicate with customers over daily-use applications like WhatsApp and Facebook can enhance the reach of insurance renewal information. Customers and businesses can both benefit greatly from this arrangement. While dealers get repeat business, customers can get timely maintenance done.
7)Generation of Leads and Revenue
Chatbots are traditionally known for not just driving customer engagement and boosting revenue, but also generating leads. Personalized customer experiences designed for custom buying patterns lead to an improved exposure of the automotive brands.
Automotive brands need to repeatedly inform their customers about their presence for constant lead generation. This is achieved seamlessly through embedded AI-powered chatbots on the company websites and social media pages. With more advanced chatbots, brands can create awareness, and ease the process of research conducted by prospects.
8)Handling Pre-Booking Tasks
A chatbot can handle a multitude of pre-booking activities like updating customers on car details, financing as well as booking test drives. Automotive firms are increasingly leveraging machine learning capabilities in their chatbots to automate test drives and follow-ups.
There are innovations occurring in chatbots to integrate with Augmented Reality (AR) or Virtual Reality (VR) to make test drives possible from the comfort of your home. Some chatbot platforms already have live preview functionality that gives you a glimpse of what you are about to purchase.
Every Brand's Digital Transformation Needs AI-Powered Chatbots
Over 50% of respondents in a Userlike survey claimed that, if given a choice, they would interact with a chatbot than wait in a queue for a human agent. If needed, a bot-to-human transfer is quick and hassle-free. Additionally, most of the required customer information is already with the human agent before interaction even begins. This and several other advantages have made chatbots a staple of any industry's digital transformation.
Conversational AI-based chatbots will allow for scale and can help manage a spike in demand. They can improve and homogenize the quality of services rendered in the automotive industry. You can learn how Daffodil's Chatbot Development Services can help you enhance the quality of your customer engagement capabilities.